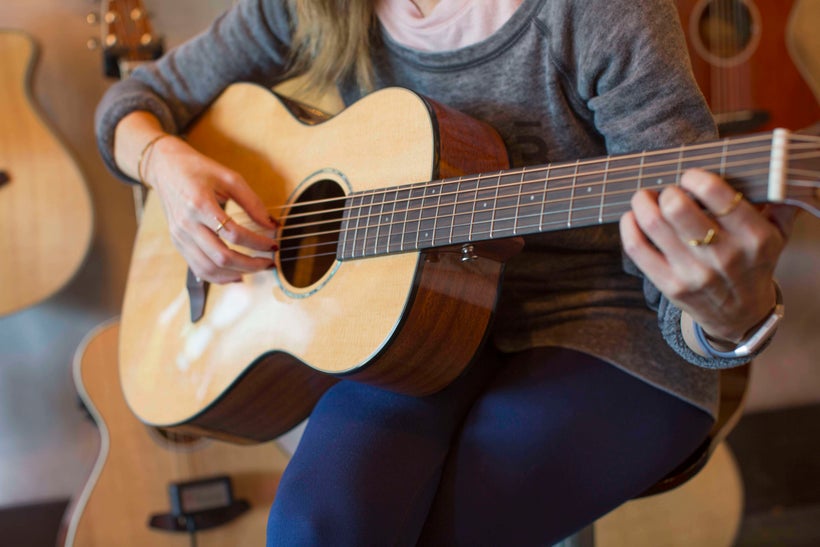 In a world seemingly gone mad with endless to-do lists, information overload, and countless demands that dominate our hearts and minds, how can we harness the power of technology to create fluid lives as opposed to overly complex ones with a million fragmented parts?
This is a question I certainly ponder on a regular basis as professional and personal obligations often prove to be a fierce balancing act between a hectic travel schedule, important family obligations, staying healthy, and maintaining some sort of social life. In fact, I've often found myself shopping for attire that fluidly accomplishes all three of these things, in this particular order: withstand a four hour flight, allow me to go directly to a casual business meeting, then turn into near perfect yoga, barre, or power walk wear.
Is this too much for a gal to ask?
When my friend Anne Neff, senior designer at Visa, asked if I wanted to put my "fluid life theory" to the test in my newly adopted hometown of Nashville, Tennessee, I jumped. After all, what could be more satisfying than figuring out how to successfully streamline my daily routine infused with enjoyable moments?
The mission: To put together a 10,000 step, cashless walking tour of the city, using my new Fitbit Ionic smartwatch loaded with my Visa card to track miles and pay for all the fun. What I found is that an active lifestyle doesn't just include hours at the gym, striking warrior pose in a studio, or downing a protein shake during a morning commute. It can be so…much…more.
Mile One: West End & Midtown
Known as one of the premier parks in Nashville, West End's 132-acre Centennial Park boasts a rich history which includes being the site of the Tennessee Centennial Exposition in 1897, as well as a public fairgrounds and a racetrack following the Civil War. For locals, it is often considered the "front lawn" of the city, as a sprawling green space offers a home for the iconic Parthenon museum. Host to many a music, art, and food festival, while also offering a one-mile walking trail and a beautiful lake, I've spent enough time here to know its many charming attributes nearly any time of day.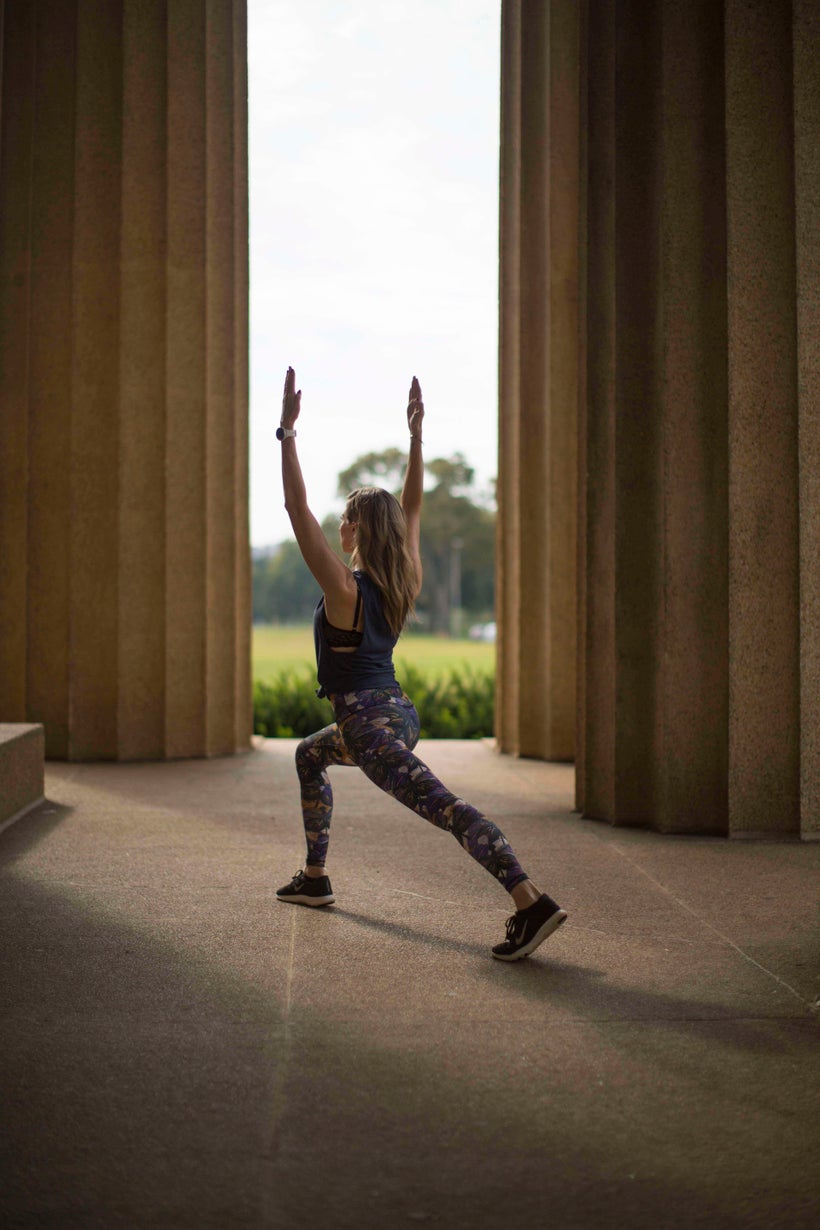 Donned in my barre3 gear, I did some light stretching and a few heart-pumping stair steps to get that morning glow going. All the while soaking up the beauty of the park as Anne and I kicked off the walking tour.
1,000 steps and counting, we arrived at recently opened Caviar & Bananas, Nashville's staple gourmet market and cafe. The expansive, modern, and "feast for the senses" space in Midtown was perfect for snagging a much needed latte and a bit of hydration. Although drinking coffee and walking may seem counter-intuitive, it's been my morning routine for over a decade, and I basically swear by it.
Anne wasn't necessarily convinced, so she settled for perusing the locally made honey and banana-inspired paraphernalia, which certainly made for an interesting kick-start to her day.
Mile Two: Hillsboro Village
What could possibly be better than a fresh juice after that cup of joe wears off? Besides a blast of air conditioning on a hot Southern day, not much. Mile two had us in the heart of darling Hillsboro Village on the outskirts of both Belmont University and Vanderbilt University, soaking up the mid-morning energy of students and business professionals alike.
We made our way into Juice Bar to cool off and check out an assortment of yummy menu items including a Green Smoothie, We Got The Beet (juice), and the Dragon Fruit Bowl. Needless to say, we were feeling refreshed, energized and healthy as the Ionic tracked our way to 3,000 steps.
Ok, so standard disclaimer: Biscuits are not normally part of my routine. But when in Rome, this delicious Southern treat tends to magically show up in the weekly scheme of things. Also, in our defense, Biscuit Love shared a wall with Juice Bar, so we figured it was a sign from the Fitbit gods, and we were feeling the love all the way around.
After swiping our way into biscuit heaven, we opted for a to-go bag so we could continue on our course. We may or may not have stopped after a few blocks to catch our breath and reward ourselves with a crumbly, buttery, breakfast (or anytime of day really) treat.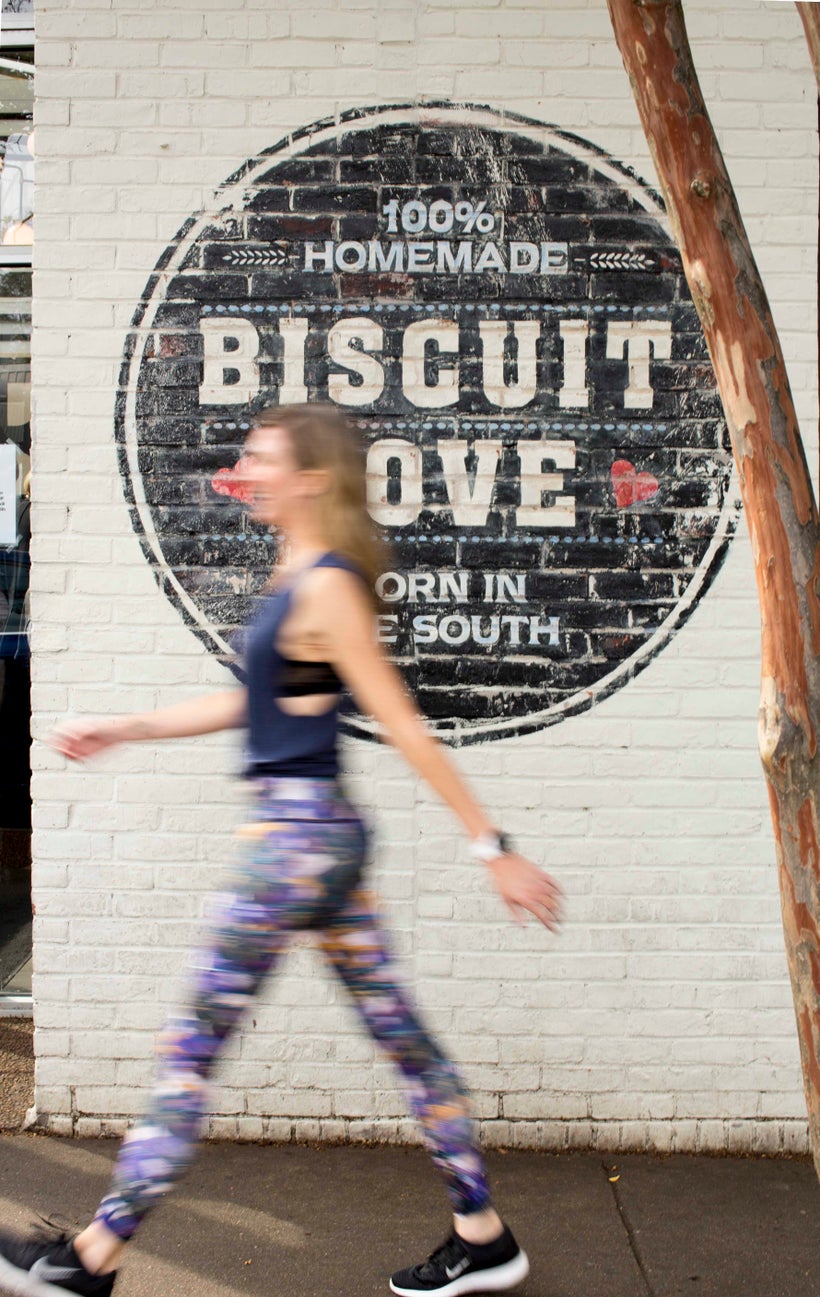 Mile Three: Wedgewood-Houston
Baker and Music City native Claire Meneely started Dozen Bakery as a holiday cookie pop-up business in 2009 that was intended to be open for three months. Her skills, which were honed in the San Francisco bay area and Paris, were more than enough to catapult her business into the still popular and thriving bakery and cafe it is today.
Between the braised chicken tartine with couscous, the herbs and sliced apples baguette accompanied by broccoli and carrots, and an array of freshly-baked desserts, we were in fluid lifestyle heaven.
Who says you can't have your cake and eat it too?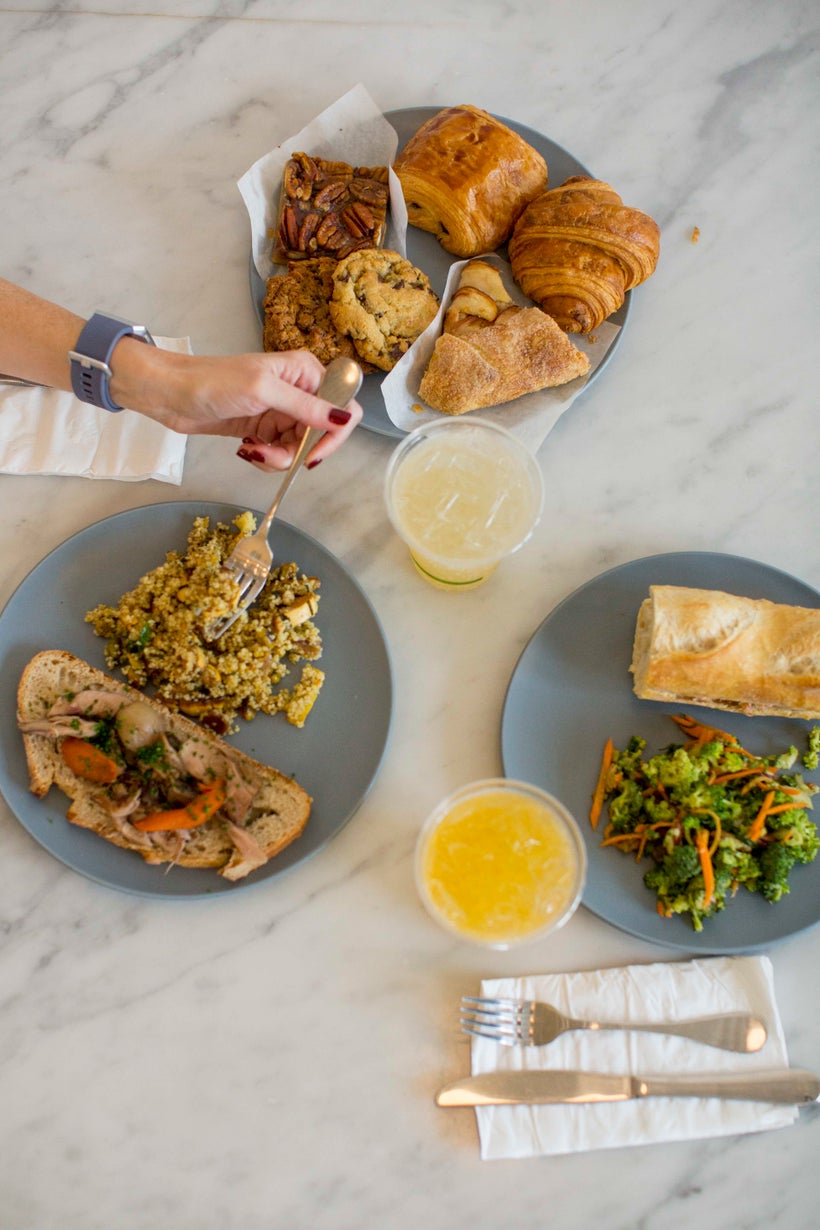 Conveniently located on our journey towards downtown, Carter Vintage Guitars was the perfect pit stop as we clocked roughly 6,000 steps. Priding itself as "Nashville's friendliest guitar store" (truth!), Anne poked around as I grabbed some instruments from their collection of over 1,000 and tested out the goods.
Consensus? Whether you're an aspiring musician, professional banjo player, or just a visitor checking out the city's "best of," this should definitely be on your list.
To clock a few extra steps before we made our way to the famous Broadway strip, home of honky tonks, pedal taverns, and boot shops, I suggested a walk along the river to see another view of the city. If you're the outdoor exercise type, this is a great way to soak in Nashville while soaking up lawn art, unique architecture, and yes...a view of Nissan Stadium, home of the Tennessee Titans.
The destination of choice: Riverfront Park. While Anne scoped out the sites, I decided it would be a good idea to burn some extra calories by turning one of the statues into a workout zone. Needless to say, the passers-by were impressed.
Do you think we could really traipse nearly five miles without trying on some boots, in the city that basically popularized them among women ages twenty-three to forty-five? Absolutely not.
After all, there's no better way to avert the blazing sun than to dip into Big Time Boots on Broadway to hydrate and play cowgirl dressup.
And that we did. From snakeskin to fringed, we got our fill and had our own "big time" snapping photos and boot-scootn'-boogying our way to all three (yes three!) floors of western wear. If you think the ten gallon hat isn't a real thing, after visiting this shop you'd definitely change your mind.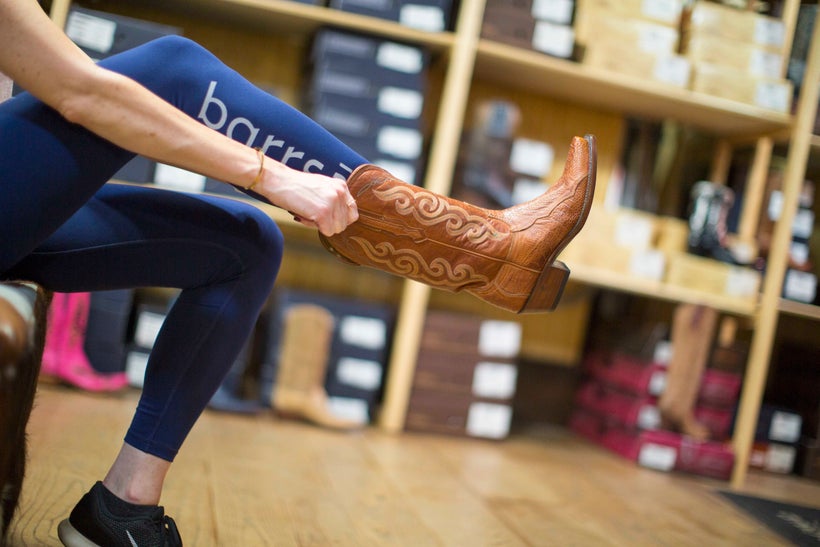 As we neared the end of the walking tour, and before diving into a healthy afternoon snack, we swung by Music City's iconic retail store and live music venue Two Old Hippies. As the name implies, the store was started with '60s movement fans Tom and Molly, aka, two old hippies.
Their love of music inspired a premium acoustic instrument collection, while the boutique is widely known for its eclectic mix of hip apparel for men and women, unique jewelry, and witty gifts for any occasion.
We perused our way through the store, enjoying the "One World, All Love" vibe, trying on everything from feathered caps to vintage guitars. If this experience was included in an active, fluid lifestyle, I think everyone would be swiping their way to 10,000 steps on a regular basis.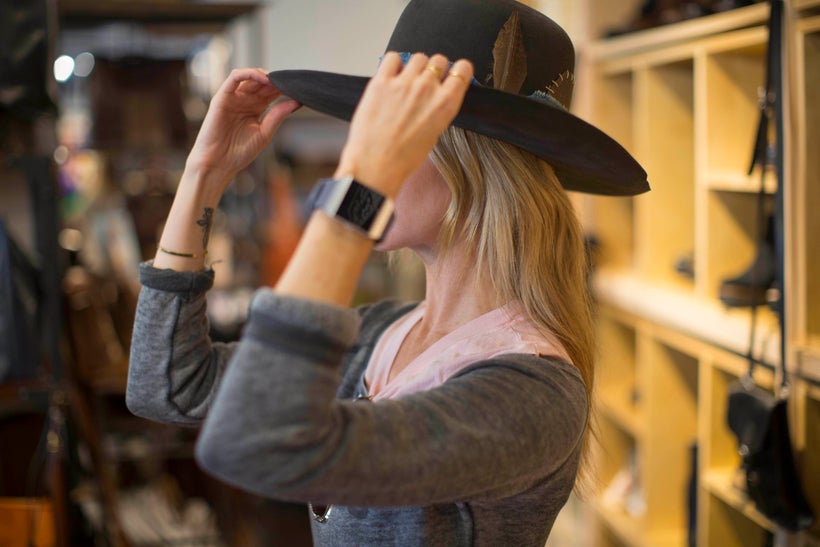 Last but certainly not least, and to celebrate the culmination of our fun-filled walking adventure, we decided to grab a snack across the street at Turnip Truck Urban Fare, one of Nashville's popular natural grocery stores location in the Gulch.
A hot-spot for young, urban professionals who are keen on staying fit, eating healthy, and enjoying the best of the Nashville scene, this was the perfect spot to reflect on the day. Best part, I was wallet-free with my Visa payment-enabled Ionic -- proving that this fluid lifestyle thing really does have legs.
Dare I say: Mission accomplished!
This post was published on the now-closed HuffPost Contributor platform. Contributors control their own work and posted freely to our site. If you need to flag this entry as abusive,
send us an email
.