Daniel Glenn got a hero's welcome when he crossed the finish line last Sunday.
Glenn, a 28-year-old navy lieutenant, ran all 13.1 miles of the Marine Corps Historic Half Marathon in Fredericksburg, Virginia, wearing an 85-pound bomb disposal suit.
Despite completing a grueling physical feat, the Bronze Star recipient doesn't consider himself a hero.
"To me, the real warriors are those who are doing heroic acts far away from anyone outside the military," Glenn told The Huffington Post.
The EOD suit weighed about one-third of Glenn's body weight and wasn't air conditioned.
"Put it this way: The thinnest parts are still a half-inch thick and the thickest parts have about four inches of armor plates and material," Glenn said.
The bomb suit allows a soldier to survive temperatures of hundreds of degrees for up to five minutes, but it's not something you want to lounge around in.
"You only have to take 10 steps before you want to get out," he said.
Glenn ran 13.1 miles wearing that suit and did it in four hours and 51 minutes.
"Honestly, it wasn't running. It was more like a forced march," Glenn admitted. "I was taking tiny steps on the hills, and I took off parts of the costume a few times to add ice packs to my hips, crotch and other areas."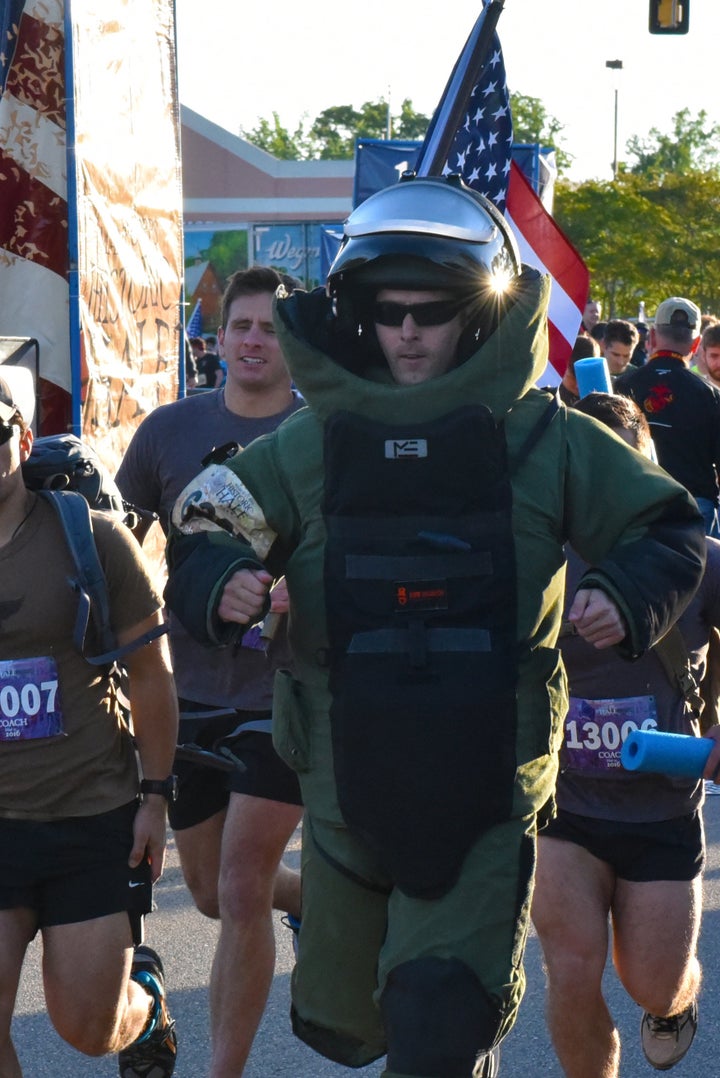 It wasn't exactly a run in the park.
Glenn said his sleeves were dripping with sweat, but he refused to quit.
"I was either going to be taken off the course in handcuffs against my will or in the back of an ambulance unconscious," Glenn said. "When I got to mile 4, I was confident and by mile 8, I knew I'd complete it."
Glenn was hobbling the next day, but said he went for a run on Wednesday -- without the suit.
Now Glenn has submitted his time to Guinness World Records in hopes they will declare his time a world record.
"They don't currently have a record for that category, but they set an arbitrary time of three hours, 15 minutes," Glenn said. "No one has done it."
Glenn previously held the record for "Fastest Mile Wearing a Bomb Suit." He did it in eight minutes and 30 seconds.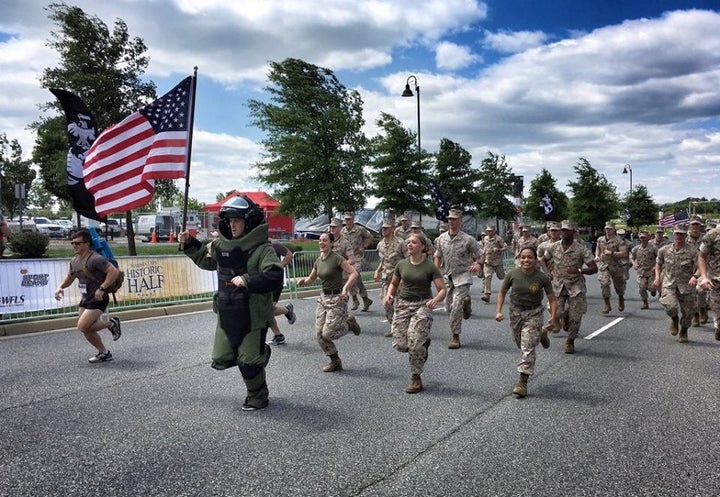 Glenn hasn't figured out his next step, but plans to do similar feats in the future.
"This is a way to show people how mentally strong people in the military are," he said. "To bring that home, you sometimes have to provide a spectacle."
To donate to Daniel's fundraiser, click the Crowdrise widget below.
BEFORE YOU GO
PHOTO GALLERY
Amazing Photos From The New York City Marathon