Middle-class frustrations are an Alan Ayckbourn specialty -- and in his 75th play, Neighborhood Watch, now at 59E59 Theaters, he posits a plausible story with unexpected results. Mild-mannered Martin (Matthew Cottle) and his efficient sister Hilda (Alexandra Mathie) have moved into the Bluebell Hill development, just a field away from a housing estate.
They invite their new neighbors in for an open house. But what begins as a friendly gesture soon spirals into a crypto-fascist neighborhood watch. It begins innocently -- Martin chases a young kid from his backyard, protected by a garden gnome and a plaster Jesus. He gets a kick in the shins for his trouble and recovers a beaten-up case. Neighbor Rod (Terence Booth) harrumphs it's probably a rifle, though it proves far more innocent.
Rod suggests erecting a security fence, lamenting the "local scum." He claims the police are useless and, little by little, Hilda and Martin, the devout Christians, take action. These are the proverbial nice people who, driven by fear and frustration, quietly reveal their darker selves. What they haven't considered is the enemy within.
Hilda, hoping to curb Amy, the local vamp (Frances Grey), is touting a "morality committee," while Amy's blighted husband Gareth (Richard Derrington) supplies a nefarious creation of his own. Soon, Bluebell Hill resembles a police state -- and while Ayckbourn's social commentary is clear -- it's somewhat undermined by the play's confusing tone. Part realism, part satire, it suffers from a lack of cohesion. The British actors are quite good, but the overall effect is one of disquiet.
In a more traditional bent, James Barbour brings his yearly concert to Sardi's through Dec. 11 and The Coterie in Los Angeles Dec. 16-17. A dreamy Broadway singer, it's a wonderful way to kick off the season.
What makes the concert so entertaining is his ability to connect on an emotional level -- Barbour shares personal remembrances weaved into a night of Christmas songs -- he puts his own soft, sentimental spin on "White Christmas" -- alongside show biz classics.
Not only does he come bearing gifts -- special guests stars in tow, he imbues the night with real warmth and good cheer. He's got powerful pipes -- and audiences are treated to his considerable charm and rich baritone. He sings beautifully, but what makes the entertainment so memorable is that it's good fun.
Barbour has been touring his holiday concerts for four years -- and it's easy to explain its success. Plus, he's got a new CD out, Bring Me Giants, which includes greats from the Broadway canon. And for diehard fans, there's more good news: Barbour is back on Broadway in late March in the musical Rebecca at the Broadhurst.
For parents and kids, fun and excitement has a particular name: Cirque Shanghai -- Bai Xi at the New Victory Theater. Through Jan. 1, this spectacular performance showcases Chinese circus arts dating back to the Han Dynasty. The troupe has some of the most talented acrobats, contortionists and gymnasts in the world -- and their circus artistry is unparalleled.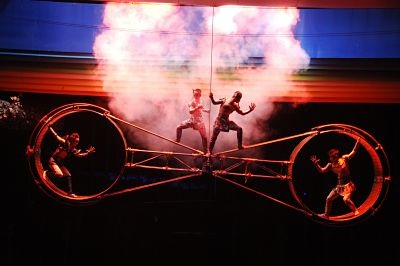 For 60 high-energy minutes, Cirque Shanghai transports audiences into an extraordinary world where bikes and balls, chairs and poles, hats and ladders come alive. There is a wonderful dance with lions, a zippy chair-stacking act and wheel-of-death routine that will astound.
Superbly directed by Miao Miao Chen, the show is a masterpiece of sight, sound and motion. That is thanks to Hui Ling Huang's exquisite costumes, Boon Casey's colorful lighting and Jian Min Huang's eclectic music.
The overall sensation is one of amazement. Cirque Shanghai Bai Xi is a glorious experience -- a chance to see an exotic, ancient tradition combined with state-of-the-art presentation. It's a perfect holiday gift.