Traditionally high-yield or stable assets, including financial assets such as securities, stocks, and bonds all suffer the same drawback – they often take years to accrue value for investors. This means that asset-holders cannot quickly capitalize on the value of their holdings. Further compounding this problem is the illiquidity of traditional financial assets – that is, they cannot be bought and sold with ease, as a result of their expense, a lack of interest from buyers, and so forth.
This offers investors a suboptimal outcome and retards global capital flows. This can be particularly inconvenient for those seeking to liquidize their capital, as given the time value of money, a dollar spent today is more valuable than one spent tomorrow.
Currently, methods which facilitate capitalization on one's assets, particularly illiquid assets, are costly and time-consuming. Unfortunately, there's not a lot of advancement in this area. But where there is, there's potential for change.
There is a new blockchain fintech startup, BANKEX, which is paving the way in tokenization technology development to solve this problem. It serves as a decentralized banking Software-as-a-Service (SaaS) enterprise operating a Proof-of-Asset Protocol (PoAP), "a standard enabling a new generation of assets and contracts called decentralized capital markets."
"Our mission is to enable new sources of capital using real assets to bridge the gap between traditional finance and blockchain. While many see blockchain as the ultimate competitor of the financial system, both can co-exist and complement each other," said Igor Khmel, CEO, and Founder of BANKEX.
With an MBA from Stanford School of Business, Khmel's professional track-record includes professional tenures at prestigious organizations McKinsey, Deloitte, and Citadel. Khmel also founded Sberbank Lab, a fintech laboratory, and innovation practice, at the largest bank in Eastern Europe.
Blockchain technology allows them to liquidize illiquid assets with tokenization technologies, creating sets of digital tokens backed by real-world illiquid assets, similar, in theory, to cryptocurrencies, which are then placed on the blockchain.
"The ability to track, transfer and manage assets, tokenization not only enhances liquidity but also contributes to faster, cheaper and more transparent securitization. Global experts from fintech innovators to Wall Street veterans alike are eagerly exploring the endless possibilities of tokenization technology," said Khmel.
BANKEX has supporters across the board from leading financial markets strategist, Chris Skinner, to Professor of Economics at the Stanford Graduate School of Business, Michael Ostrovsky, both have joined the BANKEX Advisory Board.
"I believe this is an incredibly exciting project, attacking big and important problems. Our goal of connecting the blockchain technology to banking and using smart contracts to build novel solutions can potentially have a large impact on many industries," said Michael Ostrovsky.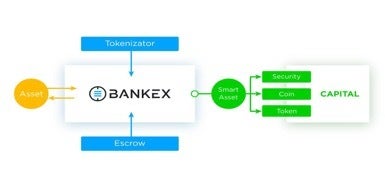 The Proof of Asset Protocol uses initial information from any asset, like a gold watch or a car; the client, and the originator. BANKEX then conducts a thorough background check on the client, ensures the asset's availability and location, verifies international delivery terms and legal conditions, before processing the asset token into the BANKEX ecosystem.
Once all of this information is gathered, it is put into a custom formula which is unique to every asset processed through BANKEX. The formula generates a smart contract, which is put into a second formula that transforms the smart contract into a smart asset. Once verified by BANKEX, the smart asset is then affixed as a token on the Ethereum blockchain to the illiquid asset, let's say, a car, to make it valuable in a liquid capacity.
The car token then goes on the market, where it goes through different steps of financial engineering and product filtering. The platform matches asks with bids for the token. Their requests are patches as smart contracts, and then those contracts go on the BANKEX market.
Once there is a match between optimal buyer and seller, the price is finalized. BANKEX conducts a proof-of-mining to ensure all terms and conditions are met so everyone gets what they were promised, which verifies the value of both product token and smart contract. The product token is delivered in whole or fractionally to the buyer(s), and the seller gets BKX tokens, which then can be converted to fiat currency.
This new fintech blockchain startup is already scaling up its operations and partnering with Microsoft and Consensys to make their platform even more powerful. The blockchain technology has opened up new realms of possibility, especially in the finance industry and BANKEX is an example of that.
This post was published on the now-closed HuffPost Contributor platform. Contributors control their own work and posted freely to our site. If you need to flag this entry as abusive,
send us an email
.