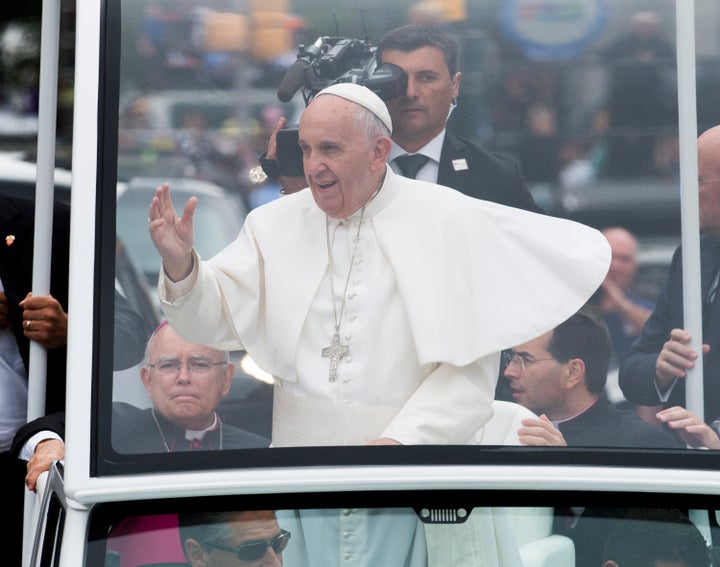 Santos Colon, Jr., 17, admitted Monday that from June 30, 2015 to Aug. 14, 2015 he was planning to orchestrate an attack during the pope's visit to Philadelphia, Pennsylvania in September 2015. Colon, who was 15 at the time, planned to recruit a sniper to shoot the pontiff during a papal Mass and set off explosive devices in the vicinity.
The teen contacted someone he believed to be a sniper, who turned out to be an undercover FBI employee, according to a release from the Department of Justice. "Colon engaged in target reconnaissance with an FBI confidential source and instructed the source to purchase materials to make explosive devices," Monday's release stated.
FBI agents arrested him in 2015. According to a joint intelligence bulletin issued by the FBI and Department of Homeland Security to law enforcement on Aug. 14, 2015, Colon was charged with trying to provide material support to a terrorist organization, ABC News reported at the time.
Monday's court documents revealed the teen, a U.S. citizen, also went by the name Ahmad Shakoor and aimed to carry out the attack in support of the Islamic State group, according to Agence France-Presse.
The pope traveled to Washington, D.C., New York City and Philadelphia in September 2015 for his first and only papal trip to the U.S. so far. His visit to Philadelphia took place on Sept. 26-27 for the Vatican-sponsored World Meeting of Families. Hundreds of thousands of people attended Francis's papal Mass on the Benjamin Franklin Parkway, which Colon reportedly planned to target in an attack.
Kenneth A. Gavin, a spokesperson for the Archdiocese of Philadelphia, said in a statement to The Huffington Post on Tuesday: "The Archdiocese is extremely grateful to all members of the law enforcement community and to the various security agencies who worked to provide a safe atmosphere for the Holy Father and those who traveled from around the world to be with us for the World Meeting of Families and Pope Francis' visit in September 2015."
Colon has not been sentenced, but he faces up to 15 years in prison and a fine of $250,000.
BEFORE YOU GO
PHOTO GALLERY
Pope Francis' Best Quotes From His Trip To America