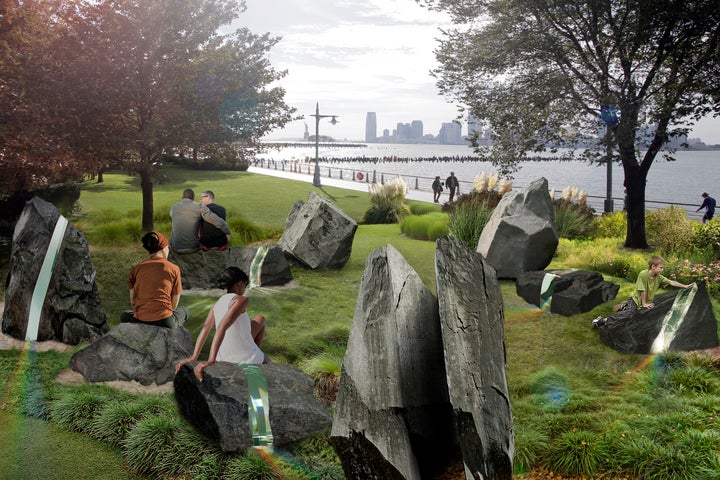 As Manhattanites flocked to Pride festivities Sunday, New York Gov. Andrew Cuomo unveiled plans to honor the LGBTQ community further with a brand new monument. 
Designed by Brooklyn-based artist Anthony Goicolea, the new memorial will be situated on the waterfront in New York's Hudson River Park, not far from the piers that had historically been a meeting place for queer people. Goicolea's design will be made up of nine individual boulders, some of which will be "bisected with a clear, laminated, borosilicate-glass with refractory components that act as a prism to create subtle rainbow patterns," as seen in a series of renderings released Sunday. 
"This stunning design complements the landscape and communicates a timeless message of inclusion, and this monument will serve as an enduring symbol of the role New Yorkers play in building a fairer, more just world," Cuomo said in a press release. "From Stonewall to marriage equality, New York has always been a beacon for justice and we will never waiver in our commitment to the LGBT community and to creating a more just and inclusive society."
He continued, "This new monument will stand up for those values for generations to come."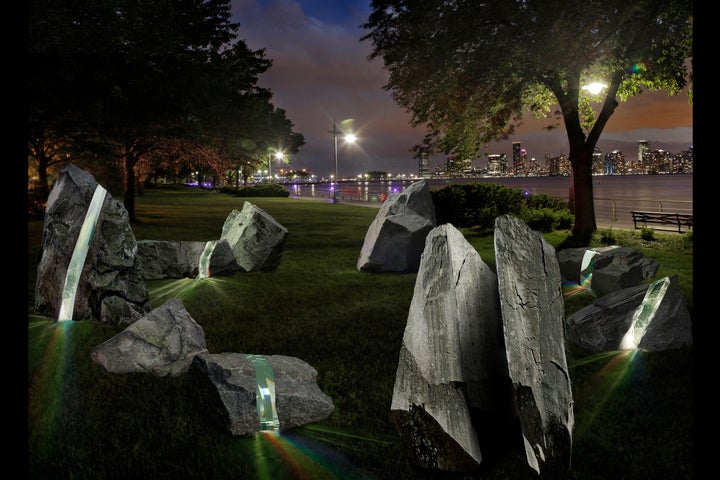 The governor established the LGBT Memorial Commission in June 2016, just days after 49 people, most of whom identified as queer, died in the Pulse nightclub massacre in Orlando, Florida. The commission began accepting design proposals in October, each of which were assessed for "their interpretation and clarity of the theme, creativity and originality of depicted theme, quality of artistic composition, site compatibility, and constructability, among other factors," according to a press release. 
The memorial will stand as a tribute to the 49 Pulse victims, as well as the queer community at large. No date for its opening was announced. 
The Altanta-born Goicolea, whose work has been exhibited throughout Canada, Europe, Asia and the U.S., said he hoped the monument would "serve as a communal space filled with light, color, and hope where the visitors can sit, mourn, love, and remember for years to come." 
"I wanted something usable and functional, and that was not going to take away part of the space," he told The New York Times. "I wanted to communicate with the river and the piers. I really want it to be part of the area." 
BEFORE YOU GO