Rushing to get out of work in NYC and driving down the Jersey Turnpike has become a regular occurrence to me. Most recently, it was trying to make it down in time to enjoy an amazing set from Gramatik when he took over the Fillmore Philadelphia. A couple weeks ago, it was making the pilgrimage to my old stomping grounds to catch NGTHMRE and G Jones rattle the bones of one of my favorite venues.
When I originally reached out to NGHTMRE's publicity about covering this event, I hadn't noticed that it would be at one of my most cherished venues. From a young age my sister began taking me to see shows and many of them were right there on South Street in Philadelphia, at the Theater of the Living Arts. I remember the first few times I walked under the marquee, beaming with excitement to enter somewhere that for those few hours, would be separate from the rest of the world. Even driving into Philadelphia that night I began to get shivers of excitement; here I was, back at one of the venues that helped shape my love of music, not just to experience a show but to cover it as a journalist.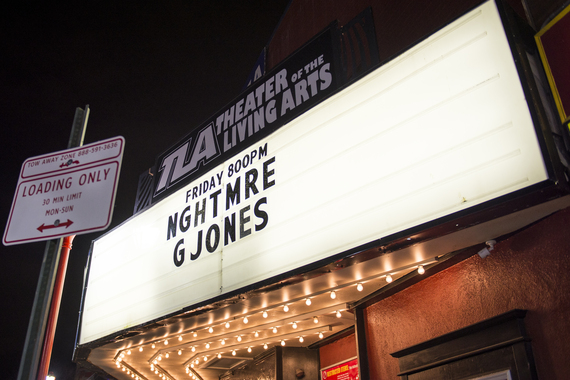 We arrived just after G. Jones had begun his set, and from the line outside you could hear the thunderous bass. I anxiously waited my turn at will call, the excitement building inside me as I stood under that same marquee that used to get me giddy as a teenager. Although my taste in music has evolved, and I've opened myself to trying new things, the memories of skanking, moshing, and screaming lyrics along with some of my favorite bands washed over me as I collected my wristband, and tickets.
Upon entering, a level of comfort akin to being wrapped in your baby blanket took over me; I hadn't been to a show here in longer than I could remember, and I was beyond stoked. I immediately inquired where I could find access to backstage and rushed to get my camera gear in order. I will admit, my hands were shaking with excitement as I tried to thread my lens to my camera body. There were a number of other photographers backstage so I tried to put on my best "another day on the job" face, but I'm pretty sure it was obvious how giddy I was.
G. Jones was on stage, barrelling his way through an insanely well mixed catalog of grimy, teeth-shattering dubstep. The Bassdrop-laden crowd's cheers almost matched the decibel level of the speaker system when Jones mixed in "Don't Hate The 808," "Thy Mystery Spot," and "Boombox," three killer Bassnectar tracks; although Jones was clever enough to add his own unique twists to each one. As a protege of Lorin Ashton, the mad scientist behind Bassnectar, it only makes sense that G. Jones would be prone to blasting out tracks that rival the Bass God's namesake. The energy and pure enthusiasm he displayed were so exciting to watch. He was as animated as anyone in the crowd, and displayed an eagerness to please as he mixed track after track of wobbly bass and crunchy distortion.
The crowd itself was an amoeba of flailing limbs and headbanging. Often describes as the heavy metal of the electronic world, dubstep has a way of turning dance events into mosh pits and a churning sea of bass-addicts. There's a ravenous nature to those who attend bass-driven live performances, and this group was no different; sometimes I'm genuinely concerned for the amount of people who probably leave these shows with whiplash, but I digress.
G. Jones wrapped up his time on stage, and it was time for the main event: NGHTMRE. Staying true to his name, NGHTMRE is a king of garish composition. Taking bits and pieces from the heaviest genres of bass music, NGHTMRE has produced a slew of face-melting tracks that bounce between mind-numbing dubstep and twerkalicious trap. Recently NGHTMRE put out an album with the "Heaven Trap" duo Slander, they sold out the Palladium in Hollywood so quickly they had to add a second show (which also sold out). It's quite obvious that there's something special going on with NGHTMRE and his fellow collaborators.
When he took the stage the crowd erupted once again. Although it seemed difficult to follow the bombastic G. Jones, NGHTMRE did a hell of a job of bringing the crowd to a whole new level. Mixing in a plethora of heavy-hitting tracks, he kept the audience enthralled in the performance for its entirety. Throughout the night, he mixed in plenty of fan favorites, including a couple tracks from Diplo and Skrillex's "Jack Ü." Also thrown into the set was a personal favorite of mine: his collaboration with Slander on remixing Marky Mark's heavily popular "Good Vibrations." The rework is just such a feel-good-yet-grimy concoction of bass, sampling, and synths that uplift and brighten; a summertime track for windows down cruising.
A point of intrigue was NGHTMRE's soon-to-be released collaboration with Dillon Francis entitled "Need You." Both producers have garnered fame over the past year or so, and this track was an amazing mix of both respective worlds. The track is filthy and bouncy, a perfect balance of NGHTMRE's grimy trap and Dillon's uppy moombahton. The crowd loved it, the whole venue felt like it was bouncing with the beat. Focusing on newer tracks, NGHTMRE threw out a lot from his new EP, as well as recent collaborations with the likes of LOUDPVCK and Ghastly.
When I felt as though I had taken enough photos for the moment, I made my way down into the raucous collection of attendees to enjoy the show from the floor. It was exciting seeing one of my favorite venues from the perspective of an electronic event. Looking around at the lights, the crowd, and the man on stage, I felt an odd nostalgia and almost the closing of a cycle. Although I'm positive this was not my last time attending a show at the TLA, there was a level of completeness that enveloped me as I danced, cheered, and reveled with my friends.
NGHTMRE closed strong, and ushered in eardrum-shattering cheers from the crowd, followed up with unanimous chants of "one more song!" Not one to leave his fans wanting, NGHTMRE tore through a couple more songs, pushing his set just past the venue's curfew to the elation of those in the concert hall. As he left the stage, and the crowd worked its way out onto the busy South St. in Philadelphia, I took one look over my shoulder and smiled; that same familiar feeling of leaving the TLA satisfied and euphoric sweeping over me.
NGHTMRE will continue his tour to include Webster Hall on Friday, April 29th. His collaboration with Dillon Francis entitled "Need You" is slated for release at the end of the month.