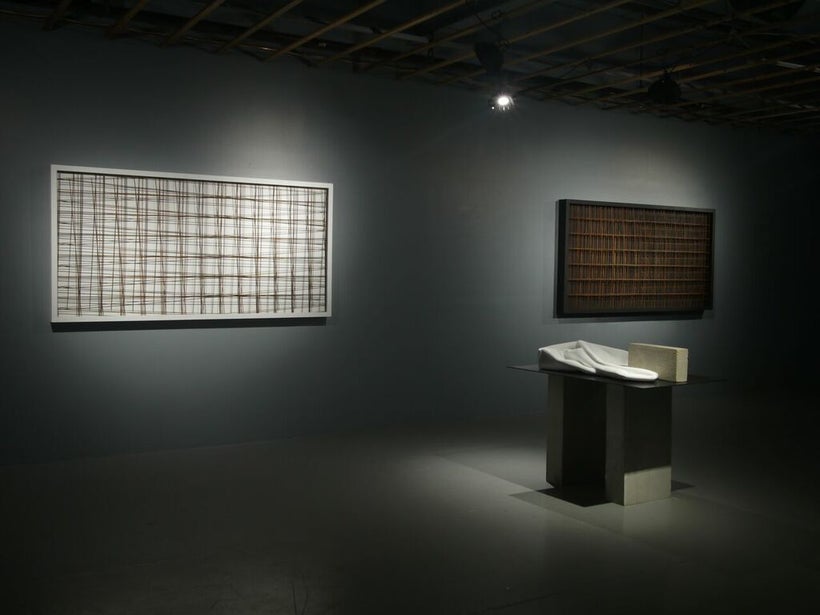 Concrete, steel, wood, and inner tubes are transformed in the hands of artists, Kimberly Mayhorn and A.V. Ryan in the exhibition, "Foundations." The mid-career Brooklyn artists present their latest sculpture works at FiveMyles. The relationship between the two—besides their dexterity in manipulating found materials—is an exploration of the arrangement of shapes and objects and their impact on the human condition. Mayhorn's approach references a more macro exploration of how the shape of buildings, land, and whole neighborhoods affects the psyche. Meanwhile, Ryan's primary focus is the vulnerabilities of human experiences depicted through abstract forms.
This past Saturday, during an intimate conversation with independent curator, Charlotta Kotik, the two artists shared their views. Check out highlights below.
On the inspiration behind their work:
Kimberly Mayhorn: I'm interested in shades and lines and materials that speak to me. I then create my own painting with a fixed material. In this work I was thinking of invisible grids that we as humans commune with. Specifically, I was thinking of black bodies and our relationship with the world we navigate, and this intersection of architecture and space. For example, I once lived in a basement apartment. That affected me because now I can only live on top floors. I don't like the idea of someone walking on top of my head or being in a place that is too dark. So this work is about how subconsciously these environments dictate the psychology of who we are. The grid is how we as bodies navigate intersections we have with one another.
A.V. Ryan: An important painting to me is Peter Paul Rubens' "The Descent from the Cross." It is interesting because you see the dead body and the falling away and the shroud is so white and luminous. The sprit leaving the body is reflected in this cloth. It is a strategy of representing interior experience in an external way. For this body of work I was similarly interested in ways of representing mourning and internal experience in a physical exterior way.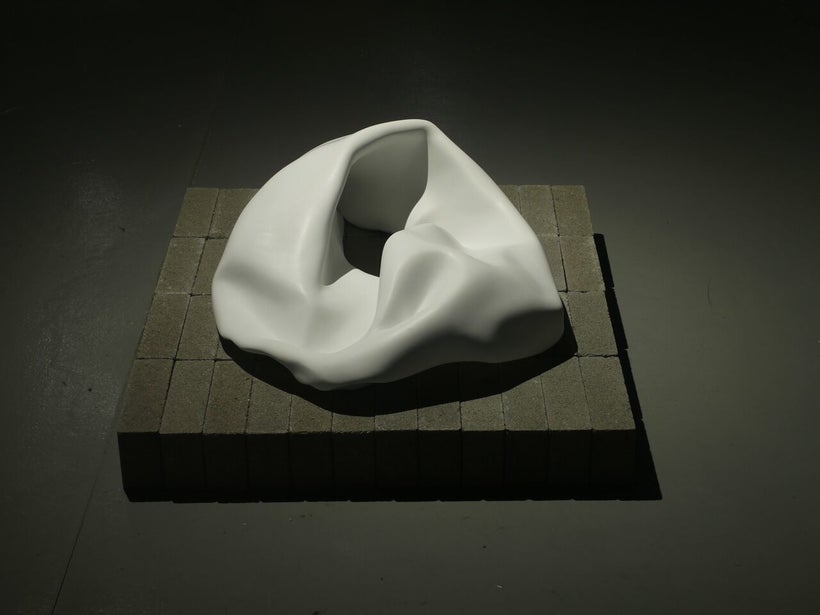 On their relationship to space:
Ryan: With my work I am trying to make the viewer aware of how we are affected by these spatial objects. There is this internal sensitivity we have that's impacted by things we see and indicates that hard-edged environment we are confronted with.
Mayhorn: When growing up I was into architecture. And in this work I reference black bodies and migration. It's the feeling of wanting to escape but being bound by the ideas of society in lieu of land and ownership.
On creating art in a tense political climate:
Mayhorn: I am politically informed and it finds its way in my work. My ideas can be very dense. But when I get to my studio I like to strip away these ideas to be as simplistic as I can. Then I fill it back up where there is a narrative behind the work that is not so obvious. In my sculptural work it is about materials I am drawn to, and allowing the ideas to dictate the story of the developing work.
Ryan: I don't know how or if politics will develop in my work. I recently did start making real estate sign paintings with elements of the American flag. In this work I am playing around with a response to our political situation. But I just don't know where that work is going.
The column, On the "A" w/Souleo, covers the intersection of the arts, culture, entertainment, and philanthropy in Harlem and beyond and is written by Souleo, founder and president of arts administration company, Souleo Enterprises.
This post was published on the now-closed HuffPost Contributor platform. Contributors control their own work and posted freely to our site. If you need to flag this entry as abusive,
send us an email
.