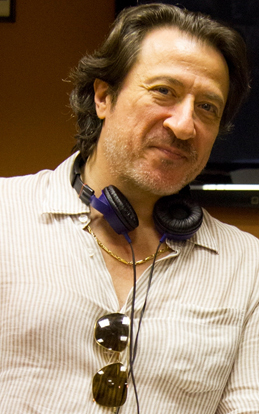 On the last day of shooting Lily of the Feast, a feature set in 1970s Williamsburg, Troy Garity, in a suit, sits on the edge of a bathtub, counting. The L.A. based actor, son of Jane Fonda and Tom Hayden plays Santo Bastucci, a young man with a gift for memorizing numbers, a handy skill, and members of the mob are making offers he can't refuse. The bathroom is minuscule in the soundstage clutter of Windmill Studios in Brooklyn, a set specifically designed for the movie by its director, Federico Castelluccio. We know him as Carmella's heartthrob in HBO's The Sopranos, when things are not going so great between this suburban mob wife and husband Tony, but here for Lily of the Feast, director Castelluccio, a known fine artist, extends his art to the screen. As many have told me, in making the feature length version of this story from a short, his artistic vision informs every frame. The film also stars Paul Sorvino and David Proval and is a passion project for screenwriter/producer Michael Ricigliano, Jr. who grew up in this neighborhood.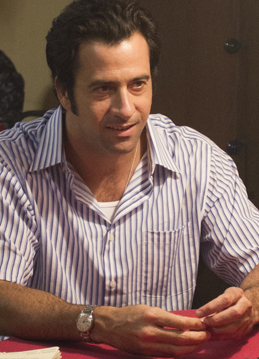 While this project is a far cry from The Sopranos, the atmosphere on set is similar, said Castelluccio: "It's a family, and nothing less than great. Troy Garity is a phenomenal actor, giving a very nuanced and layered performance." Castelluccio played the role of Santo in the short. "In the scene in question, he's embroiled in a situation with his bungling father-in-law (Sorvino). His wife is calling him for breakfast. Santo is memorizing checks for something that's going to happen later on. Did you notice that shot? I was thinking about it for a long time, starting from above and circling down on him." Directing is very similar to painting: telling a story in a different medium. Said Castelluccio, "I thought this was going to be another mob story, but this one is about a banker. The screenplay is character driven. When I read the script, I started visualizing it right away." He fought to cast Troy Garity as Santo, finding out Troy's grandfather was a painter. When Castelluccio saw Henry Fonda's painting of the three hats from On Golden Pond, he said, "Wow, he could paint."
A version of this post also appears on Gossip Central.