Five years ago a pregnant Sarah Beatty was busy feathering her nest when a shocking environmental health scare proved her home to be toxic. Angry but empowered, Beatty began her quest to find healthy, safe home products yet quickly realized that there was limited access to these sorts of things, especially on the east coast. In the face of this green product drought Beatty became what she calls "an accidental entrepreneur" and saw an incredibly fertile opportunity to create a one-stop shop for green building products and services. In 2005, Green Depot was born.
Fast forward four years and you can find a Green Depot in nine different cities, including their flagship store in New York City on Bowery and their e-commerce site, greendepot.com. Media and consumers alike just can't stop praising this eco destination, with The New York Times, The Wall Street Journal, The New York Post and more clamoring to dole out accolades for Green Depot. Perhaps poised to become the Whole Foods of construction and renovation, one thing's for sure, Beatty has expertly provided us with a place for us to feather our nests in all shades of green!
Keep reading to find out how this determined new green business woman has earned Green Depot's moniker as America's leading one-stop shop for building solutions!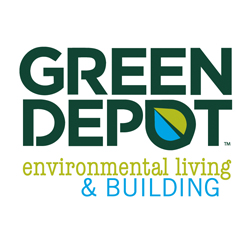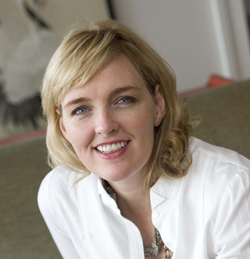 Green Depot sounds like a fairytale success! Tell me about some of the challenges you experienced.
Starting a new business was more challenging than I ever imagined. I was naïve about the obstacles I'd face and figured that there were lots of consumers out there just like me who would want these products -- even if they didn't quite realize it yet! I came to the business as a complete novice in construction, sustainability, green practice, materials and supply but ultimately, being "new" to these sectors has helped me in my role as translator and advocate for the customers I serve.
There has been a lot of confusion in the marketplace surrounding what is "green" and "greenwashing." Early on I recognized that a key component to our leadership and success would be establishing an even-handed assessment system for the products Green Depot offers, which we call CLEAR. This easy-to-read icon system awards full- or half-toned icons based on whether products meet or exceed internal standards in: Conservation, Local, Energy, Air quality and Responsibility (CLEAR). Green Depot's proprietary filter is the result of a year's work with our internal team and experts affiliated with the Lowell Center for Sustainable Production.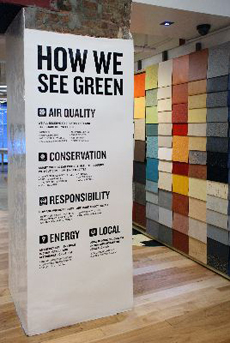 The economy's reversal last year has also put strain on our business but luckily our customer base is diversified -- it ranges from developers and corporations to affordable housing institutions and homeowners. The downturn forced us to work and think even harder about how to remain sustainable, how to be nimble and quick in responding to new opportunities. Although traditional construction is down, the green building sector is growing faster than ever! Green Depot has been fortunate enough to experience continued growth and we are proud to have become the nation's leading one-stop shop for green building solutions. I often repeat what I heard a colleague of mine say years ago, "In 10 years, there will be no such thing as green building, building will just be green." All indications prove that to be true. I see Green Depot as the portal for the increased product demand and the know-how required.
You have obviously responded to obstacles by turning them into opportunities! What are some other rewarding experiences you've had thus far?
Seeing customers in the store every day that are gratified and empowered by what we have to offer and share is always a huge reward. We've had scores of schools bring students ages 8-18 to the Bowery for learning labs -- seeing those kids engaged is so inspiring, it reminds me why I am doing this. An unexpected reward has been Green Depot's ability to spur local green manufacturing -- Ivy Coatings paints & finishes and GreenMaker Industries commercial cleaning products are just two examples of "locally Made-in-NYC" products we've helped bring to market. I am so proud that Green Depot Chicago has played a leadership role in the weatherization and retrofit programs underway there. I believe we've become a leader in the green marketplace because of our thoughtful approach, our motivated staff, and our willingness to learn and adjust every day. I'm proud that Green Depot can be a change agent for better products and innovation in the marketplace.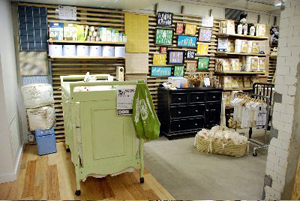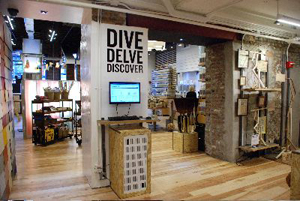 With so much talk about going green these days, it can be overwhelming to know where to start -- any advice?
When it comes to any "change" I am a big believer in starting with oneself. Consider your own buying decisions, use your own home and discover the resources that are available in your own backyard and neighborhood. It really is all about small steps. That way you have credible insight and experience to share with friends and family. It will certainly make a difference in how your feel about the way you are living your life within your own community and you'll learn things you never knew before.
(Go here to find out more about Green Depot's larger, more notable projects. Among the cool stories: a renovation of actor Adrien Grenier's Brooklyn townhouse, HGTV's "Fun Shui" Nursery, and Barney's 2007 department store holiday windows.)



As a Green Depot connoisseur, what are some of your favorite products being sold?
The Family Air Care Kit is a breakthrough product -- developed by National Jewish Health, the #1 respiratory hospital in the US -- it tests for the five most common triggers of asthma and allergies in our homes (where we spend most of our time). A fun one that I like is the SodaStream seltzer maker -- you can turn tap into sparkling or use a range of their regular, diet, energy and caffeine-free flavors. Of course, I'm very proud of Green Depot's cleaning products, which are DFE (Design for Environment) approved formulas, and the range of coatings, paints and finishes we carry.
As this greening trend continues to grow, what do you see for the future?

We all need to be more mindful of our choices and the ways we consume -- it's easy to shift simple routines that cut down both our carbon footprint and our "waste print". It's important to invest in quality items that will last and surprisingly easy to make our homes more healthy, comfortable and energy efficient. Practical steps can be found on Green Depot's website.
To ensure our children's children are able to enjoy the same world we do -- if not a better one -- we all must think responsibly about how be build, live and consume. Urban populations like New York City are growing so the infrastructure we build and retrofit needs to anticipate that growth. Protecting the earth's natural resources, reducing carbon emissions and creating healthy, thriving communities are all possible goals to work towards, and opportunities for the reinvention of America. Every person can play a part -- from world leaders to everyday citizens. When we do, we discover the true meaning of the words "community" and "stewardship". My journey with Green Depot has made me even more hopeful about the possibilities for our future.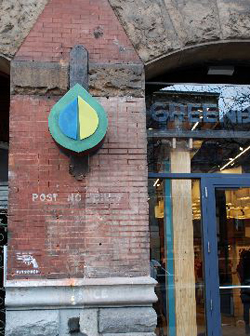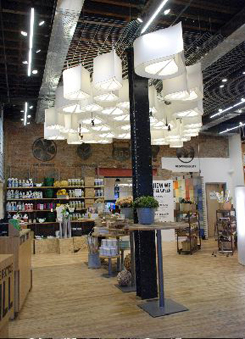 To get in touch with Sarah or the Green Depot team, email contactus@greendepot.com
Planning to go green or in the process already? Want more interviews with leaders in the green business? Tell me about it in the comments below or email me at marissabronfman@gmail.com