Combined, the New England Patriots and the Boston Red Sox have won 8 championships in the twenty-first century - 5 Super Bowls in 2002, 2004, 2005, 2015, 2017 and 3 World Series in 2004, 2007 and 2013. These two Boston dynasties have more than a winning tradition in common. Both teams have visionary technology leaders on their staff who are investing in digital business transformation initiatives to further improve the fan experience.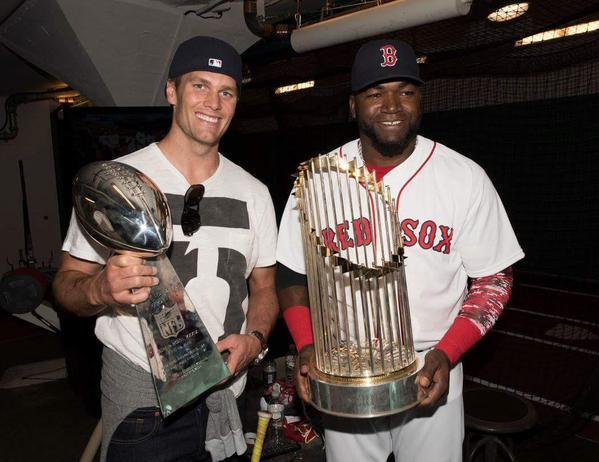 To learn more about the business of sports technology and future use of emerging tech such as artificial intelligence (AI), internet of things (IoT), virtual and augmented reality (VR/AR) and best use of customer relationship management (CRM) and advanced analytics, Ray Wang and I invited three of the top sports technologist to our weekly show DisrupTV.
Fred Kirsch is Publisher & Vice President of Content at Kraft Sports Productions/New England Patriots. In my opinion, Kirsch may be the most innovative digital technologist in all of sports, not just the NFL. Kirsch has been with the New England Patriots since January of 1995. He has overseen every aspect of the digital evolution for the Patriots including the creation and delivery of all content in all forms. Under Fred's leadership, the Patriots introduced the concept of a team website in 1995; the Patriots were the first NFL team (possibly all of sports) to have a website 22 years ago. In 2009, the Patriots were one of the first teams to offer apps to their fans and they are the first team to offer high-definition streaming video to fans. Kirsch and Jonathan Kraft (President of Kraft Group and Patriots owner) are recognized as NFL technology visionaries and trailblazers when it comes to using advanced technology solutions. Kirsch is an excellent follow on Twitter at @Fred_Kirsch.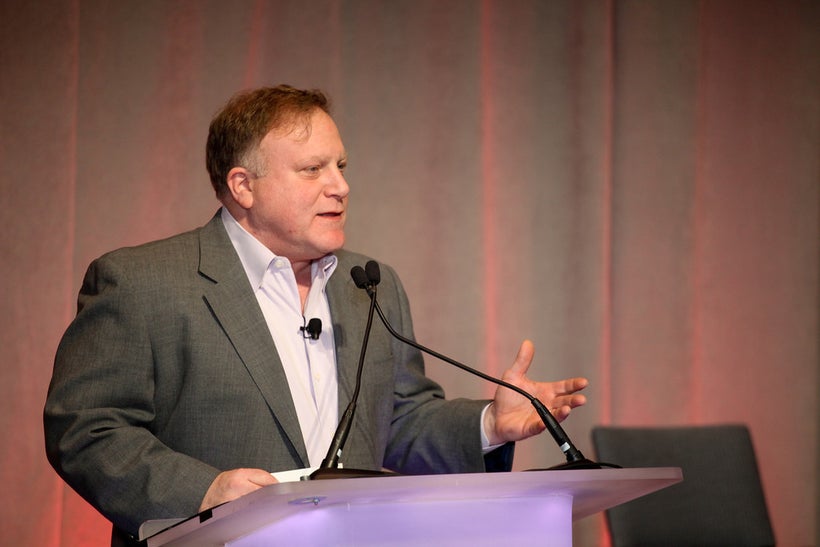 We started our conversation with Kirsch about the greatest Super Bowl comeback ever, referencing the Patriots comeback from being down 28-3 with 17 minutes left in the game, to their ultimate overtime win of 34-28. Both Kirsch and I have watched the second half of the Super Bowl numerous times (about 20 times for me).
What are the Patriots doing to improve the fan experience? The fans at Gillette stadium can use a mobile app to deliver HD video streams that are unique to stadium attendees, including the ability to use replays after key plays. Kirsch is also experimenting with augmented reality. Today, all the players jerseys, helmets and footballs have chips and sensors, potentially providing volumes of data for NFL teams to analyze.
How is artificial intelligence (AI) making its way into sports? Kirsch believes that AI and big data has incredible potential to improve the fan experience. Kirsch is also researching voice commands and conversational commerce as the big area of growth. AI is now being used for customer service with location services support and business related information. How we use Apple's Siri and Amazon's Alexa at home will be the way we can be services using mobile game day apps at Gillette.
When can we expect compete digital ticketing system? The Patriots already deliver a paperless ticketing option, but given the age demographic of season ticket holders, the completely digital ticketing system is not in the immediate future.
Using advanced analytics and CRM data to improve customer retention - Kirsch and team use predictive analytics to both improve the fan experience and anticipate their needs. Every fan and all their touch-points are managed by the Patriots CRM. The patriots use algorithms to deliver proactive services in order to grow their season ticket holder install base. The Kraft Group has launched the Kraft Analytics Group to deliver advanced data science capabilities to teams across all of sports. Kirsch believe that AI and CRM combined will revolutionize how sports teams design for optimal customer experience.
"I love technology, but it is always about people. Hire good people, let them do their work, and don't be afraid to fail with technology. It changes so fast, you have to be willing to experiment. Trust your people to do their job." — Fred Kirsch
In 2017, the NFL is partnering with INTEL to deliver new 360 degree points of view during this upcoming NFL season, according to Kirsch. The viewing experience will significantly improved given the improved processing power of data and increased number of cameras covering the action on the field. The NFL is also capturing volumes of sensor data and the competition committee is in the process of defining usage governance and speed of adoption for emerging technologies. Kirsch is a technology pioneer and an incredible thought leader in the world of sports.
After speaking to Kirsch, Ray and I shifted our conversation to the Red Sox and their technology leader.
Jason Lumsden is the Director of IT at Boston Red Sox. Lumsden's experience in technology and business development has afforded him top manager and consultant roles with large organizations across the world. As the Director of IT for the Boston Red Sox, Lumsden guides the team's digital strategy and leads an internal Technology Steering Committee. He also oversees all business and baseball projects. Prior to joining the Red Sox, Lumsden held various consultant and business development roles. He was with Accenture in North America and globally, working closely with Fortune 500 companies to meet project performance standards and deadlines. You can follow Lumsden on Twitter: @Lummey10.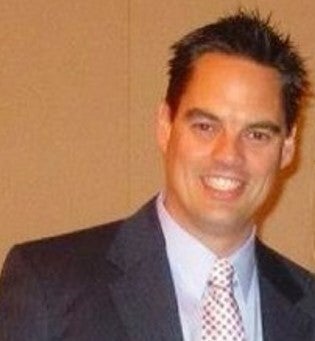 Lumsden reminded us that unlike the Patriots 10 home games regular season schedule, his team has to prepare for 81 home games at Fenway Park - the oldest baseball arena (1911) in all of the MLB. Lumsden and team use technology solutions to compliment the multi-generational the fan experience.
Who do you partner with to develop your technology investment thesis? Lumsden's team works with local area colleges and universities to attract talent and develop a customer experience game plan. The Red Sox also work the startup community and established vendors to identify technologies aimed at improving the fan experience.
Lumsden believes that technology must compliment the customer experience, and this may not be using a mobile app. There are also regional differences that comes into play. Families are hugely important for the Red Sox. The goal is to make sure every family member has a positive memorable experience.
How do deliver a memorable experience to 40,000 fans for 81 games per year? Lumsden uses analytics to determine fan personas based on the calendar, zip codes, time of day games and other factors to predict the type of services needed to delight fans. The Red Sox also make sure that children and the younger demographics are have the best experience at the ballpark. The Red Sox use mobile apps and virtual reality to engage with kids who attend games.
How do you manage a big brand with a small IT budget? The Red Sox partner with the community, including higher education and startups to deliver the best experience. The sense of pride and ownership is very strong within the IT department. Lumsden and his staff work hard, and welcome feedback, in order to create an incredible game day experience. Lumsden also looks at other industries including retail and hospitality to identify customer experience best practices. In addition to baseball games, Fenway also hosts concerts and other off season events including ski jumping!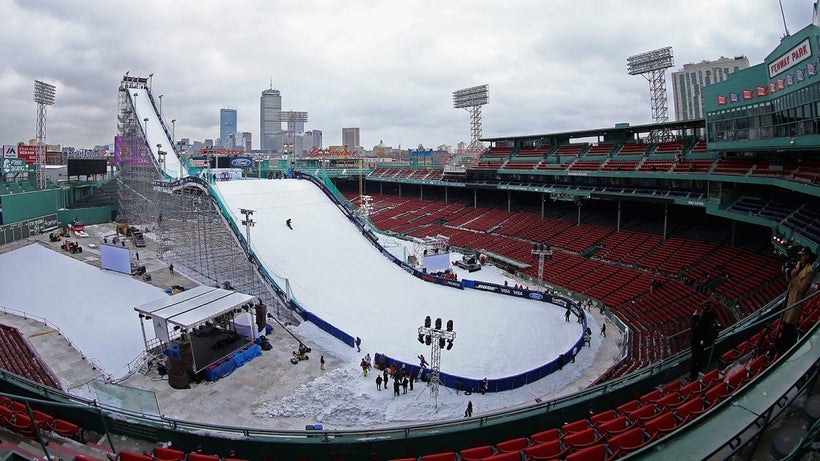 Advice to IT business leaders? Lumsden's hockey background gives him the courage to fight the technology and IT battle. "Be authentic with yourself, and if you believe in something, you just have to persistent. And if you fail, keep trying. Be data driven and if your efforts are not impactful and driving business results, then evaluate, stop and pivot," said Lumsden. The IT team is managing LIVE events and if something goes wrong, they hear about it - ~40,000 mobile and social fans at 81 home games. The speed of innovation is unprecedented, and for this reason Lumsden's team is building a platform that can scale and adapt to newer technologies.
Here's the amazing fact: both the Patriots and Red Sox have a season ticket waiting list that is many years long, and yet both organizations are hungry to leverage technology to delight fans.
After speaking to the Patriots and Red Sox technology and digital senior executives, Ray and I spoke with one of the top sports analysts and thought leaders in the world, Russell Scibetti.
Russell Scibetti is Vice President, Product Strategy at KORE Software and the Founding Editor of TheBusinessOfSports.com. As the Vice President, Product Strategy at KORE Software, Scibetti is responsible for the strategic vision, planning and development of the all software products. Prior to joining KORE, he was the Director of Relationship and Database Marketing for the New York Jets. Scibetti is also the founder and primary author for TheBusinessOfSports.com, an industry blog that discusses practices in sports business and hosts industry networking events around the world. You can follow Scibetti on Twitter at: @rscibetti.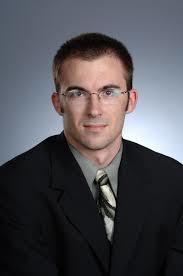 Big brands, small budgets - how do sports IT leaders manage the expectations? According to Scibetti, the sports industry has shifted dramatically in the past years based on the economics of sports and changing behavior of customers and fans. Mobile, apps, VR and alternative consumption models and sports options is increasing competition and disruption.
IT budget restrictions encourages sports teams to be more collaborative and inclusive, working with universities, startups and established large technology providers to co-create technology driven services to improve the fan experience.
Scibetti shared with us how the NBA, MLB and NFL allocate resources at the league level. He also shared trends and opportunities regarding how college athletic departments allocate IT resources to balance technology investments regarding sports.
How do sports teams using messaging apps and CRM to improve the customer experience? Sports and social media are a perfect fit, per Scibetti. Twitter is an example of successful use of social networking and sports. The millennial segment is social and very engaged during games. Snapchat filters used in the NHL is an example of successful use case. More teams are also avoiding recycling content across all of the social networks, providing unique content for each channel - Twitter, Facebook, Snapchat, Instagram, etc. The biggest challenge for CRM in sports is the disparate use of systems that need to be tied together for optimal use. Often, the systems are owned by several different entities. Integration of these systems is key to CRM success.
How do organizations move from data capture to actionable insights? Scibetti and his organization has incredible insights based on ticket related data. The CRM system can be an incredible data generator, allowing teams to craft proactive services using CRM sourced data. Scibetti provide serveral uses cases of analyzing data to deliver one-to-one, proactive customer service and improved customer experience - please watch the video for Scibetti's incredible insights.
What can we expect in the next 3-5 years as it pertain to customer experience? Scibetti, believes that the future of customer experience at sporting events will be defined by personalized, and real-time intelligent engagements. Your favorite teams will know your preferences and proactively deliver products and services based on your unique preferences. Virtual Reality (VR) will also bring the court-side experience to your home - less than 1% of NBA fans will ever experience a game in a stadium. The final hurdle with VR will be to remove the isolation experience, according to Scibetti, instead making the VR experience a social experience.
Kirsch, Lumsden and Scibetti are three incredible sports and technology thought leaders who remind us that winning in sports is all about the customer experience - truly the next battleground for team differentiation in the attention economy.
This post was published on the now-closed HuffPost Contributor platform. Contributors control their own work and posted freely to our site. If you need to flag this entry as abusive,
send us an email
.