Jane Austen's Pride and Prejudice starts with this classic line: "It is a truth universally acknowledged, that a single man in possession of a good fortune, must be in want of a wife." I think if Jane Austen were to start a blog about modern marriage, which my nerd brain imagines she'd call Netherfield Nuptials, I am almost positive that it would start with the phrase: "It is a truth universally acknowledged that a couple engaged to be married must be in want of an engagement photo shoot." The engagement photo shoot has become a rite of passage for today's couples, ranked up there with tossing the bouquet, the first dance, and the something borrowed/something blue tradition.

While many engagement photo shoots have the couple gazing into one another's eyes in a series of random, often schmaltzy poses, it's rare to find engagement photos that capture a couple's true essence and are creative feats of magic in and of themselves.

Well, Ottawa couple Rob and Ashley have managed to do the impossible, striking this perfect balance, by re-imagining scenes from Jane Austen's Pride and Prejudice, one of Ashley's favorite novels, for their engagement photo shoot.

When asked about her love of Pride and Prejudice, Ashley shared, "I read Pride and Prejudice for the first time with my fantastic high school English teacher, Mrs. Sutherland, and it captured my imagination. Our classroom lessons were reinforced by lunchtime viewings of BBC's 1995 Pride and Prejudice television series starring Colin Firth in his breakout role. Ever since then, I have been on the lookout for my own version of Mr. Darcy." The BBC series took on special significance for Ashley, as it was a gift from her aunt who passed away last year, and it continues to bring her such joy upon each viewing.

On how she met her very own Mr. Darcy in Rob, Ashley, whose favorite Pride and Prejudice character is Elizabeth, shares that it was a mutual love of reading that drew them together with Rob giving Ashley three Scandinavian mystery novels on their first date.
As to her inspiration for the photo shoot situated in the majestic Gatineau Hills in Canada, Ashley observes, "In [Pride and Prejudice], the most romantic interactions happen when Elizabeth and Darcy are out of doors and in nature, where they are slightly less restrained by social convention."

With the support of the Ottawa Little Theatre that produced the theatrics version of Pride and Prejudice in Ottawa a few years ago, Ashley and Rob worked with Glynis, the company's fantastic head of wardrobe who helped them choose their regency-era costumes.
The couple sought the services of genius photographer Janine Truelove at Intuition Photography, a friend of the couple who shared their vision for the shoot and helped them create the magic through her incredible work. Each of Janine's photos is like an oil painting come alive and the final collection speaks for itself.
When asked to describe the day of the photo shoot, Ashley reflects, "It was a great way to have silly fun in the hectic weeks before the wedding. Rob enjoyed it more than I could have imagined-- and he looked SO good in his regency costume!"
Watch out, Mr. Darcy. Rob may very well give you a run for your money.
Check out the incredible photos taken by Janine from the engagement shoot below, captioned by Ashley with her favorite quotes from Austen's Pride and Prejudice, as well as the hilarious, not-to-be-missed outtakes from the photo session.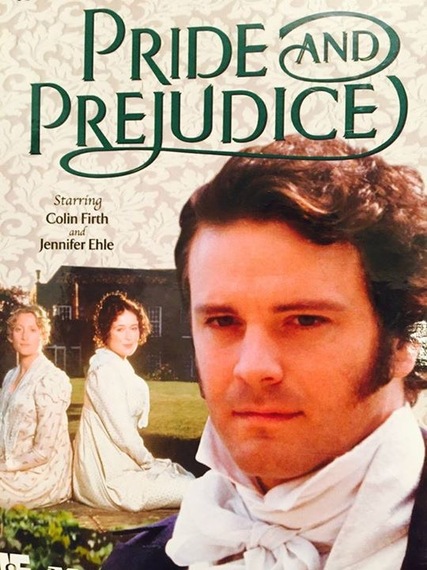 The original cover of the 1995 BBC Miniseries Pride and Prejudice, which along with Austen's novel served as the inspiration for the couple's engagement photo shoot.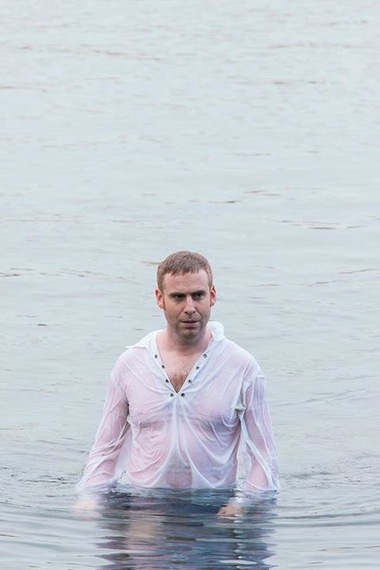 Oh, Mr. Darcy.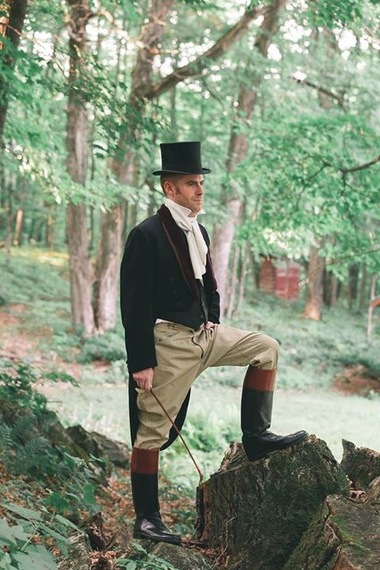 "It is a truth universally acknowledged, that a single man in possession of a good fortune, must be in want of a wife."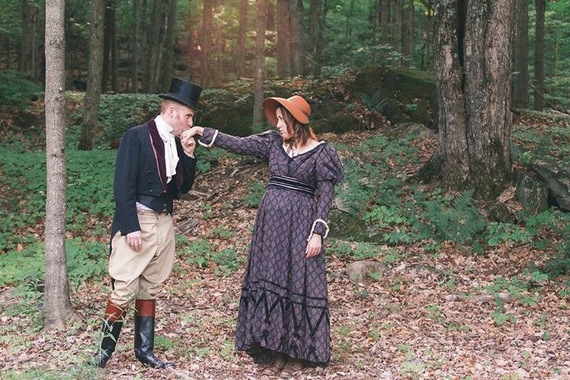 "I cannot fix on the hour, or the spot, or the look or the words, which laid the foundation. It is too long ago. I was in the middle before I knew that I had begun."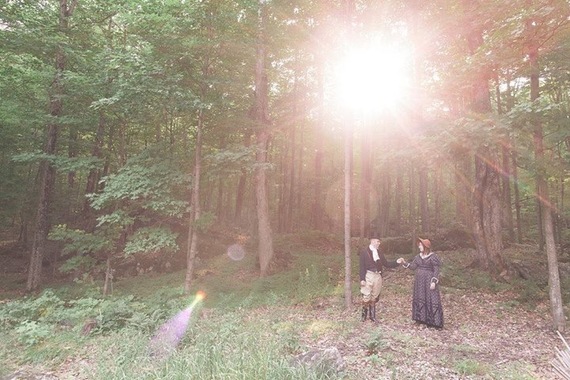 "The happiness which this reply produced, was such as he had probably never felt before; and he expressed himself on the occasion as sensibly and as warmly as a man violently in love can be supposed to do."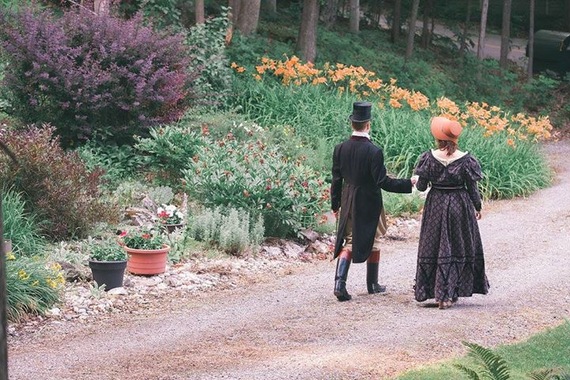 "They walked on, without knowing in what direction. There was too much to be thought, and felt, and said, for attention to any other objects."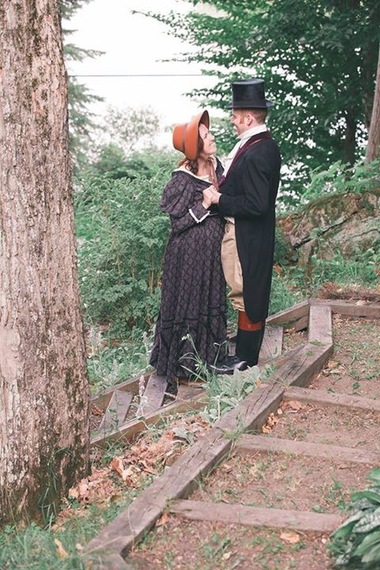 "If a woman is partial to a man, and does not endeavour to conceal it, he must find it out."
"In vain have I struggled. It will not do. My feelings will not be repressed. You must allow me to tell you how ardently I admire and love you."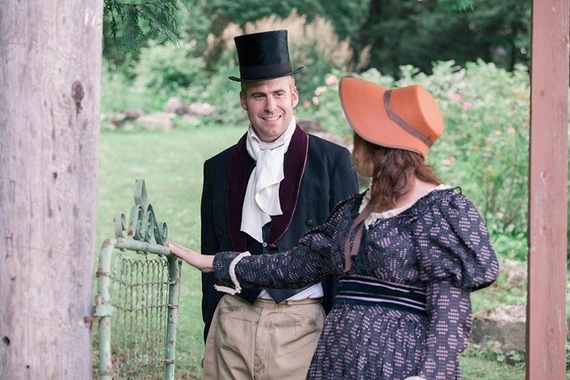 "Elizabeth, having rather expected to affront him, was amazed at his gallantry; but there was a mixture of sweetness and archness in her manner which made it difficult for her to affront anybody; and Darcy had never been so bewitched by any woman as he was by her."

"A lady's imagination is very rapid; it jumps from admiration to love, from love to matrimony in a moment."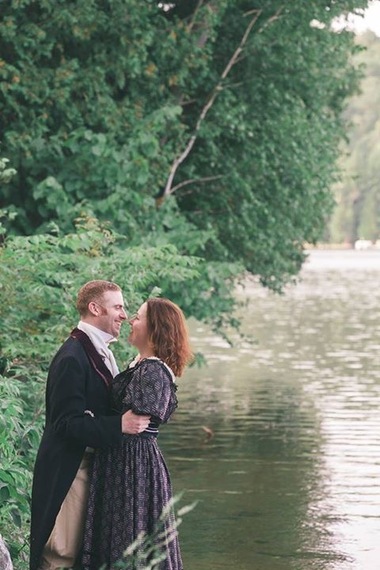 "She hardly knew how to suppose that she could be an object of admiration to so great a man."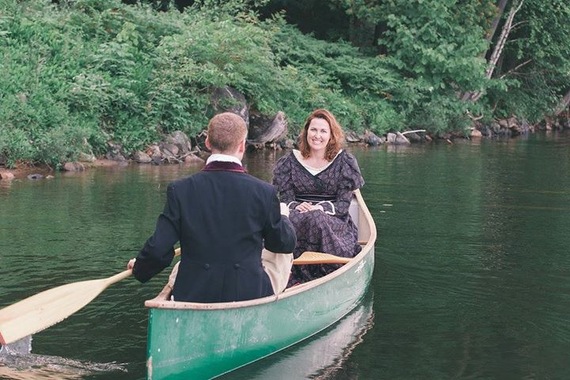 "Yes, but that was only when I first knew her, for it has been many months now since I have considered her one of the handsomest women of my acquaintance."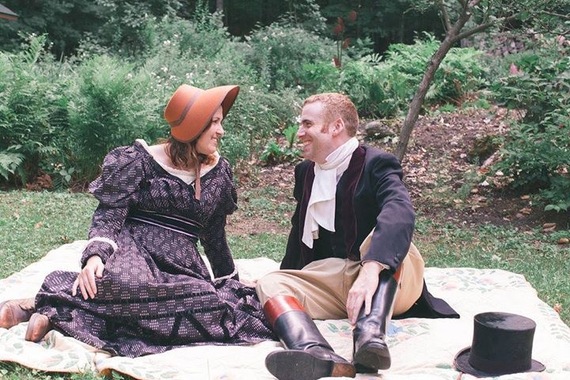 "I have been meditating on the very great pleasure which a pair of fine eyes in the face of a pretty woman can bestow."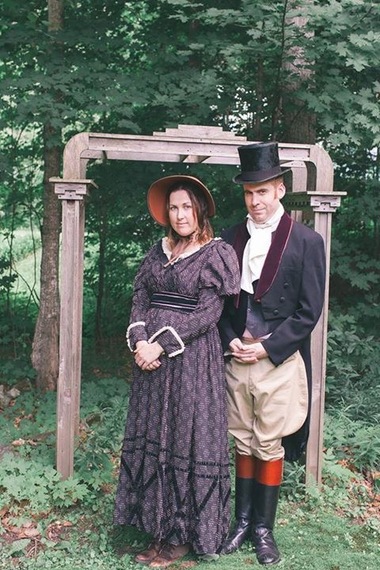 "Happiness in marriage is entirely a matter of chance. If the dispositions of the parties are ever so well known to each other or ever so similar beforehand, it does not advance their felicity in the least. They always continue to grow sufficiently unlike afterwards to have their share of vexation; and it is better to know as little as possible of the defects of the person with whom you are to pass your life."