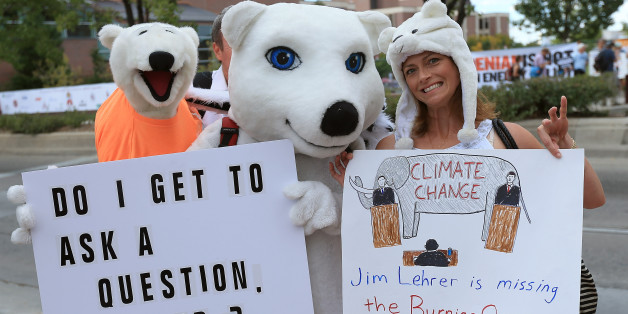 WASHINGTON -- In the United States, whether or not you accept scientific findings that the Earth is warming due to human activity depends largely on your political party. But on other scientific questions -- such as whether vaccines are safe or whether we should use animals in research -- the divides are much less partisan, according to new data from the Pew Research Center.
The Pew findings, released Wednesday, look at public opinion on 22 different scientific topics, and finds that on other issues, divides are more likely to come from differences in age, gender, or race and ethnicity.
A very wide, partisan divide persists on climate change. Seventy-one percent of Democrats and independents who lean Democratic said the climate is warming due to human activity, while only 27 percent of Republicans agreed.
There was also a strong partisan divide on energy issues. Seventy-two percent of Republicans support increasing offshore oil drilling, while only 39 percent of Democrats support it. Fifty-seven percent of Republicans support increasing the use of hydraulic fracturing, or fracking, to extract oil and natural gas, while only 30 percent of Democrats supported it.
(Story continues below.)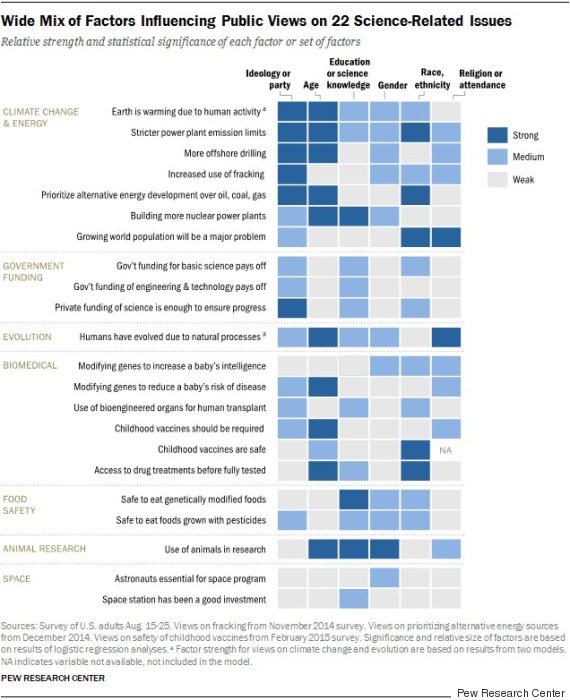 On other issues, such as vaccinations, the divides were stronger among different demographic groups than they were between political parties. Thirty-seven percent of survey respondents under age 50 said that parents should decide whether or not to vaccinate their children, while only 22 percent of adults ages 50 and older felt that way. The partisan differences on this question were less strong, with 35 percent of Republicans and 25 percent of Democrats saying parents should decide on vaccines rather than making them a requirement.
On genetically modified foods, there was a stronger divide between men and women, and white and non-white respondents. Sixty-five percent of women said they thought genetically modified foods were "generally unsafe," while only 49 percent of men thought so. Black respondents (69 percent) and Hispanic respondents (65 percent) were also more likely to think GMOs were unsafe, compared to 53 percent of whites.
Men and women were also divided on using animals for scientific research, with 62 percent of women saying they opposed it, compared to only 37 percent of men.
"What's striking about these findings is that politics sometimes is at the center of the story about public attitudes and sometimes politics has very little to do with the way people think about science issues in the public arena," said Cary Funk, associate director for science research and lead author of the new Pew Research analysis, in a statement accompanying the research.
BEFORE YOU GO
PHOTO GALLERY
Landmarks That Climate Change Could Ruin