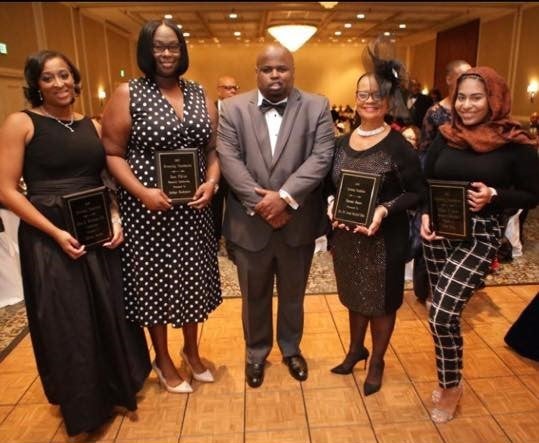 "The greatness of a community is most accurately measured by the compassionate actions of its members." - Coretta Scott King
The Browning Foundation, a Pennsylvania-based nonprofit created to assist in providing opportunities for the advancement of those in Philadelphia and the surrounding areas, recently held its inaugural gala and awarded more than $15,000 in scholarships.
"Deon is the type of person that every time he has a success, or a win, he immediately thinks about how he can share his success with other people. That's really rare," said Kevin O'Brien, a trial attorney at Stampone Law.
"I'm proud that he's leading our community through his efforts giving others opportunities," O'Brien said.
"My dad used to measure himself by the opportunities he gave to others [as an athletic director and professor]. He instilled in us that if we had the opportunity to succeed, we should never forget to turn around and help the person behind you. Deon has turned around and helped these very deserving scholarship recipients and I'm proud to be a part of this," O'Brien said.
Comedian Mel Harris entertained the crowd as guest made bids on auction items including authentic Moses Malone and Julius Erving jerseys, Barbados, Paris and California vacation packages, a college sporting event ticket package, and artwork by internationally renowned visual artist, Serena Saunders. Two lucky winners left the gala with a luxurious Gucci handbag courtesy of in-kind contributions that complimented the presenting sponsors including Browning & Browning Global Vending, Stampone Law, Along 4 The Ride, Revive Credit Partners, mtb IMAGING, and the Browning Legal Group.
Truly honored to have been a part of last night's celebration of the Browning Foundation scholarship recipients; 3 amazing women will continue their studies and soon be changing the world thanks to this guy. His drive, ambition and courage are inspiring. His achievements are staggering. His dedication to bringing others to the top with him is humbling. I can only wish my kids will have the privilege of interning in his law firm in the future.
"I am very proud of you, Mr. Browning, and though I knew you were special when we were swapping stories of our dreams back in the day, I had no idea just how special," said Adrienne Stranere Metta.
"Keep doing you, my friend, as you are lighting this world on fire, one dream at a time."
William H. Byrd Memorial Scholarship | Zaina King
Highly influential on The Browning Foundation's board members, Deon Browning and Khalil Rogers, William H. Byrd was a dedicated father and husband, a man among men. Raising his four children after the passing of his first wife Byrd served as the model male and father figure. Diligently living a respectful life with dignity and love for others, Byrd was survived by four of his five children who proudly advance his legacy.
Dave O'Brien Memorial Scholarship | Indigo Tracey Ann Rockmore
Dave O'Brien was a beloved professor who was known for mentoring students. Under his leadership, Drexel's sport management program flourished in enrollment and faculty hiring. He increased the program's visibility while becoming a major contributor on the issue of college sport reform.
"Dave O'Brien was a respected and admired administrator who accomplished great things at Temple University as well as the other schools he served in his fine career," Temple University Executive Vice President and Chief Operating Officer, Kevin Clark, said in 2014.
Following his six years at Temple, Mr. O'Brien held the position of Director of Athletics at Northeastern University from 2002 through 2007 before returning to Philadelphia as an auxiliary teaching professor and sport management program director at Drexel University, a position he held until the time of his death.
In addition to his academic position, he was the managing partner of the O'Brien Sports Group which provided a wide range of consulting services to the college sports industry, including NCAA rules compliance, risk management audits, business support services, executive recruitment, training workshops and more. He was also co-founder and editor of College Sports Business News.
Deon B. Browning, Esq. LL.M is the founder and principal of Browning Legal Group. Browning honed his litigation skills in Pennsylvania's Common Pleas and Federal Courts of the Eastern District. The founder of The Browning Foundation professionalism and approach personifies his West Philadelphia upbringing and the hard-nosed attitude the City of Brotherly Love is known for.
Dedicated to raising money for community organizations and providing scholarship opportunities to those in need, Browning "could very easily focus on his own success yet instead he started the Browning Foundation to help others achieve their dreams," said Melissa Jones.
A parishioner of Bible Way Baptist Church, Browning was educated in the Philadelphia public school system and completed his undergraduate studies at Drexel University after attending the Community College of Philadelphia. The proud father of three daughters (Sasha, Sanai and Cameron), Browning studied law at Western Michigan's Thomas M. Cooley School of Law earning both his Juris Doctor and Master of Laws degrees.
Chairman's Honoree | Rev. Dr. Lorina Marshall-Blake
Rev. Dr. Lorina Marshall-Blake serves as the president of the Independence Blue Cross Foundation, where she leads the Foundation's strategic, programmatic, and operational efforts. Overseeing the $65 million Foundation, Marshall-Blake executes the reputable organization's mission by offering world-class solutions to improving the health and wellness of communities. Many of Marshall-Blake's initiatives serve as national models and are replicated throughout the country.
Outside of work, Marshall-Blake is devoted to her church and community. She serves as an associate minister at the Vine Memorial Baptist Church in Philadelphia. In addition, she is affiliated with more than 30 professional and civic organizations, including the Anti-Defamation League, the United Negro College Fund, and is the past president of Alpha Kappa Alpha Sorority, Inc.
She also serves on 25 non-profit boards and committees of local, state, and national organizations including Albright College, Blue Cross Blue Shield Association -- Corporate Responsibility Committee, Pennsylvania Conference for Women, the Urban Affairs Coalition, and the Urban League of Philadelphia.
The Browning Foundation
The Browning Foundation was created to assist in providing opportunities for the advancement of those in Philadelphia and the surrounding areas. The Foundation's board members are Deon B. Browning, Esq., LL.M (Chair) | Kevin O'Brien, Esq | Khalil Rogers | Regina Young | Artis Hall | Ernesta Gibbs-Battle | Reginald Morgan
This post was published on the now-closed HuffPost Contributor platform. Contributors control their own work and posted freely to our site. If you need to flag this entry as abusive,
send us an email
.