Nearly 90 percent of voters who supported Hillary Clinton, but just 16 percent of those who voted for President Donald Trump, say it's somewhat serious or very serious that Sessions failed to disclose during his confirmation hearing that he spoke last year with Russia's ambassador to the United States. Three-quarters of Clinton voters think Sessions should resign, while roughly the same percentage of Trump voters say he shouldn't.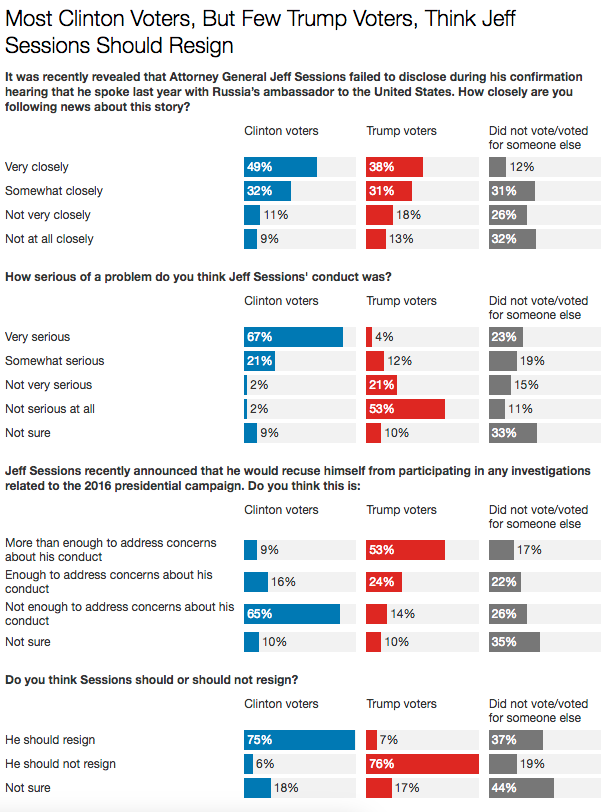 Most surveys on the Trump's administration have drawn similarly polarized reactions. Americans' adherence to partisan cues is perhaps especially unsurprising in the Sessions controversy, given that less than one-third of the public says they've followed the story closely, and 41 percent that they've followed it not very closely or not closely at all.
That leaves overall reactions somewhat mixed, with pluralities of Americans calling Sessions' conduct a problem and supporting his resignation, but also saying that his decision to recuse himself from participating in any investigations related to the 2016 presidential campaign is sufficient to address concerns.
Forty-seven percent of Americans say Sessions' conduct represents a somewhat or very serious problem, while 32 percent say it's not very serious or not at all serious. By a 9-point margin, 39 percent to 30 percent, they favor his resignation, with another 31 percent unsure.
But 45 percent of American think Sessions' recusal is enough or more than enough to address concerns about his conduct, with just a third calling it insufficient.
A Quinnipiac University poll released Wednesday, like the HuffPost/YouGov poll, found respondents favoring Sessions' resignation by a 9-point margin, with 51 percent of registered voters saying that Sessions should resign, and 42 percent that he should not resign. Quinnipiac's survey, unlike YouGov's, didn't offer respondents an explicit option to say they were undecided.
The Quinnipiac poll also went into somewhat more detail on the nature of controversy surrounding Sessions, explaining, "During his Cabinet confirmation hearing, U.S. Attorney General Jeff Sessions stated that he did not have any communications with Russian officials while working with the Trump campaign. It has since been revealed that he did meet with the Russian ambassador when he was a Senator on the Armed Services Committee and a top advisor for the Trump campaign."
Sessions' Conduct Seen As Part Of A Pattern
The HuffPost/YouGov survey also finds that, by a 10-point margin, 43 percent to 33 percent, the public considers the Trump's administration's relationship with Russia a legitimate issue. Americans say by a 14-point margin, 43 percent to 29 percent, that they believe Sessions' conduct represents a larger pattern in the Trump administration's relationship with Russia, rather than an isolated incident.
The results don't seem to indicate a rising level of concern. By comparison, after Michael Flynn resigned as Trump's national security adviser in February, a survey found his conduct was considered to be part of a broader pattern by an even wider 21-point margin.
A political split is again evident in the results, with Clinton voters 17 times likelier than Trump voters to see a pattern in the Trump administration's relationship with Russia. Eighty-one percent of Clinton voters, but just 15 percent of Trump voters, consider the White House relationship with Russia to be a legitimate issue.
Use the widget below to further explore the results of HuffPost/YouGov's survey,using the menu at the top to select survey questions and the buttons at the bottom to filter the data by subgroups:  
The HuffPost/YouGov poll consisted of 1,000 completed interviews conducted March 3 to March 7 among U.S. adults, using a sample selected from YouGov's opt-in online panel to match the demographics and other characteristics of the adult U.S. population.
The Huffington Post has teamed up with YouGov to conduct daily opinion polls.You can learn more about this project and take part in YouGov's nationally representative opinion polling. Data from all HuffPost/YouGov polls can be found here. More details on the polls' methodology are available here.
Most surveys report a margin of error that represents some, but not all, potential survey errors. YouGov's reports include a model-based margin of error, which rests on a specific set of statistical assumptions about the selected sample, rather than the standard methodology for random probability sampling. If these assumptions are wrong, the model-based margin of error may also be inaccurate. Click here for a more detailed explanation of the model-based margin of error.
BEFORE YOU GO