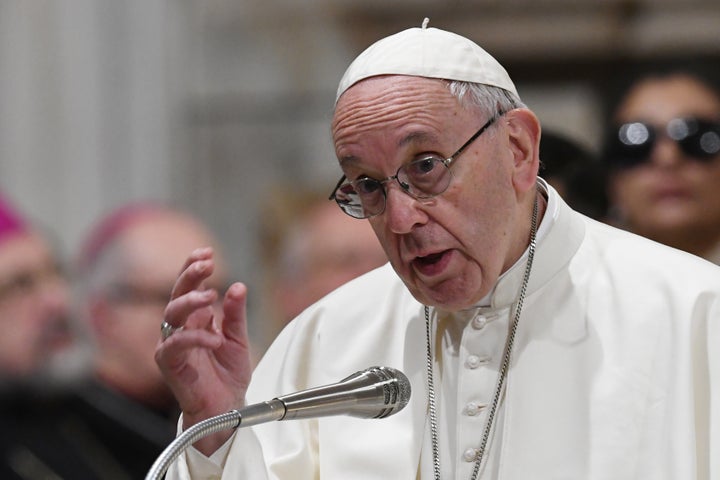 Fear of the other is driving global politics, said Pope Francis, the Roman Catholic leader who's long spoken out compassionately for immigrants' rights. 
Speaking at the 50th anniversary celebration of the founding of the Rome-based peace and refugee support organization, Sant'Egidio Community, Francis said on Sunday that "The world today is often inhabited by fear."
"The fears often focus on who is a stranger, different from us, the poor, as if he were an enemy," he said at Rome's Basilica of Santa Maria. "National development plans are also made under the leadership of the struggle against these people. And then we defend ourselves from these people, believing to preserve what we have or what we are."
Sunday's anniversary, he continued, is a reminder "to create a society in which no one is more foreign."
Though Francis did not single out any countries or name individuals, his comments come a week after a general election in Italy that resulted in big wins for anti-immigrant candidates. The League, Italy's far-right, anti-immigrant party, was one of the election's big winners and likely gained more votes than the center-right Forza Italia party of former Prime Minister Silvio Berlusconi.
Meanwhile earlier this week, U.S. President Donald Trump's administration filed a lawsuit against California over its so-called sanctuary laws meant to protect undocumented immigrants. On Tuesday, Trump is scheduled to visit San Diego to view prototypes of the wall that he wants to build along the U.S.-Mexico border ― one of several Trump immigration proposals that Francis has spoken out against.
BEFORE YOU GO
PHOTO GALLERY
Pope Francis Washes Refugees' Feet For Maundy Thursday