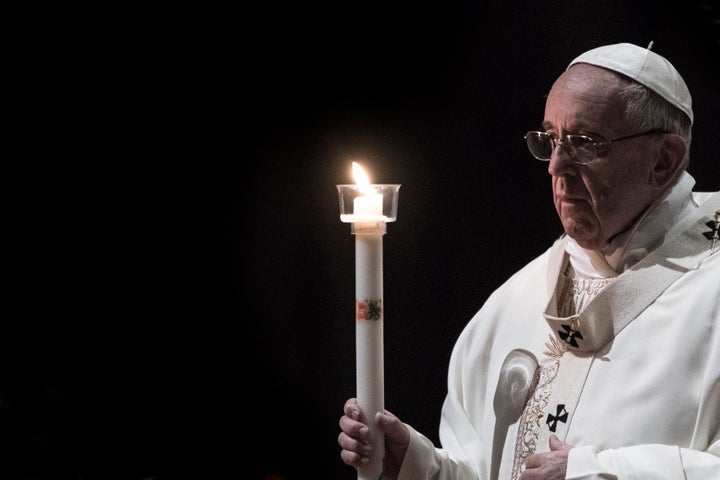 Many Christians and casual Lent observers give up things like chocolate and Twitter for the 40-day fast before Easter. But Pope Francis has something else in mind for this year's fast.
In his Lenten message, released by the Vatican on Tuesday, the pontiff urged Christians to abandon "the love of money" that leads to indifference towards other people.
"Instead of being an instrument at our service for doing good and showing solidarity towards others, money can chain us and the entire world to a selfish logic that leaves no room for love and hinders peace," the pope said.
Francis used the harrowing Biblical parable of the rich man and Lazarus to illustrate the dangers of forsaking the poor and vulnerable in favor of power and wealth.
The parable presents the character of Lazarus, who is poor and ill, feeding off the crumbs of the rich man's table. The unnamed rich man, by contrast, drapes himself in fine robes and lives like a god on Earth. Both men eventually die. And when they meet in the afterlife, their roles have reversed.
The rich man is humbled by the realization of his greed and wishes to warn others leading similarly sumptuous lives of the false security their wealth affords them.
"At the root of all his ills was the failure to heed God's word," Pope Francis said. "When we close our heart to the gift of God's word, we end up closing our heart to the gift of our brothers and sisters."
The pope has frequently criticized the "idolatry of money," even at times directing his attacks at Catholic leaders. "The devil," he told bishops last fall, "has two weapons: the main one is division; the other is money."
Even the scourge of global terrorism is fueled by the lust for money and power, Francis told reporters last year.
The pontiff's statements reminding Christians to think of the poor and marginalized before their pocketbooks occasionally seem directed at one singularly wealthy and powerful person: President Donald Trump.
Days after Trump signed a sweeping order dramatically restricting the number of refugees and foreign nationals allowed to enter the United States, Francis called on his flock to pray that the "poor, refugees, and marginalized" would find "welcome and comfort in our communities." He mentioned "skyscrapers" and "real estate deals" ― two things the president is intimately acquainted with ― among the things that lead Christians away from helping others.
"We live in cities that throw up skyscrapers and shopping centers and strike big real estate deals but they abandon a part of themselves to marginal settlements on the periphery," he said in the video published on February 2. "The result of this situation is that great sections of the population are excluded and marginalized: without a job, without options, without a way out. Don't abandon them." 
This Lent, Francis said, Christians should choose a different path: "Let us pray for one another so that, by sharing in the victory of Christ, we may open our doors to the weak and poor."
BEFORE YOU GO
PHOTO GALLERY
Pope Francis' Best Quotes From His Trip To America