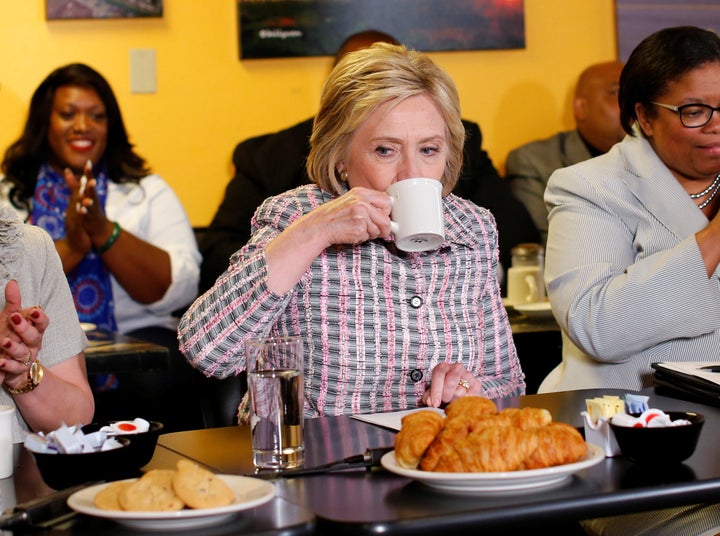 If the two major party candidates for president care about our nation's food supply, they certainly aren't doing much to indicate that. 
Since then, of course, the field of contenders has winnowed to Democratic nominee Hillary Clinton and Republican nominee Donald Trump. But when it comes to what the candidates have said concerning hunger, nutrition, GMO labeling or sustainable agriculture, little has changed.
Celebrity chef Tom Colicchio says he thinks the candidates' virtual silence on these issues is unacceptable, but it's not surprising given the tone of the race. 
"What's going on right now [in the election] is not about policy at all. It's only about optics at this point, which is really depressing," Colicchio told HuffPost.
Nevertheless, Colicchio is pushing for food policy discussion to enter the fray. In his role as co-founder of the advocacy group Food Policy Action, the "Top Chef" judge spoke at rallies held in conjunction with both the Democratic and Republican National Conventions this summer.
The rallies are part of the "Plate of the Union" food truck tour Colicchio's group is sponsoring this summer alongside two other organizations. The tour continues with a stop in Washington, D.C., this week before making a series of additional stops concentrated largely in the Midwest region through the end of October.
At those rallies, Colicchio has called for political leadership on food issues. The chef said that based on the crowds at their events and the responses to their petition, the message appears to be resonating. 
"I think the conversation is starting to change," Colicchio said. "It's not sensational like ISIS or national security, but people are starting to understand these issues and pay attention to them."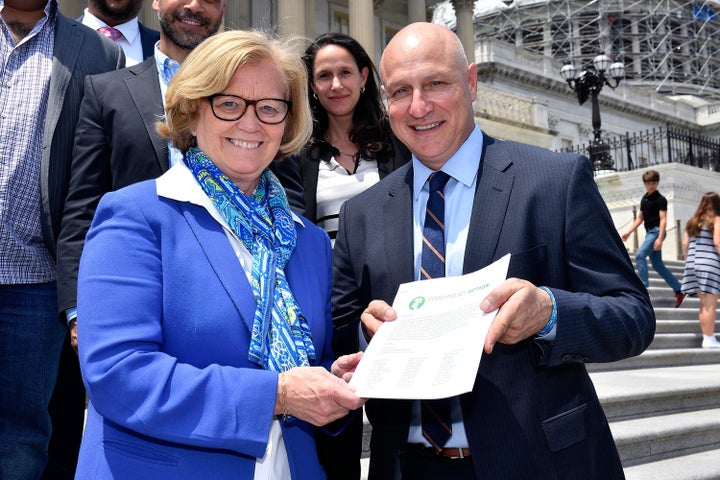 Two weeks out from the first presidential debate, however, that momentum has yet to translate into much conversation.
But neither Trump nor his team have communicated much in the way of food policy positions.
In November, the billionaire alluded to rolling back the number of participants in the SNAP food-stamp assistance program and mocked a protester who appeared to be angered by that comment, calling him "seriously overweight." Campaign positions on his website do not include policies related directly to food or agriculture. 
The Democratic candidate also pledged in a campaign factsheet to protect SNAP benefits and expand them to improve users' access to healthy foods. 
But that's about it. FPA is looking for more detailed answers to its food-related questions.
The organization created its own food policy questionnaire in partnership with researchers at Johns Hopkins University and expects to release any responses it receives in October.   
The continued silence from the candidates on these issues has come as a disappointment to other activists in the burgeoning food movement. One of them is Michael Dimock, president of Roots of Change, a San Francisco-based food advocacy group. 
Dimock said he's "concerned and disappointed" the candidates lack stances on most food issues. But he still hopes that, in lieu of attention on the national stage, food policy concerns are gaining increasing momentum at the state and local levels.
Dimock's group is a big part of that progress. Founded in 2002, the organization helped create a statewide network of food policy advocates that ultimately morphed into the California Food Policy Council. 
In partnership with its colleagues on the council, the group has successfully fought for new statewide sustainability programs like a healthy soils initiative that provides resources to help farmers and ranchers reduce their farms' greenhouse gas emissions and increase their ability to "farm" or store carbon in their soil. Dimock called it the nation's first program of its kind. 
Wins like these could serve as examples to inspire copycats elsewhere, perhaps even on the national stage, Dimock hopes.
"We're trying to generate a politically active and effective food movement in the state of California, and we're trying to make some changes that could be models for the rest of the country to follow," Dimock told HuffPost.
There's significant progress happening on the municipal level, too. In recent years, more than 20 cities across the country have hired food systems experts to help them address food-related issues, including obesity and equal access to healthy foods.
Among those cities is Minneapolis, where City Councilman Cam Gordon, of the Green Party, has helped encourage more food growing and small-scale production within the city.
In recent years, Gordon fought to require corner stores to sell at least a small selection of fresh fruits and vegetables to increase access to fresh produce in low-income neighborhoods. He's also authored legislation that set new standards for farmers markets that protected local growers and also helped reform previous zoning laws that inhibited urban farming operations in the city.
These efforts have been among the most attention-grabbing of any of the legislation he's worked on, Gordon, who serves on the city's Homegrown Minneapolis Food Council, told HuffPost. He thinks that's with good reason, and he hopes it's a sign of what's to come.
"There seems to be a shift happening," Gordon said. "People want to be healthy and want to know where their food's coming from."
Joseph Erbentraut covers promising innovations and challenges in the areas of food and water. In addition, Erbentraut explores the evolving ways Americans are identifying and defining themselves. Follow Erbentraut on Twitter at @robojojo. Tips? Email joseph.erbentraut@huffingtonpost.com.
BEFORE YOU GO
PHOTO GALLERY
Two-Term Presidents