Kate Ormand's debut young adult novel Dark Days tells the story of sixteen-year-old Sia who lives in a dystopian future in which the world has been divided in sectors. Sia knows that in a matter of days a cyborg army will arrive at her sector and kill off every citizen who has been deemed unworthy of moving to the "New World" where the most "exceptional" members of her sector have been taken to begin to re-populate the earth with a "superior race." Sia has to make a choice: give up and die, hide from the coming slaughter, or fight.
Emma Pass, author of Acid writes: "Chilling and all too plausible... Readers are going to love Dark Days."
I had a cyber-exchange with Kate Ormand about Dark Days.
Mary Pauline Lowry (MPL): What is the main idea that you want your readers to take away from Dark Days? In what ways do you want it to change their perception of the actual world we live in?

Kate Ormand (KO): At the time of writing, I was following a campaign on climate change and what could happen in the far future if things don't improve now. I started thinking about those consequences -- what would happen if global temperatures rose and a huge percentage of the world's species became extinct? What would happen if the earth's population decreased so significantly? Hopefully not THIS, but an idea took root and developed into a harsh, futuristic world with a regretful government trying to put things right, and a whole load of cyborgs! More than anything I wanted it to be an exciting ride, and for readers to come away thinking what good fun it was.

MPL: You studied fine art painting at university. How did you decide to make the leap to become a novelist? And what were some of the obstacles that you encountered?

KO: I did. I've always been very much into creating. I must have had a go at just about everything -- music, acting, singing, painting, craft, textiles. I did used to write as a child, mostly poetry. I remember ten-year-old me being quite serious about publishing a collection of poems! I always kind of moved on to the next thing, though, until it all came back around and I discovered a love of YA fiction while studying my art degree. I read a lot, and started to write a lot too. I kept pushing, kept learning, determined to find my style, then to improve it. Learning about the industry, practicing writing, and studying for my degree took a lot of time and effort. But it was all worth it.

MPL: What's your favorite beverage while writing? Tea, coffee, some magical organic green juice?

KO: Tea! I love the smell of coffee but I don't like the taste, so tea it is!

MPL: What books inspired you to write Dark Days or influenced your writing?

KO: Harry Potter got me into reading again. Maggie Stiefvater's books led me to discover young-adult books. And The Hunger Games introduced me to a genre I fell in love with.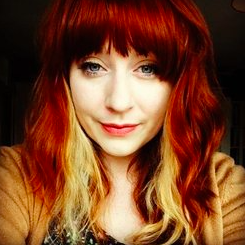 Kate Ormand
MPL: I can't help but notice that you have really amazing, beautiful hair. Are style, fashion and aesthetic other art forms that interest you? And if so how does that manifest for you?

KO: Thank you! The closest I ever came to exploring the fashion and beauty side of things was at seventeen, when I made myself a dress. It was longer at the back than it was at the front (not intentionally), but I wore it anyway, just for one day, because I'd put so much hard work into it. I don't personally practice fashion and style as an art form, but it I do find it fascinating.

MPL: What's next for you artistically?

KO: More books! I have three children's picture books out next year and another YA novel.