OK, "Voice" fans, here's the good news: On Tuesday's top eight results show, the amazing Chloe Kohanski, the equally amazing Addison Agen, and — surprisingly but certainly not undeservedly — amazing underdog Brooke Simpson were automatically voted through to next week's Season 13 finale.
Annnnd the bad news: First, Keisha Renee and Davon Fleming, two of the finest powerhouse singers in the entire competition, automatically went home. That meant that the odds-defying Adam Cunningham (who'd performed first on Monday night and had been pretty mediocre all season) somehow squeaked into the middle pack, earning the opportunity to sing for the Instant Save against Red Marlow and Noah Mac.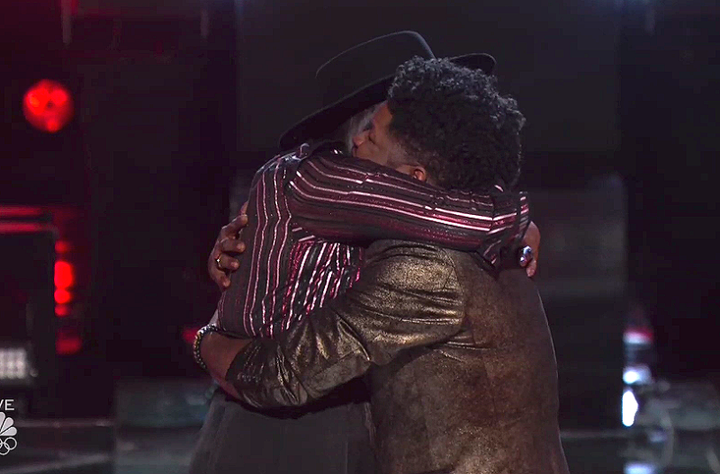 However, things were still looking good for Noah, one of the most creative and interesting hopefuls of the season, as it seemed likely that Adam and Red would split the country vote — plus Noah was performing in the final (read: most advantageous) spot. Red and Adam's song choices (Alabama's "Dixieland Delight" and Travis Tritt's "Here's a Quarter, Call Someone Who Cares," respectively) were shuffling, midtempo throwaways, but Noah went for broke with Harry Styles's epic Bowie-esque ballad "Sign of the Times," managing to pull off the tricky vocal even with his low range.
With the already-safe Chloe representing for Blake Shelton, Addison for Adam Levine, and Brooke for Miley Cyrus (who'd been shut down of the finale the last time she was on "The Voice"), Jennifer Hudson, Noah's coach and a much-hyped winner of "The Voice U.K.," was campaigning hard. "We need people in the industry on shows like this, who sing with a heart like that, who have a passion like that. And Noah can create his own lane and become his own star, which I already feel like you have. Please, people, come on! Support Noah!"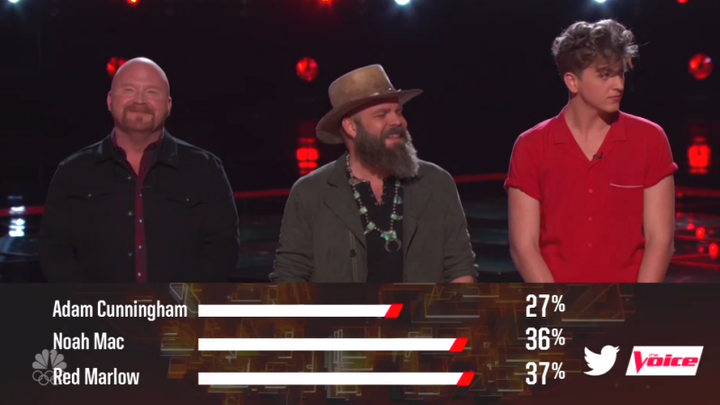 Coming back from the commercial break, Noah had 36 percent of the vote, trailing just 1 percent behind Red's lead — the closest Instant Save vote I can remember in this series' history. Perhaps if Noah had actually tweeted #VoiceSaveNoah on his own behalf — contestants' own tweets, which get retweeted by fans and the show's official account, usually contribute significantly to the voting totals — he may have slipped into first place. Maybe Noah just decided he didn't want to move to Las Vegas with a legal guardian and join the cast of "Neon Dreams."
Whatever the reason for Noah's tweet fail, he ended up going home. It was like last season's Hunter Plake debacle, all over again. Sigh. Going into this recap of Tuesday's quadruple-elimination results show — what I have dubbed the "Red Chair Wedding" — I knew there would be some tough goodbyes. (I'd even predicted that the final four would be Chloe, Addison, Brooke, and Red, although I'd thought Brooke and Red would switch spots.) But on a season packed with so much talent, bidding farewell to Keisha, Davon, and Noah in one fell swoop really hurt.
And this development, sadly, means that Jennifer will sit out next week's finale and will not be able to earn bragging rights as a winning coach on both sides of the pond. However, she was really the winner of "The Voice" Tuesday, with her dynamite performance of the new song "Burden Down." And anyway, as long as either Chloe or Addison win the finale next week, I'll be feeling unburdened myself. See you then, for Season 13's final showdown.