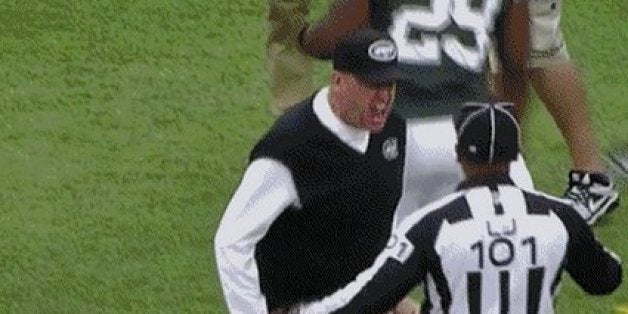 Geno Smith may not be the second coming of "Broadway Joe" but he sure seems like he is ready for Broadway.
The New York Jets' rookie quarterback expertly executed a slapstick flop after taking a late shove in the back from a Cleveland Browns defender on Sunday. With Gang Green driving for a score late in the first half, Smith picked up seven yards on a scramble to the Browns' 28-yard line. After Smith stepped out of bounds, safety Tashaun Gipson delivered a two-handed shove to his back. To make sure the officials and his coach caught the shove, Smith turned in a stage fall that could be considered by the American Theatre Wing as well as the NFL office.
Taking the cue from his melodramatic signal caller, Ryan followed the tumble with a tantrum complete with hopping, stomping and hollering.
After Ryan gave an official an earful and Smith got back on his feet, an unnecessary roughness penalty was assessed against the Browns. The ball was advanced to the Browns' 14-yard line and the Jets would kick a field two plays later to even the score 10-10 before halftime.
If "word on the street" is accurate, then the Jets' coach may have been a feeling a bit more emotional than usual when the teams kicked off. According to Jay Glazer of FOX Sports, Ryan told his team on Saturday night that he had heard he was going to be fired after the team's final two games of the season.
With the curtain possibly closing for good on the "Rex Ryan Show" after two more shows it seems like everyone is trying to give a performance to remember.
BEFORE YOU GO
PHOTO GALLERY
PHOTOS: NFL Week 16