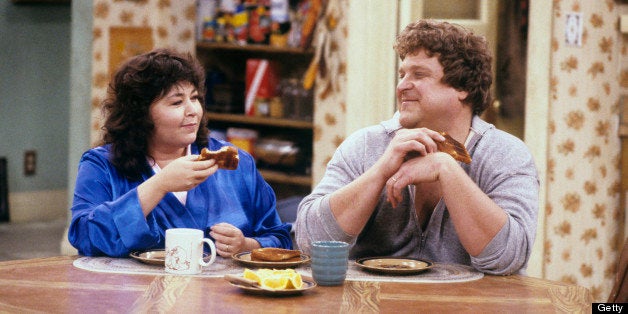 Barr put the past behind her to take part in TV Land's Comedy Legends panel on Thursday, which also featured "Star Trek" alum William Shatner and "Seinfeld" star Wayne Knight. During the panel, the comedian looked back on her hit series "Roseanne," which still airs on TV Land and averages 16 million viewers per month. "Here it is, still on the air," she said. "It went on the air in 1988 and it hasn't been off the air since 1988."
Barr opened up about tackling subjects like gay marriage and abortion on the ABC show and what executives had to say about the controversial subject matter. "We did a lot of good things -- they let me do what I wanted. They were really supportive," she said. "I think because it was number one, they trusted me and my staff. We'd gather and say, 'What should we do a show on?' And we'd say, 'If we were really brave or really wanted to get in trouble, this is what we'd do,' and then we'd do them."
Was there anything they couldn't touch on "Roseanne"? "It was really hard to convince them to allow any kind of race issue or racial differences in thought ... we always tried to include it," she explained.
"We still don't discuss race on television," Knight added.
"We just made it really, really personal to that family. The more personal you make something, the more universal it actually is," Barr replied. "I wish I'd done a tenth year of the 'Roseanne' show. I thought that was a great subject for our country ... we did a few, we did well. It was a hard one to sell. And class, of course, is the great no-no -- to discuss class in the United States at all ... "
At the end of the panel, Barr added that her experience in San Diego this time around was far better than her Padres game debacle. "This is the city I performed it in, and here it is, 22 years after, and I haven't been back here since then," Barr told the audience. "To the people who live here, I had a real good time this time, and I sure appreciate it!"
BEFORE YOU GO
PHOTO GALLERY
Comic-Con 2013: 20 TV Must-Sees