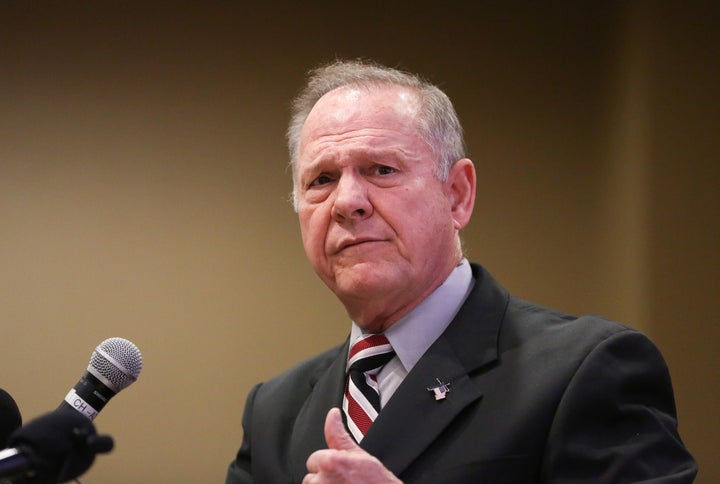 WASHINGTON ― Attorney General Jeff Sessions said Tuesday he does not doubt the multiple women who have accused Roy Moore, the Republican seeking to fill his former seat representing Alabama in the Senate, of engaging in sexual misconduct or committing sexual assault against them when they were teenagers.
Testifying before the House Judiciary Committee on Tuesday, Sessions was questioned by Rep. Shelia Jackson Lee (D-Texas) about the accusations against Moore, 70, who allegedly targeted teenage girls for unwelcome advances when he was in his 30s.
"I have no reason to doubt these young women," Sessions said.
Asked if the Justice Office should be was looking into the allegations against Moore, he said, "We will evaluate every case as to whether or not it should be investigated. This kind of case would normally be a state case."
Sessions said he had spoken with the ethics officials at the DOJ about his involvement in the campaign for his Senate seat, and was told he should steer clear due to his position.
"They advised me that the attorney general should not be involved in this campaign," Sessions said. "I have steadfastly adhered to that view, and I think I should continue to do so."
Sessions appeared on Capitol Hill the day after a fifth woman came forward to accuse Moore of sexual assault. Beverly Young Nelson told reporters in New York that Moore attacked her just after she turned 16 in 1977.
"I thought that he was going to rape me," Nelson said of Moore's alleged assault. She said that after a struggle in his car, Moore let her go with a threat.
"He looked at me, and he told me, 'You're just a child.' And he said, 'I am the district attorney of Etowah County, and if you tell anyone about this, no one will ever believe you,'" she said.
Amid growing calls from national GOP leaders that he exit the Senate race, Moore has steadfastly denied the sexual abuse and misconduct allegations. Responding Monday night specifically to Nelson's accusation, he said: "This is absolutely false, I never did what she said I did. I don't even know the woman ... "This is a political maneuver and has nothing to do with reality, it's all about politics."
To buttress her claim that they knew each other, Nelson at her press conference showed a high school yearbook she said was signed by Moore.
"To a sweeter more beautiful girl I could not say 'Merry Christmas,'" Moore allegedly wrote in the yearbook.
Ryan Reilly is HuffPost's senior justice reporter, covering criminal justice, federal law enforcement and legal affairs. Have a tip? Reach him at ryan.reilly@huffpost.com or on Signal at 202-527-9261.