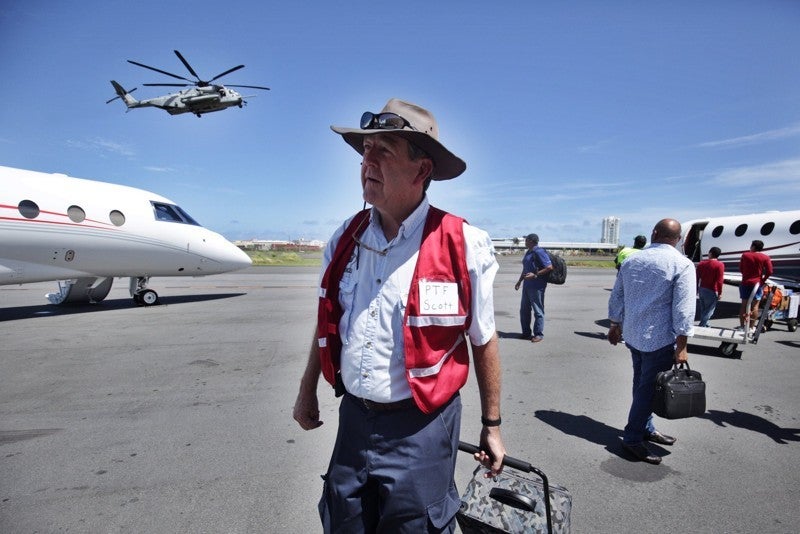 The phone call came in the dead of night from a hillside near Santa Isabel in southern Puerto Rico where aid workers have just been ordered out of the small town by a mayor who allegedly doesn't want anyone to know about the "human rights violations" taking place in nursing homes there.
"In our professional opinion human rights are being violated here," reports Scott Lewis, founder of Eagles Wings Pathfinders (EWP), West Palm Beach, Fla. as he stands high on the hill at 11 p.m. EST in order to get a signal to make the urgent call to me. "FEMA isn't paying any attention to us and we were just ordered out of the town of Santa Isabel by the Mayor and are in hiding because the Mayor [Enrique "Quique" Questell Alvarado] doesn't want this information and our data getting out."
Full disclosure, I know Lewis because it was he and his team who rescued my friend's ailing mother from San Juan on September 26. He and his team have been in Ponce, Santa Isabel and San Juan for the past two weeks on a mission to assist the home-bound and elderly.
The EWP's Task Force has been getting the homebound out of hurricane disaster areas since Hurricane Floyd in 1999. They worked Hurricane Harvey for 12 days and Irma for seven.
Over the past two weeks EWP and Lewis' firm Disaster Solutions have gotten over 100 elderly and infirm out of Puerto Rico by raising their own funds, chartering planes and wading in with volunteers that include ex-Marines, nurses and others. Disaster Solutions has also been collecting "data on unmet needs" which it has submitted to the local government, FEMA and its Puerto Rican counterpart PRIMA.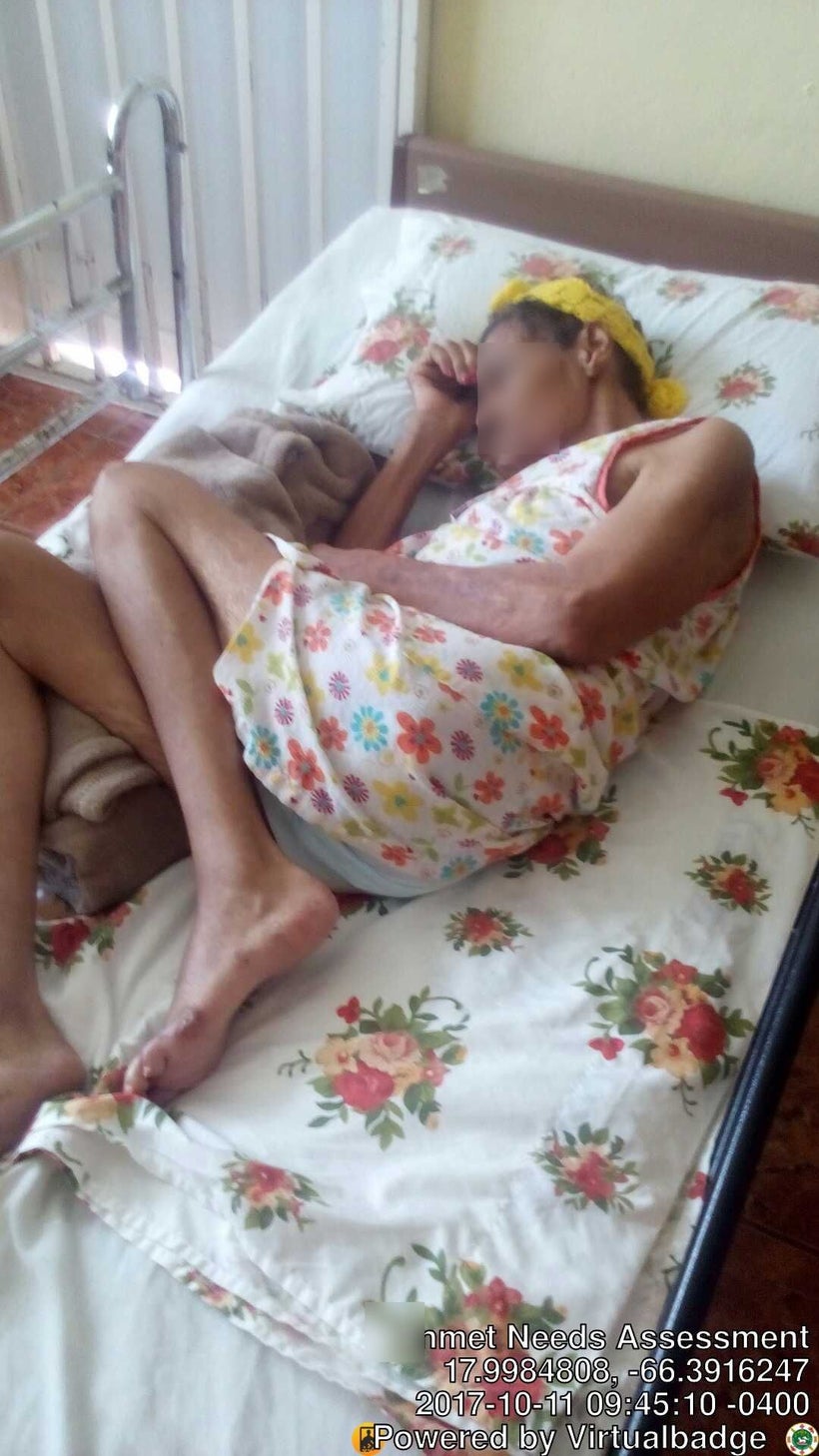 In a subsequent call from Lewis today at 1 p.m. he passed the phone off to his team members and local residents.
Matt Campbell of Disaster Solutions says, "We submitted more than 20, 213-aid report forms to the Mayor of Santa Isabel and got zero response. Just nothing."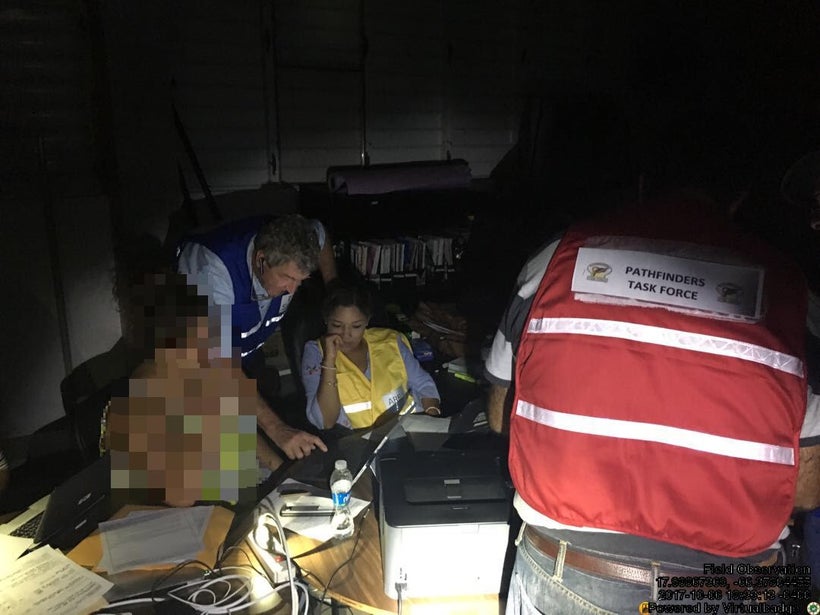 Esteban Quintero, 26, of West Palm Beach, Fla. who is also with Lewis' team today adds, "As far as Mayor Questell being involved, nobody in Juaca [where the nursing homes are located] has seen him, or anyone from the government since Maria hit."
"As soon as we told Mayor Questell the conditions he kicked us right out," Quintero adds. "One of the local ladies who came along to volunteer was crying and she just couldn't stand to go on. It's that bad."
Mayor Questell sent his daughter, Arlene Questell, who's a lawyer, to deal with aid workers who had made negative reports of the conditions there, the team reports. Ms. Questell told Lewis that the nursing homes are privately owned and her father [the mayor] has no responsibility.
According to a memo filed to PRIMA, FEMA, the mayor and other local authorities by Disaster Solutions on Oct. 8, the nursing homes were in bad shape long before Maria struck. Now supplies coming into Puerto Rico are not getting to the south where Maria made landfall and did the most damage.
In the memo, signed by both Lewis and the Vice Mayor Irma Aguirre of Santa Isabel, "the response by government officials is negligent."
The 23,000 residents there are currently being rationed two small water bottles and one MRE (Meals Read to Eat) per day, the memo states.
Yet Questell's Facebook page shows him distributing water to a grateful public.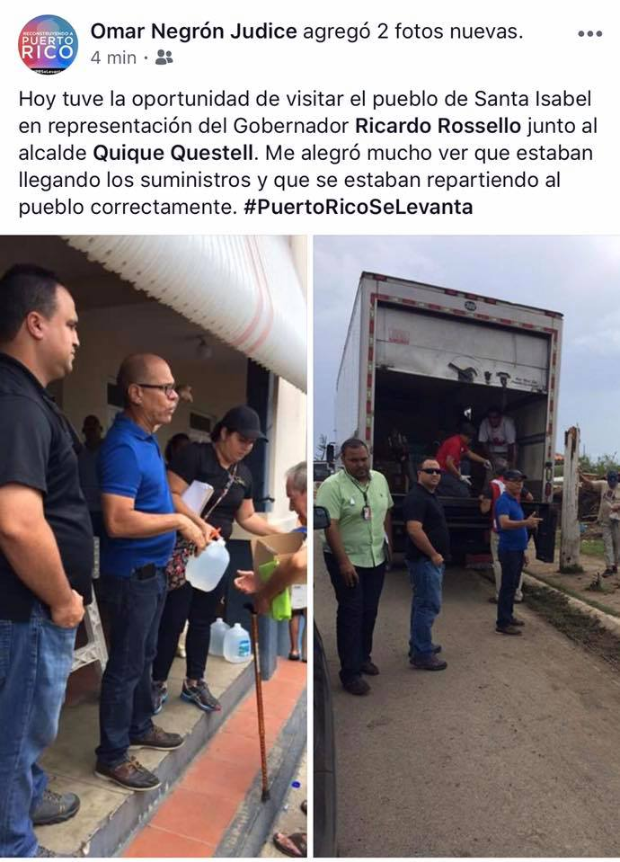 One of the mayor's constituents, who spoke on condition of anonymity because he fears reprisals, said in a phone interview arranged by Lewis, "The aid coming through our mayor is going very political."
"If you're one of his people, someone in his circle or a supporter the aid comes right away," the man says. "Anyone else there's a lot of process and not a lot of help for you. It's a political lesson he's teaching by holding all the supplies locked up."
Lewis says FEMA isn't responding to his requests for National Guard intervention to free up supplies or to establish roadside distributions that wouldn't favor political supporters.
"I went to San Juan and stood in the convention center where over 1,000 FEMA workers are set up in air conditioning with computers - yet still has you fill out everything on paper - which they lost for four days," Lewis says. "In the end FEMA isn't responding to us. We are on our own here to try and fix this mess in the South."
After Lewis went to San Juan to see the wizards at FEMA and came back empty-handed, he says that he again attempted to explain to the mayor's daughter that her father bears responsibility to correct the situation once he was informed by aid workers.
Upon returning to Santa Isabel, "We were told that the Mayor orders us to pack up and leave immediately," Lewis says. "That was 15 minutes after we reported to the vice mayor the latest discovery of a nursing home with 24 people with emergent needs of potable water, adult diapers and a list of medical supplies. There was also a desperate problem with the electric generator."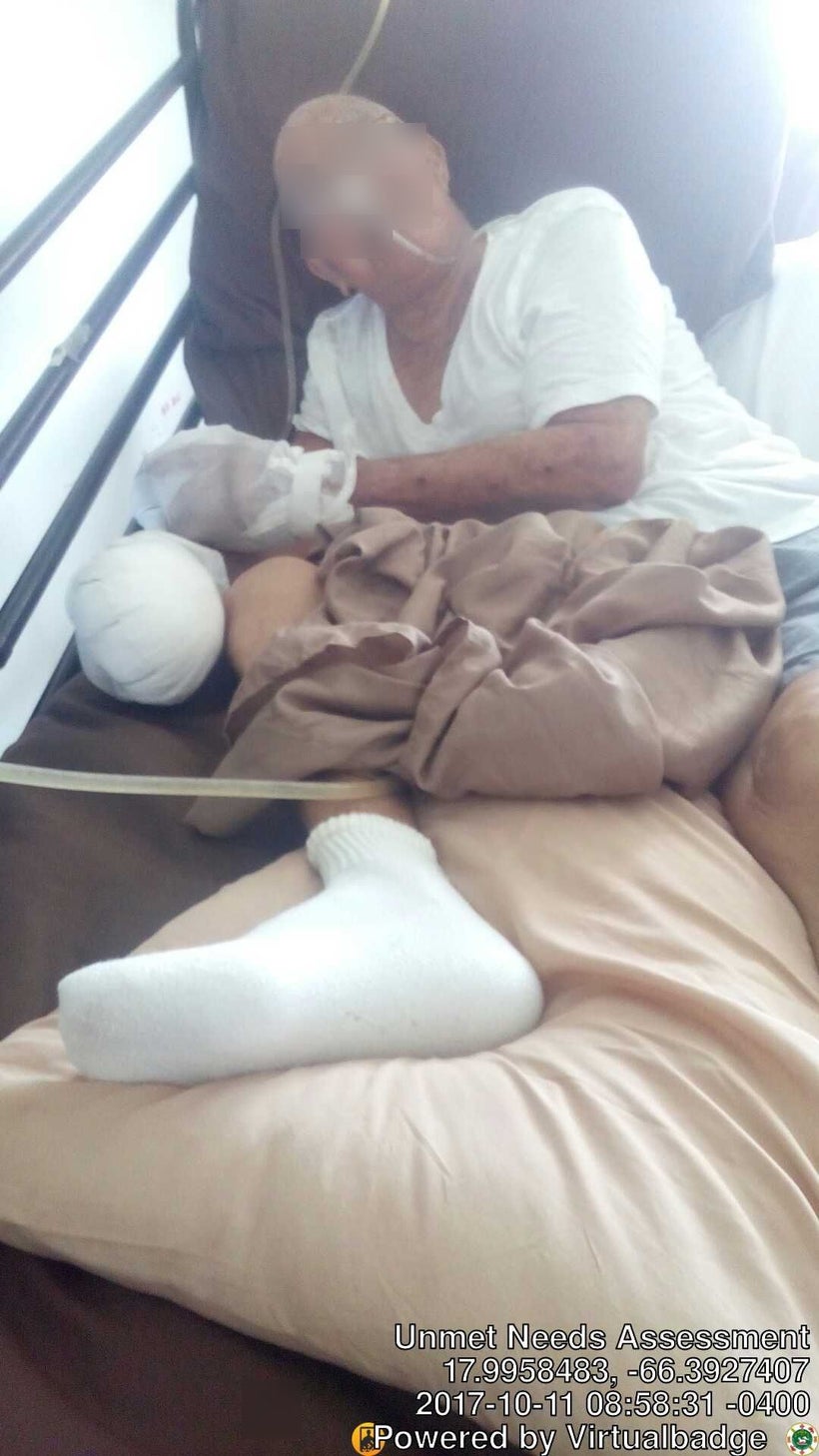 The generator had to be switched between those on oxygen and a man on dialysis. Essentially robbing Peter to save Paul.
Lewis and his team did as they were told. In the middle of the night they grabbed all their supplies and drove until they found a place that would take them in for the night.
One of Lewis' team members was able to take a video of the conditions in the worst nursing home before they were run out of town.
"We can't upload it because the signal is too weak," Lewis explains. "We have to try and get to the airport and get it out before someone finds out and tries to take our devices and data. I think that's a very real possibility after what we've experienced here."
Lewis and his team are expected in West Palm Beach at 6 p.m. Thursday evening and will attempt to release the video shortly thereafter. When they do you will see it here.
This post was published on the now-closed HuffPost Contributor platform. Contributors control their own work and posted freely to our site. If you need to flag this entry as abusive,
send us an email
.