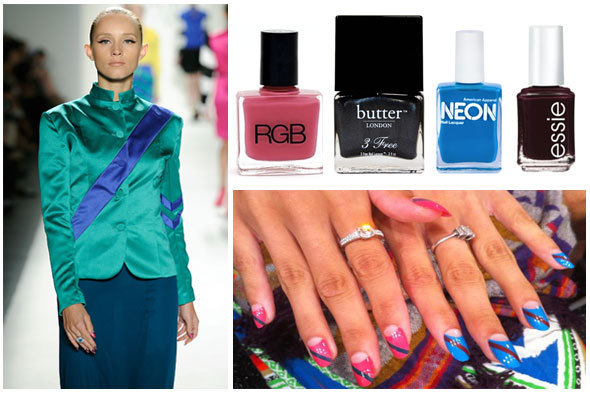 Photos: Model at the Ruffian Spring 2012 fashion show, Fernanda Calfat/Getty Images for Mercedes-Benz Fashion Week; RGB Nail Color in PInk; Butter London '3 Free Nail Lacquer in Chimney Sweep; American Apparel Neon Nail Polish in Neon Blue; Essie Nail Polish in Carry On; Jockey striped nail art at Ruffian Spring 2012 fashion show, highsnobette.com
There are very few things that I obsess over more than manicures and outerwear. And while maneuvering my way backstage at Ruffian's Spring 2012 fashion show, I noticed the nail art models were flashing blended the best of both worlds.
Influenced by the the sleek lines found in silk jackets worn by jockeys, Ruffian designers Brian Wolk and Claude Morais produced a sporty collection bursting with bold shades of green, blue, yellow, pink and red. Manicurist Yuna Park translated this into graphic stripe, press-on nails made up of the warm and cool colors.
To nail this design at home, start with buffed, round-shaped nails. Paint on a warm shade, leaving a half-moon gap at the cuticle. Allow to dry. Then polish on a thin stripe in a contrasting cool lacquer from the bottom right corner of the nail bed to the upper left side. Finish with a shiny top coat. Repeat these steps on the opposite hand, but start with a cool color as the base for an unexpected flair.
What do you think about this Ruffian-inspired manicure? Tell us in the comments section and shop the products below to get the look.
Check out this funky new take on the classic French tip from Pamela Love's Spring 2012 presentation!
BEFORE YOU GO