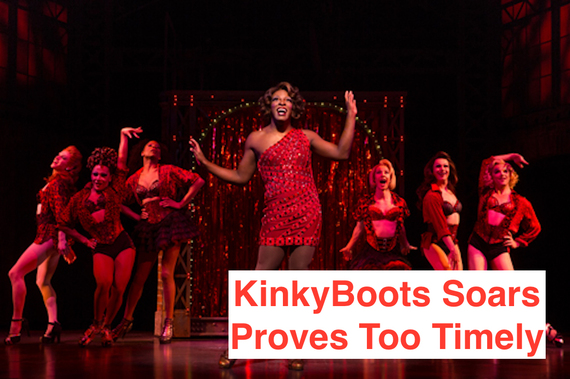 J. Harrison Ghee and cast at the Pantages for Kinky Boots, moving on to Seattle. Photo Mathew Murphy
"You know, that play deals with age-old issues unfortunately, people wanting to be themselves, to not be judged for how they look or who they love, of finding yourself, your own voice and not letting others squash it, facing insurmountable odds...it's heavy stuff but yet, you laugh and sing through it. That really is a testament to Cyndi's (Lauper) music and Harvey's (Fierstein) music," I told my friends the morning after I saw the recent tour of the hit musical Kinky Boots through April 26 at the Pantages, moving on to Seattle and parts beyond after.
"Yeah, it's a shame it has to ring so true today, with Tennessee, North Carolina and all this hatred springing up again on the Right," my friend Ken Pearson said, adding, "perhaps they need to sing and dance in heels for a while," we all laughed.
Now, touring companies of established plays don't often get the props they deserve. The play perhaps has already breezed through town, with this-or-that headliner as lead. Some may be from Broadway, others not. Often the media doesn't pay as much attention to the cast, to the production, to the run because it's not, well, Hamilton. Well, every year the Wizard of Oz is on television many of my friends, old and young, still watch it. Why? Come on, you know why if you've seen it and if you haven't shame on you. It's same thing here; this play is so much fun, so uplifting, so moving and yes, so relevant and universal, that as long as the cast is strong (and this one is beyond that) it will be a grand night.
And a grand night it is, and was. Sitting watching the young Charlie (this time I saw Aidan Passaro, a delight to see at the party after having a blast as a youngster on tour should be; Hudson Loverro also splits the role)... watching Charlie's father tell him how there's nothing more beautiful than a shoe and then watching a soon-to-be-Lola Jomil Elijah Robinson (who shares the role with Jhazz Fleming) dance on a Boardwalk in red heels loving the shoes more than life, I wanted everyone to see how simple it all truly is at the core. Two young people, one perhaps not wanting to be his father's son the shoemaker, and another, wanting to dance in red high heels instead of box as his father wishes, both wanting the same thing out of life, out of the future, and both only needing love, support and encouragement... well, it sums it all up, doesn't it?
Adam Kaplan, dashing, comedic, a voice to soar when necessary and be vulnerable when time requires, again personifies the young man that finds himself in changing times and must decide to either save his "family" or worry about what others will think. Everyone thinks it's Lola's play, and with J. Harrison Ghee as Lola how could it not be? But the truth is, it's everyone's. Under Jerry Mitchell's direction and choreography the ensemble forms a family, complete with problem child Don (Aaron Walpole). Don is tasked with accepting someone for who they truly are no matter; aren't we all?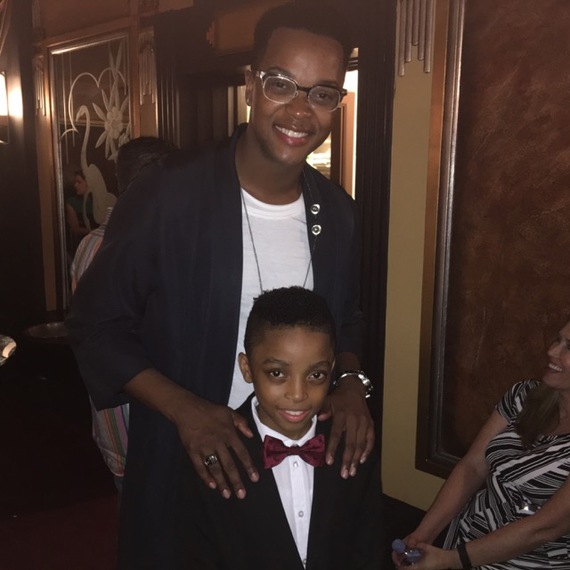 The absolutely perfect Lola J. Harrison Ghee and his young personification in the play Jomil Elijah Robinson enjoy the cast party. Photo by Daniel Charleston
"It's so strange to get outside of the bubble of Toronto, New York or other big cities," this proud new father and dog dad as well told me at the cast gathering held in the lower lobby of the historic Pantages in Hollywood. "We were in Oklahoma I think, and we went to see the GLBT Center, and saw how much a safe space is needed, still, in these communities. And now with the things going on in the world, this message, this... well, everyone should see this play so maybe they'd get it," he added.
Yes, it needs to continue to find a larger and larger audience. Los Angeles welcomed this tour with standing ovations and rousing applause throughout, from the show-stoppers like "The Sex Is In The Heel" and "Hold Me In Your Heart" featuring Ghee, or "Step One" and "Soul of a Man" (standing O) by Kaplan to the finale "Raise You Up" where not one person, famous, young, old, remained in their seats. Everybody wanted to dance with the other "Ladies, Gentlemen and those that have yet to decide..."
Maybe you've already seen it. Maybe you didn't think it was for you. Maybe you just don't go to theatre any more. But there's great deals at the Pantages Box office and on Groupon no matter what city and even at full price be it back row or center stage it's an experience worth every penny. They didn't just give Fierstein and Lauper stars for nothing, you know (actually, they both should have had a couple years back, but...).
I just love a great drag show, and Kinky Boots is like the best drag show ever, ever in the world, forget RuPaul, Lola is the Queen of the Runway and she will let you know. I came home and watched the movie (I own it). I loved it, again, too. See, a lot of things are worth seeing again. This production is one.
To hear this interviews GO HERE, subscribe in Spreaker to the Podcast or simply go to the most incredible website on all the planet, save this one, ReallyKarel