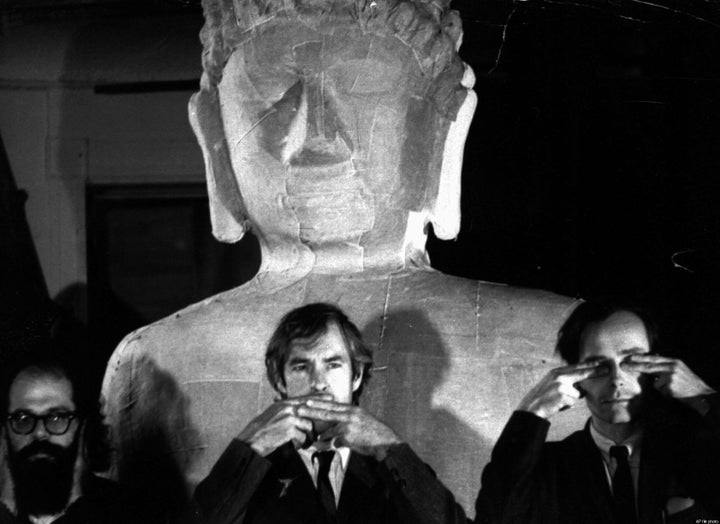 On Thursday, over 8,000 writers flocked to Denver to participate in the annual Association of Writing Programs conference. One of the underlying themes of this conference for me was religion and spirituality. Perhaps my own questions and interests led me to seek out these discussions among a wide array of conference offerings, but this year's panelists seemed to have a range of well-considered approaches to integrate spirituality in the writer's life, approaches that can help resolve insecurities and blockages in both our spiritual and artistic processes.
One of the highlights of the conference was a panel on Thursday entitled "Sacred Art: Writing to Change the World." Each of the panel participants -- Sandra Cisneros (author the classroom staple House on Mango Street), Norma Cantú, Ruth Behar, Michelle Otero, Carolina Monsivais, and Liz González -- was also a participant in the summer Macondo Writers Workshop in Texas, founded by Sandra Cisneros. The title of the panel came from a quotation by Thich Nhat Hanh: "Each thought, each action in the sunlight of awareness becomes sacred."
The panelists were primarily concerned with how their practice of writing is integrated with their personal spirituality and their religion. The first speaker, Norma Cantú, told us that "writing is prayer. It is a conversation with a higher being or a higher self -- an attempt to form a connection to the universe." She integrates her writing with a practice of meditation, both of which she talks about as a way to discover something about the self -- and is not an inquisition of the self a spiritual project?
When Sandra Cisneros took the podium, it was clear from her demeanor that she is adept at leading writers into a respectful and deep engagement with their spiritual selves. She began by citing the "Compassionate Code of Conduct" of the Macondo foundation, which states, "We have an opportunity to create the world we would like to live in every day." Although she only had a short time to talk, she cut to the core of the experience of writing with, surprisingly, a bible passage. In Genesis 32:24, Jacob spends all night wrestling with an angel. When day breaks, the angel asks to be let go, and Jacob responds by saying, "I will not let you go unless you bless me." Of course, in Cisneros' reading, the angel to be wrestled is the piece of art itself, which must be entangled and wrestled with to the point of exhaustion, but the artist cannot let it go until it reaches the point where it blesses its maker by revealing something about him or her. This attitude was born out of Cisneros' experience in writing Carmelo, her second novel, which she says was like "giving birth to a nine-year breach baby, or like pushing a Buick from Chicago to San Antonio with your forehead." Unlike Norma Cantú, Cisneros acknowledged the painful difficulty of artistic creation, but gave the audience hope that such a difficult process would, in the end, bless us.
Later on Thursday, another panel was convened to more explicitly wrestle with the problems of religious content in writing. This was entitled "The Limit -- or Light -- of Spiritual Belief" and included writers of a range of religious persuasions including an Iranian Jew, Farideh Goldin; a Mormon, Josh Allen; Janet Peery, Nicole Mazzarella, and Emily Louise Zimbrick, all of whom are members of one order or another of protestantism; and Scott Cairns, who has joined the Eastern Orthodox faith. In their own way, each of the panelists urged us to resist simplicity and laziness in our writing on religious matters, to resist the impulse to use fiction to evangelize or proselytize, to allow our own doubts and confusions to express themselves on the page. Josh Allen, who teaches writing at Brigham Young University, ridiculed the writing of "religious propaganda" that doesn't allow for interesting narrative or complex questions -- writing that makes the reader feel victim to the persuasion of the author.
On the panel, Scott Cairns' voice was the strongest. He is a poet and the chair of the writing program at University of Missouri; he spoke with the hesitance and care that can only come from a lifetime's honest intellectual inquest of spiritual complexity. As an intellectual, he has studied ancient rabbinical and orthodox texts and found that the only understanding he can form of god is to have no understanding at all. He cited the idea of apophatic theology, which he defined as "the way of unknowing": rather than trying to describe attributes of a god that cannot be understood, apophatic theology relies on the ways in which god can never be understood. His poetry is an extension of this: the extension of "unknowing" would then be the process of "unsaying." For him, writing poetry is "the process of trusting language to lead me into saying what I do not know." This process of unsaying strengthened his prayer life: devotion to art is devotion nonetheless.
For me, all these voices inspired me into a humility; rather than claim with youthful naïveté to have authority over spiritual matters, I will use my doubts, confusions, spiritual failings to raise the complexity of my art while using my artistic practice to hone my spiritual practice of meditation. I believe that this need not be specific to writing -- all artists (and we are all artists) can see their creative impulse as a spiritual impulse, and thereby literalize spiritual questions that can otherwise remain stubbornly nebulous. It can, if approached with respect, resolve the "God" question that rages between atheists and believers -- we may not all believe in god, but we can all believe in art. As with prayer and other spiritual practice, the spiritual in art must be approached with respect and humility.