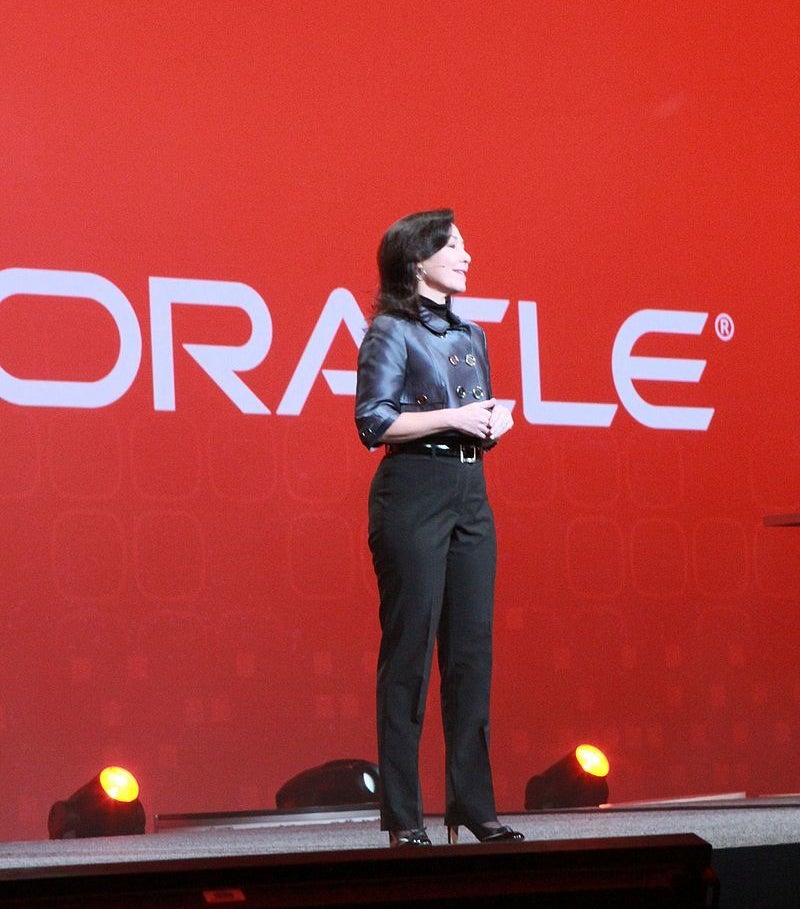 Oracle Corporation – a multinational computer technology company that specializes in developing and marketing database software and technology – is soon to be home of the first ever public charter school on a corporate campus.
This is largely due to the efforts of Oracle's CEO, Safra Catz, an Iranian American businesswoman who holds a bachelor's degree from University of Pennsylvania's Wharton School, and a J.D. from University of Pennsylvania's Law School. As a well-educated woman, Catz understands the importance of education and works to promote STEM education for future generations.
The school is called D.Tech, or Design Tech High School, and it is an innovative public charter school founded in 2014 that aims to teach through "extreme personalization and putting knowledge into action," (Oracle Foundation). D. Tech "does away with the traditional classroom environment, instead rotating students through glass-walled learning stations," (Business Insider). The idea is to spark innovation and foster curiosity for students in the STEM fields.
Helping to develop interest in the STEM fields is extremely important for creating the next generation of innovators, and it is also one of the priorities of Powers Education, a company that aims to empower young women to pursue STEM careers by exposing them to the beauty of science from a young age.
Safra Catz saw enormous potential in D.Tech's pioneering model, and under her leadership, Oracle corporation agreed to fund D.Tech's permanent home on its own corporate campus, which will open its doors in 2018.
Safra Catz's investment in D.Tech exemplifies her commitment to education. "Education is a cornerstone of Oracle's philanthropic efforts – and has been for decades," (Oracle Foundation). This is evident through the various educational programs and initiatives that Oracle has supported over the years, including Oracle Academy, Oracle Education Foundation, Oracle Giving and Volunteers, Oracle Women's Leadership, and Oracle Diversity and Inclusion.
Furthermore, Oracle has donated $200 million to Obama's Computer Science for All program, which includes professional development for teachers, software, and certification resources. The funding doesn't stop there, however, as Oracle donated an additional $3 million to nonprofits focused on teaching girls and other underrepresented populations to pursue STEM and CS degrees.
This focus on girls is yet another parallel between Safra Catz's values and the values of Powers Education. Powers Education focuses explicitly on women in an effort to bridge the gender gap and equip more women with the confidence to succeed in STEM fields.
Catz has said, "we want more girls focused on building upon science and math fundamentals and we want more women choosing the technical disciplines because they are both prepared to do so and because they believe it will advance their career opportunities," (Oracle Press Release).
Oracle has offered more than 65 educational events and reached over 55,000 young girls globally "through a powerful nexus of its corporate social responsibility programs." Events included "summer computer camps, codefests, workshops and conferences designed to encourage and inspire adolescent girls to become original thinkers, creative designers, and enterprising trailblazers," (Oracle).
Influential corporate leaders like Safra Catz, innovative schools like D. Tech, and inspirational companies like Powers Education will "prepare students for the challenges and opportunities that we experience in our workplace today, as well as those that our global society will face in the century ahead," (Oracle Foundation).
This post was published on the now-closed HuffPost Contributor platform. Contributors control their own work and posted freely to our site. If you need to flag this entry as abusive,
send us an email
.