Raspberry Pi may sound like a wonderful summer dessert, but for a group of 9th and 10th graders in the San Joaquin Valley (SJV), Raspberry Pi is a $35 computer circuitry satiating each student's sweet tooth. Topped with some know-how, a few extra computer parts and creativity, Raspberry Pi is giving students who attended coding camps provided by the San Joaquin County Office of Education the ability to create their very own arcade system.
While these high school students put their knowledge to the test by wiring parts using PlayDoh to build circuits and learning the Linux operating system and code, their camp instructor Stephen Callahan put his own teaching abilities to the test by challenging the way he creatively integrates science, technology, engineering and math (STEM) into his curriculum.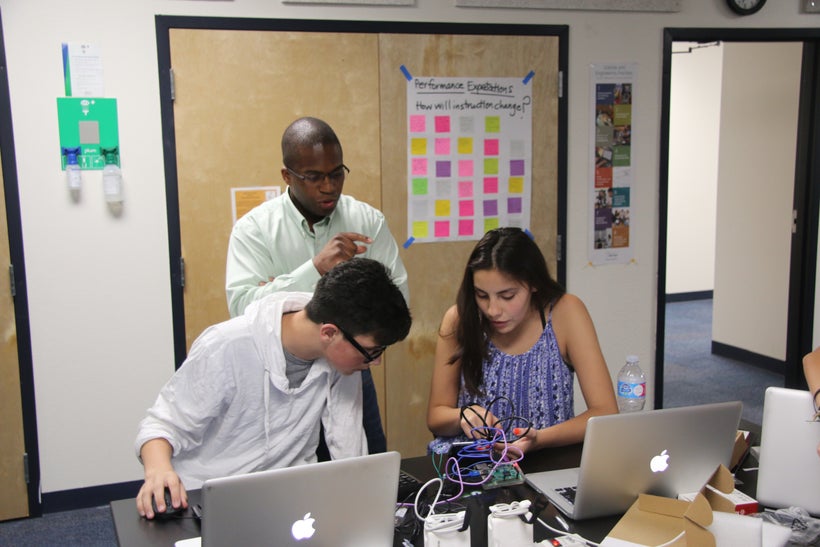 Callahan, a high school science teacher at Merrill F. West High School in Tracy, CA, began the first of three coding camps as a participant in the Secondary Integration of Modeling in Math and Science (SIMMS) project in 2014. Callahan was one of approximately 50 teachers encouraged to participate in the SIMMS project by Bret States, the SIMMS project director for the San Joaquin County Office of Education.
"The skills that the SIMMS teachers have attained has served as a springboard for them to introduce computer programming and computer modeling into their science and math high school courses," States said.
Funded by the California Mathematics and Science Partnership (CaMSP) program and the California Department of Education, the SIMMS project is facilitated by a partnership with the Edward Teller Education Center at Lawrence Livermore National Laboratory (LLNL) to 9th through 12th grade teachers. The goal is to show teachers how to write curriculum addressing computer modeling and simulation performance expectations and practices, and help them integrate interdisciplinary STEM principles into their classroom using recently adopted Common Core State Standards for Math (CCSS-M) and Next Generation Science Standards (NGSS).
"I received a bachelor's degree from University of California, Berkeley in cognitive science and worked in Silicon Valley as a system administrator before becoming a teacher," Callahan said. "When the opportunity to participate in the SIMMS project came up, I was excited because my programming experience hasn't really been of use in the last decade teaching, but now there is an opportunity."
In 2015, States and Callahan decided to put the practices to the test by offering a coding camp integrating NetLogo—a free, programmable computer modeling environment used to compare real-life phenomena to computer simulations—taught during the SIMMS training. The first camp designed for 6th through 8th graders filled up so quickly another session had to be added. By the end of summer, States and Callahan were planning 2016 coding camps for its 9th and 10th grade attendees, and decided to challenge the curriculum even further by offering camps for younger students, 4th and 5th graders.
"Since the material was something generally intended for older students I wanted to try a new way of presenting it," Callahan said. "We went with making the entire course a series of competitions by gamifying the process of learning difficult material.  Students had competitions to code simple objectives.  After they learned the language, they edited and improved on classic games."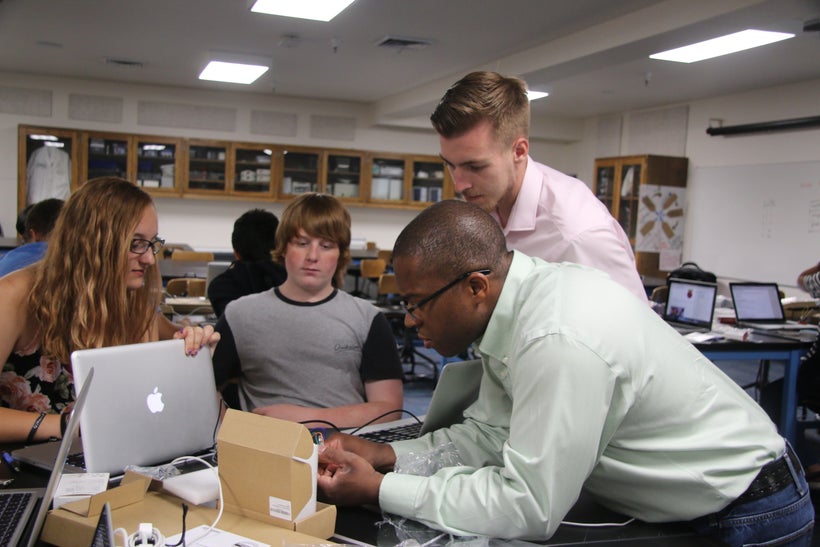 Callahan is a great example of how teachers benefit from the CaMSP programs funded by the California Department of Education.  His willingness to incorporate what he's learned from the SIMMS summer intensives by gamifying and tailoring the curriculum to different grade levels shows his confidence in understanding and implementing STEM disciplines. And the confidence of teachers is evident. In fact, in my research work for Public Works, an evaluation services company contracted to review CaMPS programs, we surveyed the 20 CaMSP programs funded along with SIMMS and found that 83 percent of teachers reported CaMSP participation provided them with a better understanding of modeling and real-world applications in teaching and reflected a growing confidence in understanding content knowledge well enough to be creative with their instructional strategies and integrating STEM disciplines.
What's more, teachers participating specifically in the SIMMS project have provided positive feedback regarding the collaboration and intensive STEM learning they have experienced in the CaMSP professional development program, with more than 80 percent of teachers reporting being very satisfied with the quality of the training. SIMMS teachers have also reported that although they are still not yet completely comfortable with using modeling software, they are becoming more confident each year with incorporating the use of modeling and computers into their classrooms.
States agrees and says he's received many testimonials from teachers expressing how it is impossible to know all of the answers, but part of the joy of learning is to provide the opportunities to inspire students.
"We have seen a dramatic increase in their confidence in promoting computer science education in their classrooms," States said. "Computational modeling and thinking is highly emphasized in Common Core Math and Next Generation Science Standards for K-12 and the SIMMS project teachers are certainly doing their part to disseminate the lessons to teach these important skills."
This post was published on the now-closed HuffPost Contributor platform. Contributors control their own work and posted freely to our site. If you need to flag this entry as abusive,
send us an email
.