Continuing an alarming pattern of the White House shutting out the press and the public and curtailing transparency, White House press secretary Sean Spicer on Monday will answer questions from reporters in a restricted setting. 
TV networks will not be allowed to broadcast Monday's press briefing and will be able to air only audio of Spicer's responses to reporters. Previously, the White House did not even allow audio of the off-camera "gaggles," but relented last week after protest from the press.
Spicer has given only two public briefings in the past two weeks. The last time Spicer briefed reporters on camera was Tuesday. That followed more than a week of no public briefings. Instead, he and deputy press secretary Sarah Huckabee Sanders have increasingly opted for off-camera "gaggles," answering questions from reporters in private — and leaving the public in the dark.
"We have a tremendous respect for the First Amendment," Spicer said during his last on-camera briefing last Tuesday. He then defended the decision to restrict press access, saying the daily briefing is just "one aspect of what we do."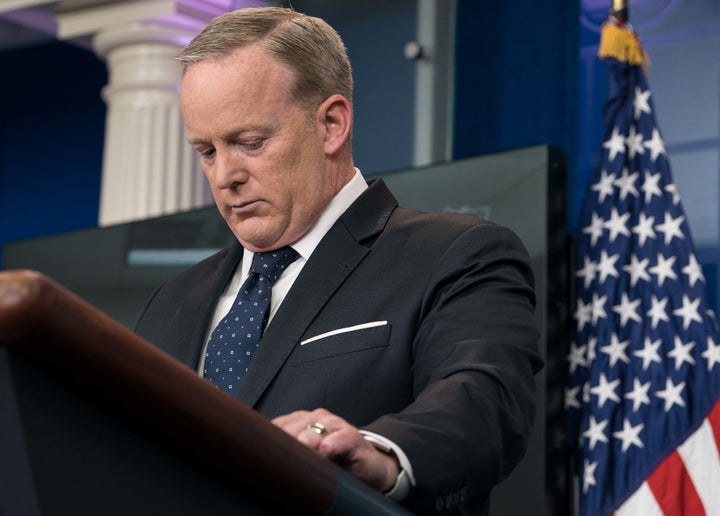 Some reporters have called for greater pushback and more collective action from the press, such as boycotting the briefings.
"It just doesn't make any sense to me," CNN senior White House correspondent Jim Acosta said last week. "It just feels like we're sort of slowly but surely being dragged into a new normal in this country where the president of the United States is allowed to insulate himself from answering hard questions."
Reuters' Jeff Mason, president of the White House Correspondents' Association, said Friday that he had raised the issue with Spicer and Sanders.
In a memo to WHCA members, Mason wrote that "gaggles are not a substitute for the open back-and-forth between reporters and administration officials that regular televised briefings allow" and that reporters "need video and sound to tell Americans what the government is doing in their name."
"We believe strongly that Americans should be able to watch and listen to senior government officials face questions from an independent news media," Mason wrote. "We are not satisfied with the current state of play, and we will work hard to change it."
BEFORE YOU GO
PHOTO GALLERY
Sean Spicer Was The White House Easter Bunny