WASHINGTON ― The Senate health care bill isn't dead, but it has started giving away its belongings to the grandchildren.
GOP leaders are scrambling just to convince reluctant Republicans to open debate on their health care legislation, with the new language released Thursday doing little to change the dynamic Republicans have faced all along: They don't have the votes ― at least not yet.
Majority Leader Mitch McConnell (R-Ky.) appears to have lost two Republicans right out of the gate: Susan Collins (R-Me.) and Rand Paul (R-Ky.). With only 52 Republicans in the conference, he can't afford to lose anyone else if the bill is just to get to the floor. And there are a number of Republicans who report being undecided ― like Shelley Moore Capito (R-W.V.), Rob Portman (R-Ohio) and John Hoeven (R-N.D.) ― as well as senators who have staked out even harder positions to back away from, like Dean Heller (R-Nev.) and Lisa Murkowski (R-Alaska).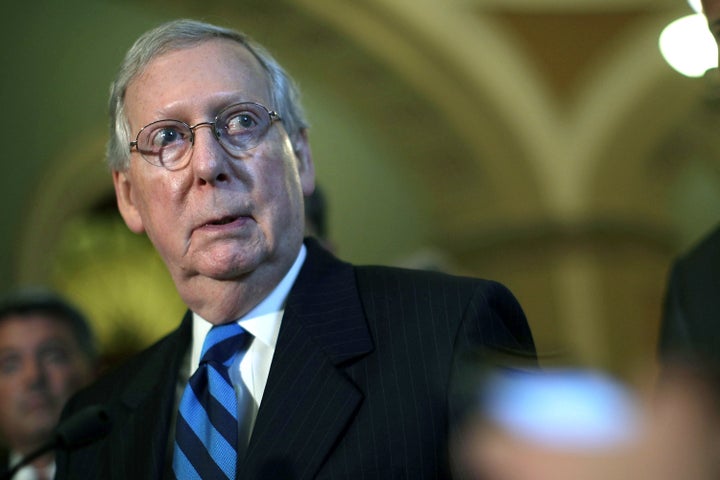 All five of those senators were in McConnell's office Thursday afternoon, following a GOP conference meeting in the old Senate chamber and a members-only lunch. The holdouts still seem to have reservations over the bill's provisions on Medicaid. Despite changes to the legislation to keep more of the taxes from the Affordable Care Act, and to put another $70 billion toward lowering premiums, the revised measure still unwinds the funding for the Medicaid expansion.
"My position remains the same," Portman told reporters Thursday. "I want to make sure that, with regard to the people who are currently getting coverage under the Medicaid expansion, that they have some options."
Portman did say he was happy about an additional $45 billion for states to fight opioid addiction ― up from $2 billion ― and he said leadership was still talking about more changes to soften the blow of the Medicaid cuts.
Still, a large mission of the bill is to do away with the Medicaid expansion. A slightly longer runway for those cuts may win over some senators, but sinking the Republican bill would keep the expansion in place.
At this point, any one of those five senators could functionally kill the bill by declaring his or her opposition. Heller, who said in June that he would oppose the bill and the motion to proceed, told reporters on Thursday he was now undecided, though Nevada's Republican Gov. Brian Sandoval ― from whom Heller seems to be taking at least some of his cues ― didn't seem to be won over by the latest changes. Heller is up for re-election in 2018, and he would likely be helped politically by voting against the bill.
Another strong candidate to deal the health care bill its kill shot is Murkowski. Murkowski told Politico on Wednesday that the GOP health care bill ought to just set Medicaid aside as an issue, and she has expressed concerns over protecting people with pre-existing conditions.
The revised bill would fundamentally undermine protections for people with pre-existing conditions, after an amendment from Ted Cruz (R-Texas) was included in the base bill, but Murkowski could potentially be won over through other changes. Alaska would be the only state to qualify for a cut of a long-term stability fund, as their insurance premiums are dramatically higher than the national average.
Whether that's enough for Murkowski is unknown, but McConnell could potentially hand over even more money to Alaska for Murkowski's vote, as he still has money to dole out after the revised bill kept the Obamacare taxes on investment income and a Medicare payroll tax on high-earners.
Even with the bill keeping more of the taxes, however, the overall legislation seems to have veered further to the right. The long-term Medicaid cuts in the Senate bill are even deeper than in the House bill, and Cruz's amendment would have the effect of substantially raising prices on people with pre-existing conditions in the name of lowering prices for the healthy.
Amazingly, hardly any Republican senator, almost all of whom have said at one point that they would protect people with pre-existing conditions, took issue Thursday with an amendment that would result in sick people paying significantly more for health insurance.
The inclusion of that amendment, which allows insurers to offer plans that don't comply with Obamacare regulations so long as they offer one plan that does comply, won over Cruz's vote. It also seems to have brought Sen. Mike Lee (R-Utah) closer to yes, though Lee hasn't officially said if he'll support the measure.
Cruz told reporters that, as long as his amendment was in the bill, he'd support it. But even that position is problematic. If McConnell were somehow able to get Republicans to agree to the motion to proceed, because the legislation is technically a budget reconciliation measure, Republicans and Democrats would be allowed to offer amendments until Republicans shut down the vote-a-rama.
That would mean that, assuming all Democrats oppose Cruz's amendment, just three Republicans could strip the Cruz language. And even if McConnell undid those changes in a substitute amendment at the end, three Republicans control the fate of Cruz's proposal, as those Republicans could block McConnell from ending the amendment process. Moderate Republicans don't need to accept a bill that undermines protections for people with pre-existing conditions if they don't want to.
Which is all to say that, even if McConnell managed to get 50 Republicans to bring the bill to the floor, that would be just the start of his troubles. And the Kentucky Republican will have more than enough trouble just getting Republicans onto the bill.
Senators seemed to be laying traps Thursday to justify their opposition, with one easy line of reasoning being that McConnell seems intent to act on the legislation without a complete score from the Congressional Budget Office.
Because Cruz's amendment was just submitted to the CBO this week, and because it's almost impossible to score anyway, senators said the CBO isn't likely to have an analysis of the amendment anytime soon. Instead, GOP Conference Chairman John Thune (R-S.D.) suggested Thursday that Republicans might just use an analysis of that language from the Department of Health and Human Services or the Office of Management and Budget ― both agencies that are currently controlled by the Trump administration.
In her statement declaring that she continues to have "serious concerns" about the health care bill, Capito said she looked forward to reviewing the CBO score.
If she and others are looking for a reason to oppose this bill, an easy one would be not wanting to move forward with a vote on a major piece of legislation that doesn't have a complete score from the CBO.
CORRECTION: A previous version of this story misidentified the state Hoeven represents.
Eliot Nelson and Jeffrey Young contributed to this report.