San Francisco Ballet's Don Quixote is an impossible dream come true. As the last program of the 2012 season, this newly designed production is a glorious 2 1/2-hour quest for the ultimately beautiful. The time-honored and virtuosic choreography of Alexander Gorsky and Marius Petipa has been polished up by Helgi Tomasson and Yuri Possokhov and its simple three-act collection of "tales of the lovelorn" translated into eye-popping episodes of passion and frivolity, intimacy and spectacle.
The color palette of production designer Martin Pakledinaz is a virtual kaleidoscope that shifts and swerves through a half-dozen scene changes, accommodating miles of ruffles, shining armor, fashion-plate toreadors, tiaras and fans, a winged fairy, a camp of gypsies, wood nymphs, an over-powdered fop, a veteran burro, and the Knight-errant's gluttonous sidekick, "Sancho Panza." While its prevailing score by Ludwig Minkus does not measure up to the Classic ballets of Tchaikovsky, Stravinksky, and Adolphe Adam, there is no "tilting at windmills" here under the magical baton of conductor Martin West. San Francisco Ballet has championed a new look for its resident Don Quixote. It is unbeatable and covered with stars.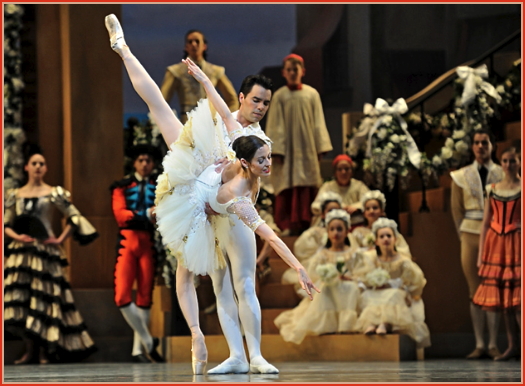 JOAN BOADA ("Basilio") and VANESSA ZAHORIAN ("Kitri")
Photo, Erik Tomasson
The Opening Night cast featured the extraordinarily talented Joan Boada as "Basilio," the barber of Barcelona. Boada's early training at the National Ballet School of Cuba gave him the sure footing for a role he's been dancing since he hit 18. In 2003, four years after joining SF Ballet as Principal Dancer, Boada was again challenged with doing "Basilio," this time in the Tomasson/Possokhov adaptation. Nine years later, it appears the perpetually youthful artist is in the best shape of his life and a combustible match for his character's love interest, "Kitri," danced by Vanessa Zahorian.
Pierre-François Vilanoba as the pre-eminent toreador "Espada" and Sarah Van Patten as "Mercedes" -- a local beauty enchanted with a bevy of bullfighters in bright yellow pants -- provided a touch of Fred and Ginger to a daring knife dance in the town square. The team, having appeared earlier this season in the stunning production of Romeo and Juliet, are excellently partnered and mutually charged. They make the story their own.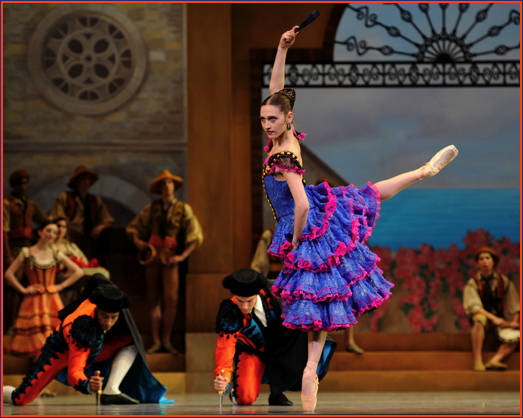 SARAH VAN PATTEN (as "Mercedes")
Photo, Erik Tomasson
In the gypsy encampment of Act II, the embers were stirring on a more primitive level in the erotic exchange between the domineering "Gypsy King," danced by Hansuke Yamamoto, and the woman gone crazy-in-love with him, danced by Danielle Santos. Maybe it's a Traditional dance, one that invites aggressive chemistry and naked truth-telling through every glance and position. (Nothing at all like those fancy group seguidillas downtown!) Hansuke Yamamoto was smoldering. "The woman" seemed desperate, she'd do anything. Even beg. It was very clear that this Gypsy leader had something more on his agenda, something more direct than just being admired or worshipped -- "pure and chaste from afar."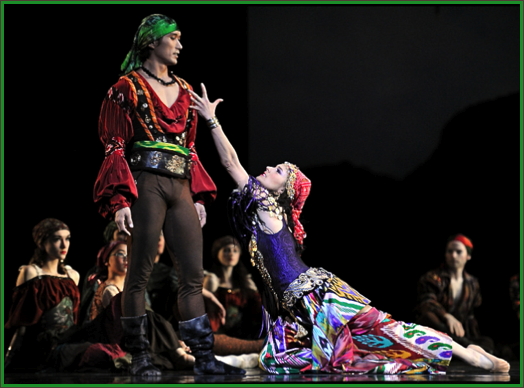 HANSUKE YAMAMOTO and PAULI MAGIEREK.
Photo, Erik Tomasson
By the end of this scene, "Don Quixote" has wrecked a local puppet show and made an idiot out of himself fighting with a windmill. Exhausted, he falls to the ground. End of scene.
Plot-wise -- Act II, scene ii, "The Dream" -- can be a bit much for some folks. With yet another scene to follow, the second Intermission is looking a long way off. And where did all these little faeries and cupids and the Queen of the Wood Nymphs suddenly come from? And isn't that "Kitri" costumed as the Snow Queen from The Nutcracker? Ah, yes. The Don is dreaming. Kitri is his "Dulcinea" and she's in the guise of a five-star prima ballerina. Thus, another dazzling solo. Well, what could be better? Especially for her fans?
The problem with perhaps cutting the scene, even for the sake of brevity, is that we would also miss the brilliant performance of Clara Blanco as the wing-ed "Cupid." Following her superb performance as the headstrong "Olga" in the Company's Opening Night and premiere performance of Onegin, Clara Blanco is now transformed into a mystical force that recalls fantastic images from Max Rheinhardt's 1934 film masterpiece, A Midsummer Night's Dream. And after the recent breath-taking apperance of Sofiane Sylve in Edward Liang's Symphonic Dances, I am not willing to forsake her solo as the "Queen of the Dryads"; not while she's sporting the biggest tiara in town. So, I guess the scene stays. And so will this production of Don Quixote.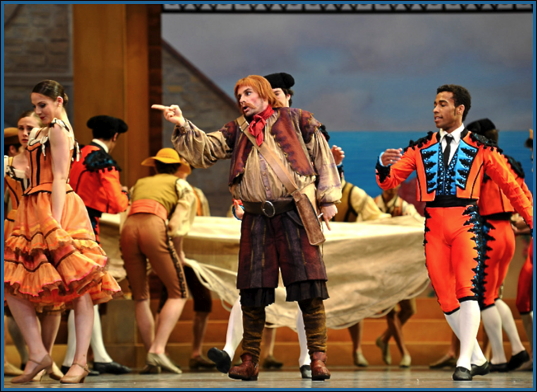 PASCAL MOLAT (as "Sancho Panza")
Photo, Erik Tomasson
Click here to purchase tickets on-line: DON QUIXOTE
Learn more about Helgi Tomasson and Yuri Possokhov's Don Quixote: