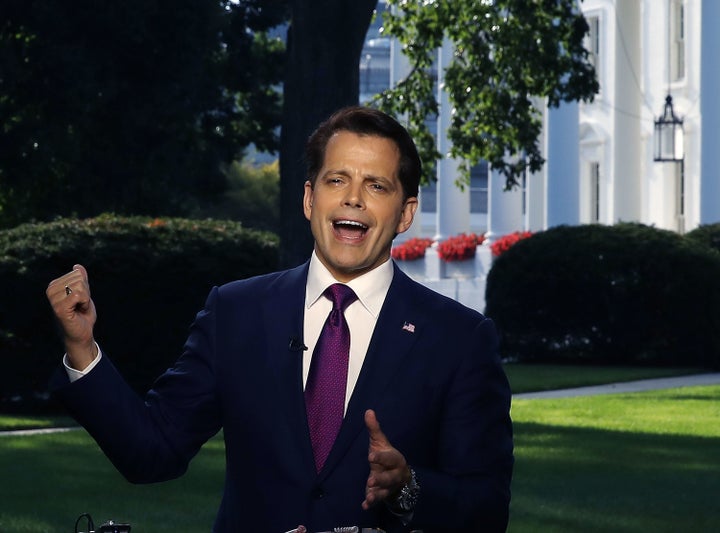 Apparently not wanting to play a carnival game with Jimmy Fallon, former White House communications director Anthony Scaramucci has agreed to appear on Stephen Colbert's "The Late Show" on Monday, August 14.
Colbert revealed the news on Twitter a few hours before his Wednesday night show aired. "This is just a heads up for our censors to get ready!" he wrote.
During the actual show, Colbert was clearly excited about his upcoming guest.
After a long-winded tease to the audience about an upcoming exclusive, Colbert proclaimed, "On Monday, I will be sitting down, right here, talking, for the first time since he left the White House ― Anthony Scaramucci will be sitting right there. The Mooch!"
In response, the crowd erupted into an extended chant of the word, "Mooch." 
For what it's worth, HuffPost already interviewed Scaramucci after his White House exit. George Stephanopoulos will also be interviewing Scaramucci on Sunday for ABC's "This Week," so Colbert's sit-down will not be the first time the Mooch appears on camera that week. But the scheduled "Late Show" visit is still a huge get for Colbert.
"I can't believe it," Colbert said on Wednesday. "We got the Mooch. We set out a Mooch trap!"
Colbert briefly discussed what he plans to talk about with Scaramucci.
"It's going to be fun," Colbert said. "We're going to be talking. I'm going to ask what it's like inside there. How loyal he feels the president is now. We'll do some front-stabbing, it'll be a lot of fun."
Watch the full segment below (the Scaramucci teaser starts about a minute in):
CORRECTION: This article originally stated Scaramucci would appear on Monday, August 10. Monday is August 14.
BEFORE YOU GO