Before the election, the "Late Show" host said he had to thank Donald Trump for being an "unescapable black hole of both politics and entertainment" that helped him find his voice after leaving "The Colbert Report."
Trump probably doesn't feel the same gratitude.
While many late-night TV hosts preached messages of unity, on Wednesday Colbert spent a 16-minute segment basically ripping on the new president-elect. 
In response to the sullen mood in New York following the election, Colbert said, "This is what it feels like when America's made great again." He continued, "I was wondering, and I was really hoping it would feel better because this suuuuuucks."
The "Late Show" host tackled big topics during his monologue, such as why you shouldn't move to Canada following the election.
"Being an American citizen is like family. You're in it whether you like it or not. I mean, for Pete's sake, at Thanksgiving when Uncle Ernie hits the highballs and starts saying racist things about 'The Help,' you don't storm off from the table and move next door," he said. "You stay and elect him commander-in-chief!"
And for all the parents out there struggling with what to say to their kids, Colbert said to take a lesson from Trump.
"Follow his lead and lie," said Colbert. 
The "Late Show" host later added, "Tell them what you should always tell kids: work hard, be kind, care about other people, don't be selfish, don't grab them where they don't wanna be grabbed, and they'll make the world a better place than Donald Trump can."  
And if all else fails, do what Colbert does and put on kitty ears. Because as he explains, "Trump may be president, but I'm still a sexy kitty."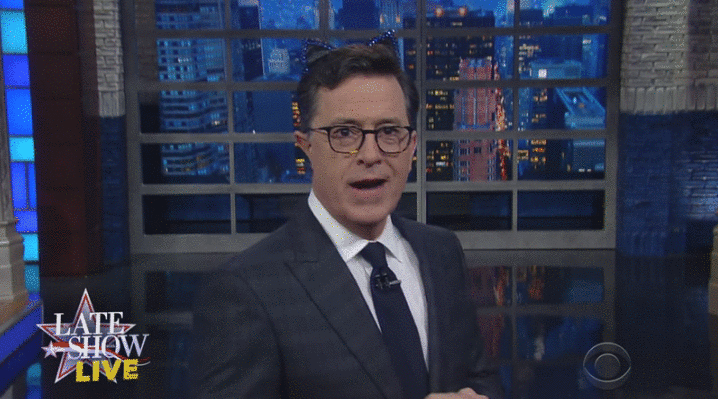 BEFORE YOU GO
PHOTO GALLERY
Newspapers React To President Trump