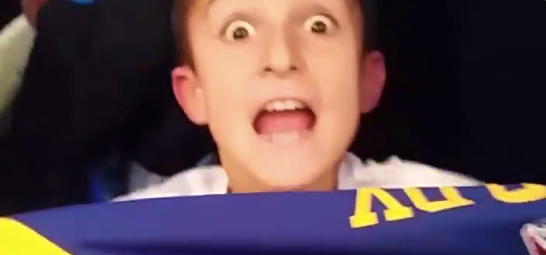 There's no doubt that Golden State Warriors point guard Stephen Curry has been working magic on the court thus far this season -- but a video posted of a young fan interacting with the MVP off the hardwood is perhaps the most definitive sign yet of Curry's status among young basketball fans today.
Before the Warriors' game in Brooklyn Sunday night, Curry signed autographs for a few kids in the crowd, including the boy taped below. To describe the fan as elated after Curry's Sharpie made contact with his own No. 30 jersey might be an understatement. "Yes! Yes! YES! YES!!! I'm gonna cry!! I got [Curry's] autograph!!!"
With so many problems in professional athletics today, it's always nice to get a reminder of the joy sports can bring to young fans everywhere. Deep down, weren't we all once this screaming Curry fan?  The answer, as this fan phrased it, is yes! Yes! YES! YES!!!
PHOTO GALLERY
Ridiculous Stephen Curry Photos From His 2015-2016 Season