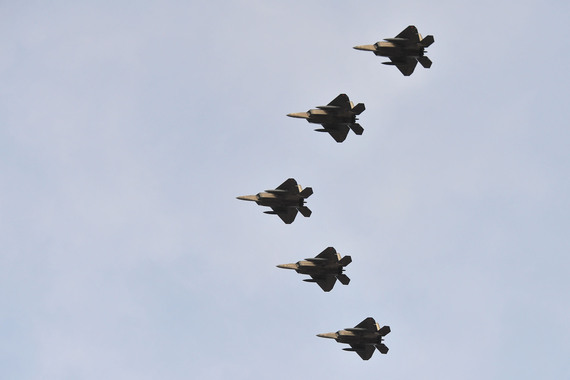 As in all recent Super Bowls, the U.S. military will be an important part of Super Bowl 48, not only in helping with security -- both in the air and on the ground -- but also by contributing to the ceremony and spectacle of the game.
Sadly, security has become an increasingly serious, ever-present worry since 9/11.
NBC news reported last week that a top concern of security officials preparing for Sunday's Super Bowl are "bomb attacks of the kind that tore through mass transit sites in Russia," although law enforcement officials are not aware of any specific threats against the Super Bowl or surrounding events.
Police, other law enforcement agencies and the National Guard are taking plenty of precautions on the ground.
Some 4,000 security officers will be on hand for the Sunday game, and fans will be prohibited from bringing bags into the stadium unless they are transparent and no larger than 12 inches by six inches by 12 inches, with women's purses limited to 4.5 inches by 6.5 inches.
Large numbers of police officers will be keeping a watchful eye on the "Super Bowl Boulevard' street fair on New York's Broadway where up to one million people are expected to enjoy the various attractions and approximately 400 National Guard personnel will be on state active duty or on standby to assist state and federal officials with security augmentation and civil support teams.
Finally, Pentagon spokesman Army Col. Steve Warren says "We're... providing military assets to the Super Bowl as part of the department's community relations efforts... It has potential recruiting benefits and it helps connect our military to America." He adds that security for the open-air, 82,566-seat stadium will be robust.
But how about the threat from the sky?
While no one can promise clear skies (or warm temperatures) for Super Bowl XLVIII, the U.S. Air Force will do everything possible to have safe skies.
Fighter jets from the Continental United States North American Aerospace Defense Command Region (CONR), along with the command's inter-agency partners, will be protecting the sky around MetLife Stadium in New Jersey, on Feb. 2.
The U.S. Air Force:

Exercise Amalgam Virgo 14-01, a NORAD air-defense exercise, will be conducted in the greater East Rutherford area, so interagency partners can practice procedures for responding to airspace violations. The exercise is a series of training flights in coordination with the Federal Aviation Administration, the FBI, Customs and Border Protection, Civil Air Patrol, the 601st Air and Space Operations Center, and the CONR's Eastern Air Defense Sector.
Similar exercises have been conducted throughout the U.S. since the start of "Operation Noble Eagle," the command's ongoing response to the terrorist attacks of Sept. 11.
Since that date, CONR fighters have responded to more than 5,000 possible air threats in the U.S. and have flown more than 62,500 sorties, officials say.
The U.S. military will also provide some of the pomp and ceremony that are such an intrinsic and loved part of our Super Bowl atmosphere.
The Armed Forces Color Guard featuring two percussionists, a local military chorus accompanying National Anthem singer Renée Fleming, a U.S. Army rotary-wing aircraft flyover, and deployed service member greetings, will appear during the game, which is expected to be watched by more than 100 million people around the world, according to Amaani Lyle at the American Forces Press Service.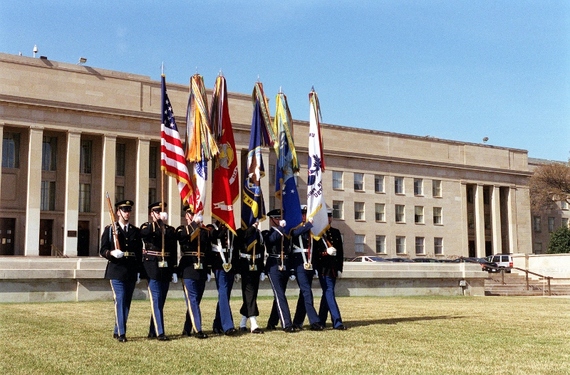 The Joint Service Color Guard marches onto the Pentagon River Parade Field during an armed forces welcoming ceremony on March 7, 2000. DOD photo by Helene C. Stikkel.

Super Bowls -- especially since our military involvements in Iraq and Afghanistan -- have consistently been a venue for Americans to show appreciation for those serving our country at home and abroad.
This Super Bowl is no different.
Super Bowl 48 athletes and coaches from the Denver Broncos and Seattle Seahawks football teams took the time to thank and pay tribute to our troops -- particularly those deployed overseas and in combat -- during shout-outs this past week:
"I want to tell all the troops over there in Afghanistan how much we appreciate what they're doing for our country to protect our country," said Denver Broncos quarterback Peyton Manning. "We are praying for you."
Russell Wilson, quarterback for the Seahawks, shouted out "Thank you for everything you people have done for us, and continue to do for us to be able to be here to play this great game of football. Thank you guys so much for everything you do protecting our country."
Watch their shout-outs interspersed with some great football action in the DOD video below.
Finally, an hour-long television salute to service members, sponsored by insurance provider USAA and the NFL, will be broadcast on Super Bowl Sunday on AFN and the Pentagon Channel.
The show is "a culmination of a lot of efforts between USAA and the NFL, throughout the season, to honor and appreciate the service and the sacrifice of military members around the world," says Don Clark, USAA assistant vice president for media and sponsorship marketing.
The program will air at 1:30 p.m., 5 p.m., and 9 p.m. EST and can also be seen live on the web.
All well and good, you say, but how about the troops slogging it out in Afghanistan?
Well, they'll be enjoying the Super Bowl as best as possible -- under the circumstances.
The Defense Department reports that as our troops sit down to watch the Bowl at more than 200 locations throughout Afghanistan, "they'll enjoy a variety of American-style appetizers and finger foods" coming from about 49,000 pounds of chicken wings, 46,000 pounds of frozen pizza, 11,000 pounds of mozzarella sticks and 2,200 gallons of chili. This, in addition to jalapeno poppers, chicken mini bites, turkey wings, french fries, onion rings and meatballs, along with more than 9,800 cases of nonalcoholic beer to wash it all down.
We hope our troops in harm's way enjoy the Super Bowl but, above all, we hope they'll be safe and wish them a quick return home.
Lead photo: USAF (Released to the public)