Social media has not been kind to Todrick Hall. A role in Taylor Swift's record-smashing video "Look What You Made Me Do" has seen the star dubbed a "sellout" — or worse — by critics.
Fortunately, some of Hall's high-profile friends are coming to his defense. Scott Hoying and Mitch Grassi, who have collaborated with Hall both as part of platinum-selling Pentatonix and pop duo Superfruit, addressed the controversy during the latest episode of Party Foul Radio with Pollo & Pearl.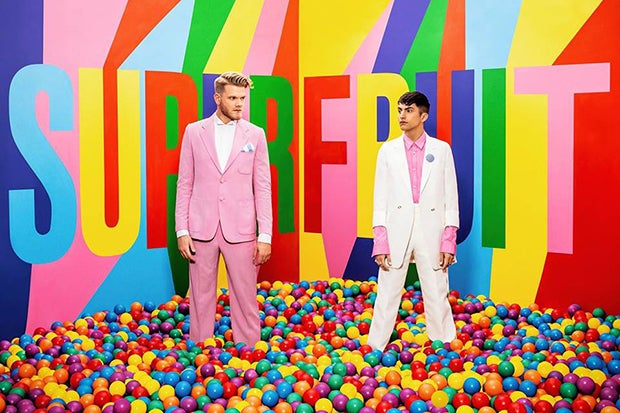 "If my best friend, who was a huge pop star, asked me to shoot a music video with her, I would say 'yes,'" Hoying said emphatically on Podomatic's No. 1 LGBT Podcast.
Hoying and Grassi first connected with Hall professionally in 2013, when Pentatonix was featured on the singer's "The Wizard of Ahhhs." The three, all of whom are gay, have remained friends since. Superfruit expressed empathy for his predicament.
"It's bound to happen with anyone and everyone," said Grassi of those in the entertainment industry coming under public scrutiny. "People are always going to disagree with you."
Earlier this year as Superfruit, Hoying and Grassi (with BFF and fellow Pentatonix member Kirstin Maldanado) were featured on "Black & White," a release from Hall's lauded visual album Straight Outta Oz. Now promoting the release of the duo's second EP of 2017 — Future Friends, Part Two, due Sept. 15 — the men admit it's difficult to watch their colleague torn down openly.
"I don't know what he did wrong," said Hoying. "But I've been seeing it all over Twitter, people dragging him for it."
WATCH: Superfruit "Future Friends" Music Video
Since its debut, Hall's extended appearance in LWYMMD — which broke viewing and streaming records upon its debut and promotes Taylor's forthcoming album Reputation — has more than 285 million YouTube clicks. Unfortunately for the multi-talented performer, blowback for his involvement was, well, swift. 
What would seemingly be an exuberant time for most turned into a social media nightmare for the recording artist, RuPaul's Drag Race and Broadway star. Online critics, Beyonce fans in particular, decried LWYMMD for visual similarities to The Queen's "Formation." Others attacked Hall directly for a perceived desire to Bey, mhm, be "white adjacent." 
"It boggles my mind that people are deciding whether or not I'm down enough, black enough, or woke enough," Hall clapped back at detractors during a recent interview with Yahoo. 
"If I have to hate people and judge people based on their race, sexual orientation or religion," continued Hall, who claims Beyonce as his "favorite artist of all-time" and, ironically, choreographed her 2013 "Blow" music video, "Then sorry."
WATCH: "Black & White" By Todrick Hall Feat. Superfruit + Kirstin Maladano
After meeting Swift in 2015, when the superstar publicly praised his work, the two became fast friends. After spending Thanksgiving 2016 together, Hall started this year with critical praise for Straight Outta Oz, starred as "Lola" in the Broadway production of Kinky Boots and sat on the RuPaul's Drag Race judging panel. 
A key role in the biggest event video of the year would seem the pinnacle of achievement for the rising star, who also boasts a popular YouTube channel and American Idol credits. Negativity toward his involvement might have dampened Hall's excitement, but Hoying does not fully understand the audience response.
"We've met Taylor Swift, and she's like the sweetest girl ever," he told me during our interview. "I can see how they're really close friends, so we've always supported it."
While the general populace have questioned Hall's decision-making, Superfruit sees things through a performer's eyes. It comes with the territory, Grassi suggested. 
"You have to make bold choices sometimes in your career," he stated. 
"What would he have differently?" Hoying asks, calling for those lobbing accusations to see the matter from Hall's perspective. 
"If someone was in his position, would they have said no?" he concluded. "Who would have said no? How do you fault him for that?"
Hoying and Grassi rejoin Pentatonix for a series of Holiday concerts and an NBC TV special later this year.
*WRITER'S NOTE: As my last celebrity interview with bisexual wrestler Anthony Bowens was so popular, many other sites & "journalists" posted it almost verbatim, please carefully reword and/or restructure this piece should you "borrow" from it. Otherwise, it is plagiarism.