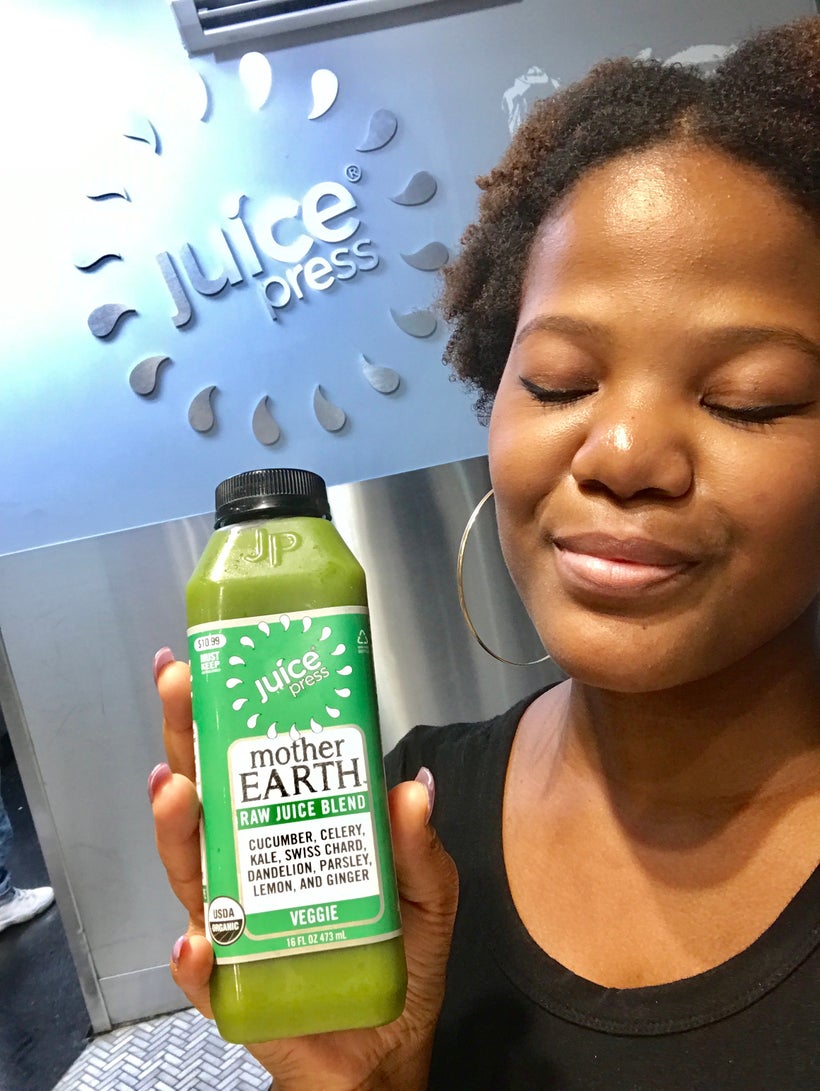 Being a New Yorker means you're always on the run, from rushing to work in the morning, to making it on time for your afternoon classes, and navigating your way home when there are train delays. As a college student who recently came back home carrying an extra Freshman Fifteen, I am trying to continue to eat healthily while balancing my college classes and working full-time. That is not to say, of course, that there are not challenges along the way. Temptation is everywhere I turn here in the city; there will always be 24-hour diners, dollar pizza shops, and food trucks at every corner. Here is what I chose to do in order to maintain a healthy diet, even though I don't always have the time to stop and wait in line.
I recently tried, the cold press juice cleanse through Juice Press. I challenged myself to the 3-day clean eating plan, which consisted of 3-5 juices daily along with supplemented salads, soups, and entrees throughout the day. There are plenty of convenient locations throughout Manhattan, Brooklyn, and Queens, so chances are you'll be able to pick up part of your cleanse wherever you are. There are also local delivery options for those who are stationary at work. I chose to do my cleanse over the weekend since I had full working shifts those days.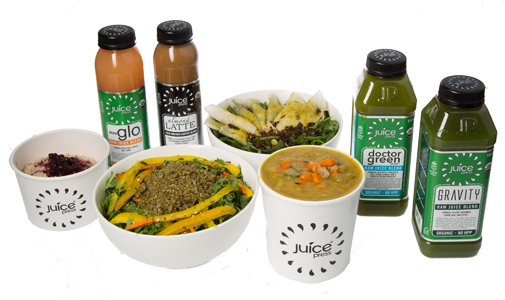 After my morning philosophy class, I started my day with a Morning Glo juice and a Mini Raw Oatmeal. I was really surprised at how much energy the juice gave me since most juices are between 8 and 12 ounces. The steel cut oatmeal also filled me up quite a bit, and it lasted a good part of the morning.
In between my breakfast and lunch, I also drank the Gravity juice, which was perfect because by the time lunch rolled around, which was around 4 p.m., I was ready for the Truffle Green Protein Salad.
The salads at Juice Press are quite large, which was a relief going into it because I think I burned it all off throughout my work day. My lunch salad was accompanied by the Doctor Green juice, which gave me another shot of energy to help me get through the rest of my shift.
My work day ended around 8:45 p.m., and by then I was not only hungry but excited for dinner, which consisted of an Egyptian Red Lentil soup and Raw Ravioli. The whole day leading up to dinner, I was intrigued as to what a Raw Ravioli tasted like, and honestly, I wasn't expecting how great ravioli over salad would taste. Both portions were quite large, and after finishing dinner, I felt great.
My biggest takeaway from Day 1 was how full you could be without feeling stuffed, or like you had overeaten. Almost every single ingredient in the juices and food options are organic, which is why picking up your cleanse items fresh every 1-2 days is recommended.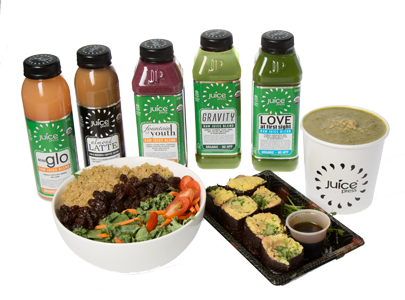 I immediately noticed the next morning that I had tons of energy and that I was excited for Day 2 of the cleanse. I'm not normally a morning person, but I almost ran out of bed so I could head over to my local Juice Press and pick up my day's food.
After storing everything I had for the day in my work refrigerator, I sat down for breakfast, which was two juices, Mini Glo and Fountain of Youth. I won't lie, it frightened me a bit to not have any "real" food for breakfast, but alas I was full for the first few hours of my day.
I did get a bit hungry about an hour before my lunch, but I snacked on some raw almonds to tide me over a bit until 4:00…
...Boy, was it worth it! For the Love of Kale was the name of the salad I got for lunch, and it was great. This salad came jam packed with all of my favorites, from cranberries and raisins to tomatoes and carrots, all glazed over with a soft vinaigrette. The weather was gorgeous, and my best friend and I sat outside laughing and talking over great salads. I was so satisfied coming back from lunch that I almost forgot I had more waiting for me when I was done with work!
Dinner time rolls around and, to my surprise, I get vegan sushi and soup for dinner! The Souper Greens soup was perfectly rich and complemented the veggie sushi perfectly.
Day 2 was absolutely great. I had no idea how many creative food options could come from a raw, organic diet. I think doing this cleanse, especially after day 2, has motivated me to become more creative in my day-to-day food options. There's clearly a lot to explore!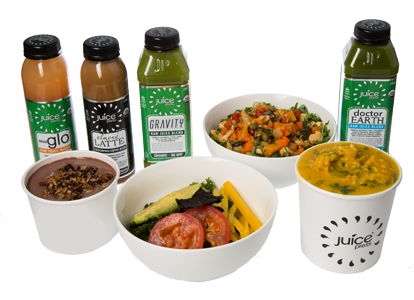 Day 3 was probably the most fun day for me. I went to my local Juice Press and picked up my cleanse for the day, with a few substitutions. My location ran out of the Roasted Veggie Salad I was supposed to have, so I opted in for another For the Love of Kale salad instead, which I did not mind AT ALL.
My day started a bit later, and I got around to breakfast with a Mini Glo juice and the Chocolate Raw Oatmeal. I'm not sure what kind of organic, vegan, kosher magic is put into this oatmeal, but it surpassed all expectations for deliciousness. I won't lie, this was a lot of food, but I was loving it. I'm a foodie and was happy to try everything Juice Press had to offer.
In between breakfast and lunch, I had a Gravity juice, and that was all I needed—no almonds necessary.
I was back again with my favorite kale salad for lunch, loving it, even more, the second time. I returned to work with a Doctor Earth juice in hand, ready to tackle the last 5 hours of retail stress until the clock hit 9:00.
By the end of my shift, I was running upstairs to get my hands on dinner, which was a Butternut Squash Soup and a Mini Marinated Kale salad. I'd say it was a 'kale' of a great day and a great way to round off my clean eating experience with Juice Press.
While juicing and juice cleanses may not be for everyone, it worked well for me in my day-to-day life. I managed to have tons of energy, stay full consistently, and enjoy every meal while navigating my school-work-life balance. Most people recommend doing a juice cleanse at least twice a year. Juice Press has so many options, you won't be without something you love.
FTC Disclaimer: Juice Press provided me with this cleanse for review. I received no monetary compensation, and as always, all thoughts and opinions are my own.
This post was published on the now-closed HuffPost Contributor platform. Contributors control their own work and posted freely to our site. If you need to flag this entry as abusive,
send us an email
.