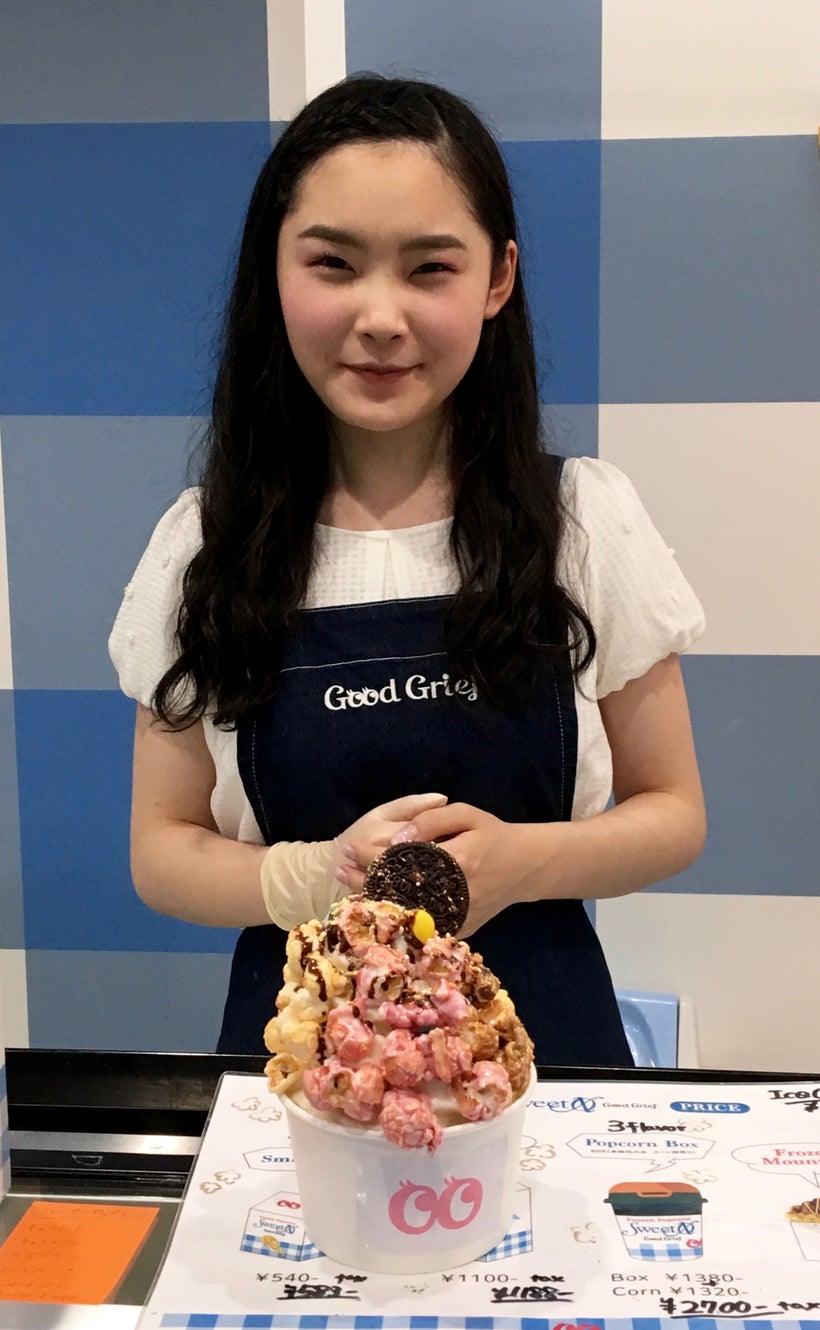 Welcome to Harajuku's boulevard of broken diet resolutions.
Harajuku's Takeshita Dori used to be about edgy, alternative fashion. Now that edge is more than likely to be trimmed in lace. Shops like Paris Kids, Pink Latte, the Cute Cube complex, Wego, and etc., are shifting the street's palette from black to pastel. The charming invasion of adorable has been accompanied by an equally relentless advance of tasty treats. Really tasty treats.
Here are the five most popular sweet shops on Takeshita Dori. These treats are designed to appeal to more than just the palate. They're gorgeous. Japanese like their desserts perfectly crafted. Honestly, quality control at the confectionaries is a lot tighter than the stitching in much of the clothing on the street.
The list is in order as you walk from JR Harajuku Station down Takeshita Dori until it ends at Meiji Dori.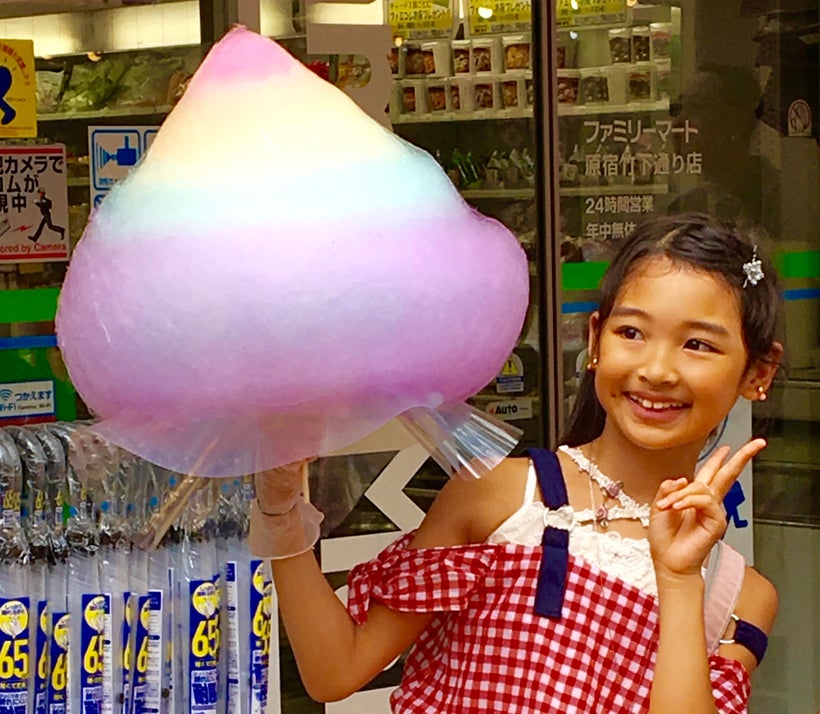 1. Totti Candy Factory. Go big or go home. No one is prepared for the first time they see Totti's signature pastel-colored cotton candy. It is massive. And gorgeous. And made fresh to order in front of you! Totti cotton candy comes in three styles: Tri-Color (600 yen); Heart Center (650 yen); and Four Color (800 yen). (Totti has a picture menu so language is no barrier.)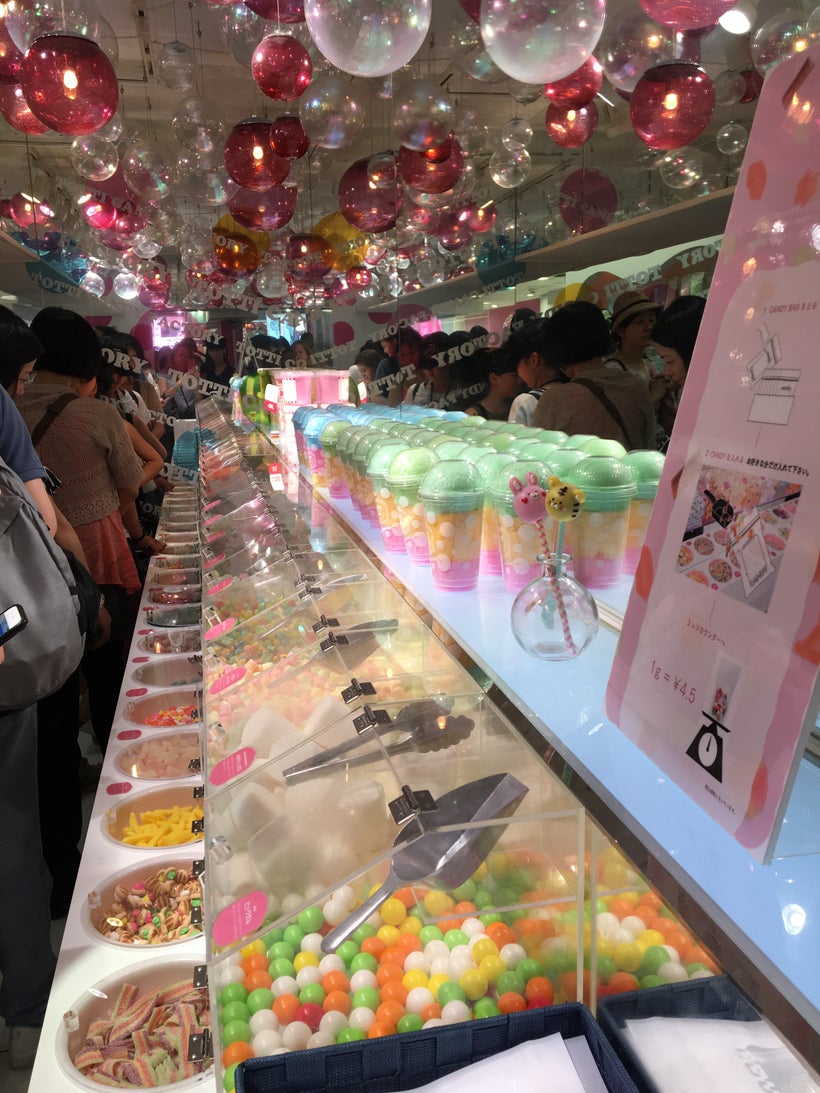 Totti also offers tri-color cotton candy in small take-away containers and tiny individual bags. Plus loose candy you bag yourself.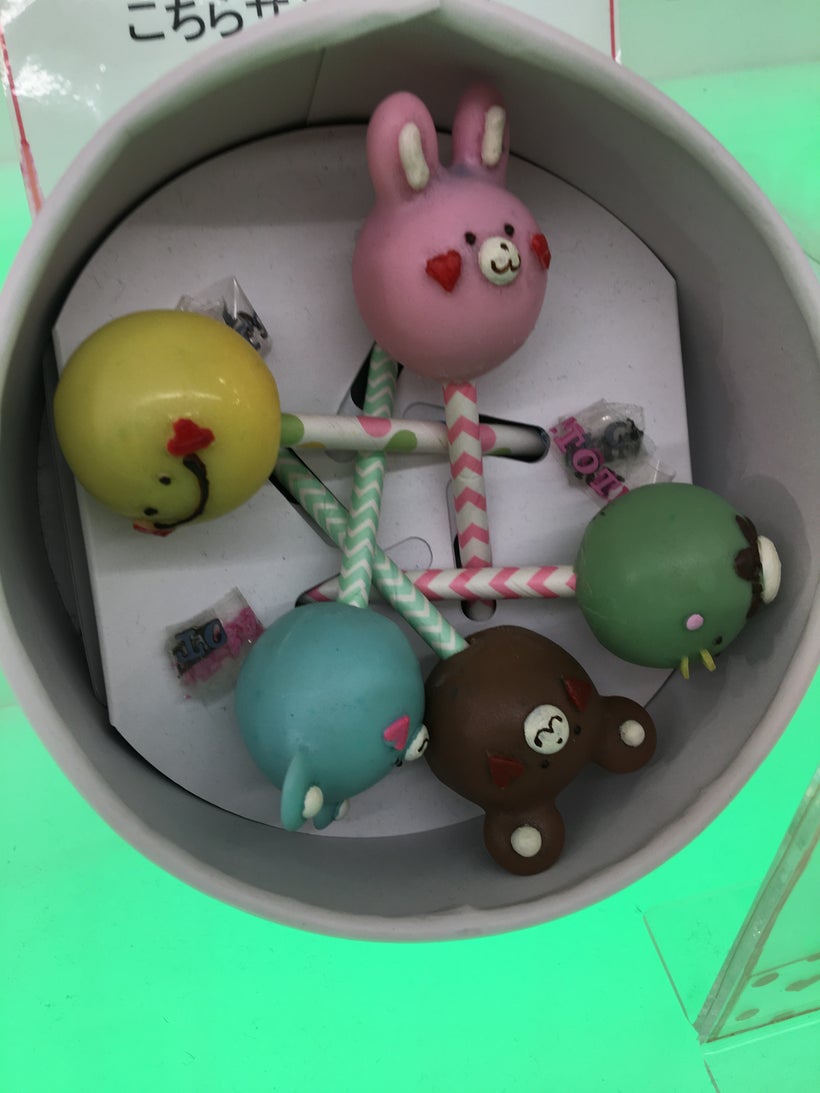 Their animal cake pops are almost as popular as Totti cotton candy. Cats, bears, tigers, Kappa (water sprite); dogs. They are just too – wait for it – kawaii. But they're not cheap. One pop is 450 yen. A box of five goes for 2000 yen.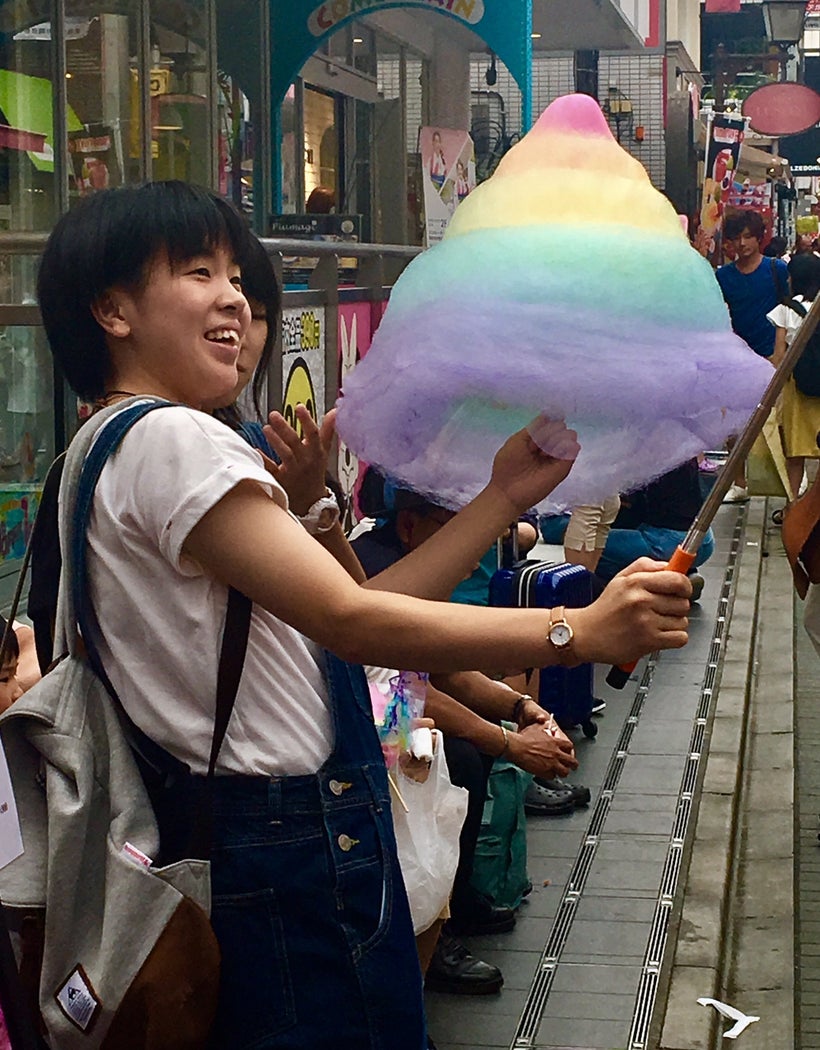 You can't miss the crowds gathered in front of the shop but the entrance is on the second floor, so look up. Website
Hours: 10:30 a.m. – 8 p.m. weekdays; 9:30 a.m. – 8 p.m. weekends. November, December and January hours are 10:30 a.m. – 7 p.m. Open daily.
Barrier Free alert: There is no other way to reach the shop other than a steep winding staircase to the second floor.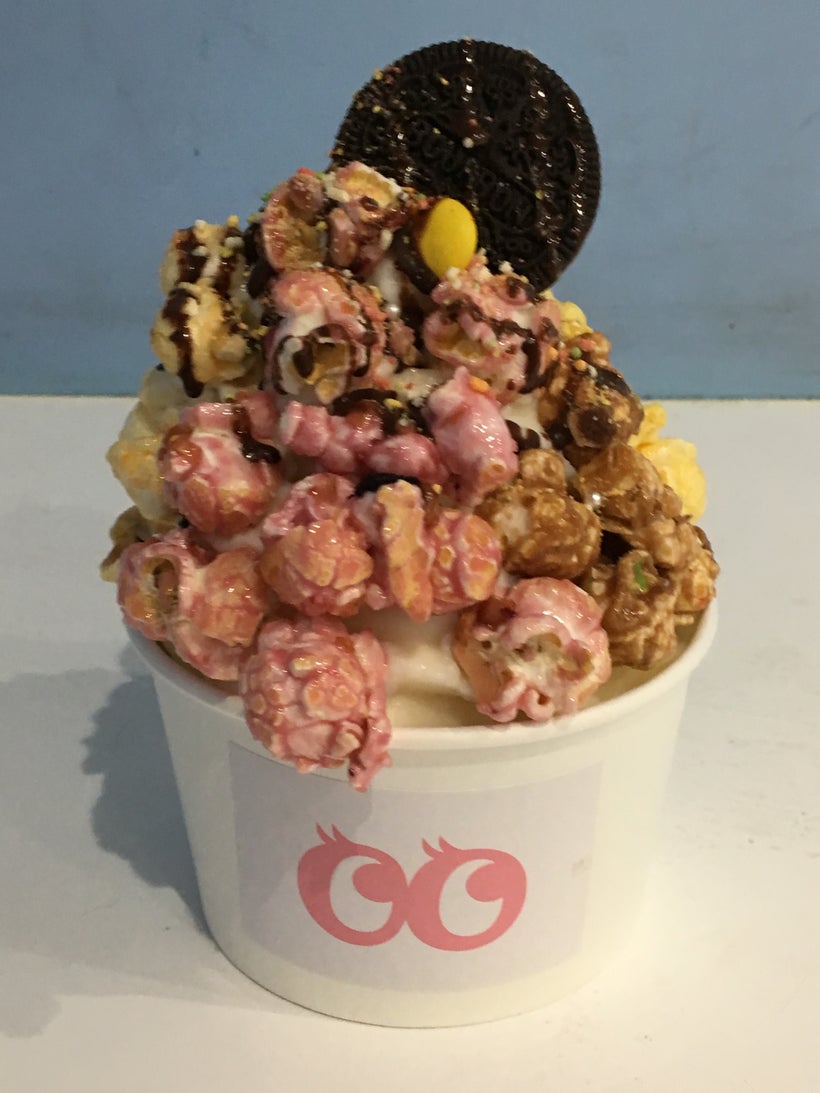 Good grief is right. Marshmallows, frozen flavored popcorn, popped snacks, sprinkles, chocolate, and ice cream are combined to create crazy crunchy edible architectural masterpieces.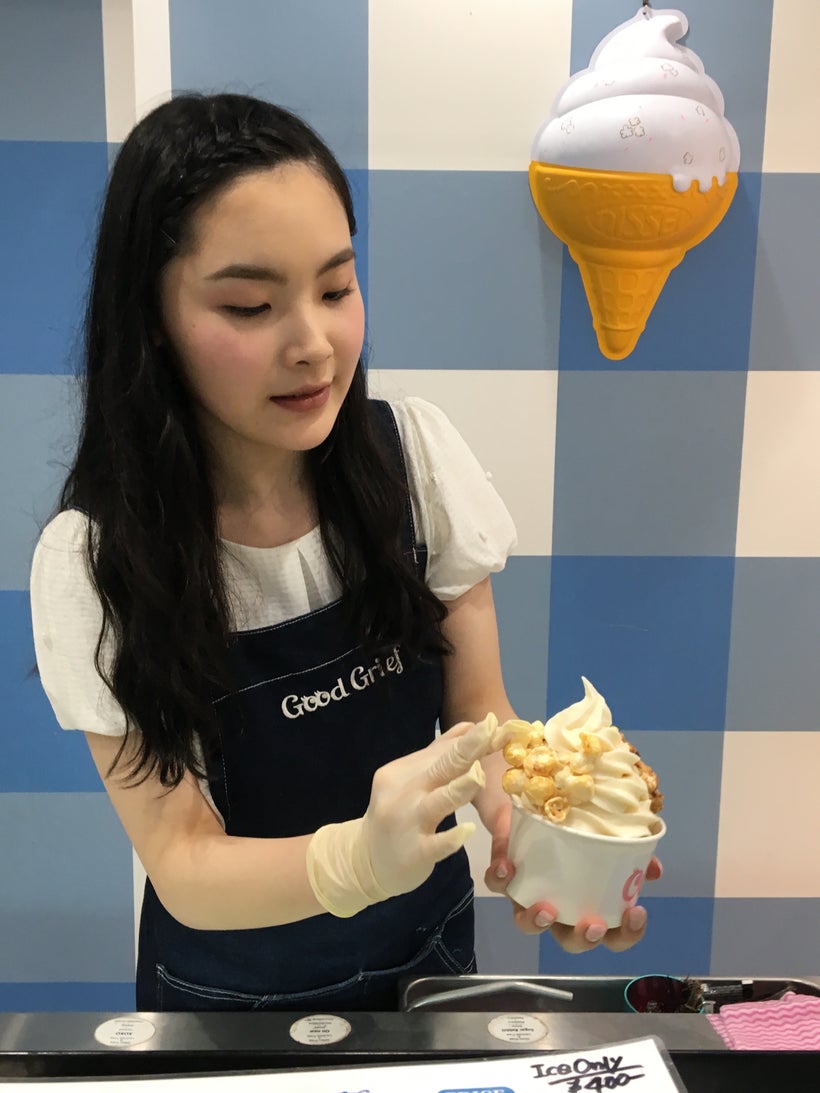 Each 'Frozen Mountain' is unique and you can watch as the staff pile on layers to create your custom sundae. And all for just 626 yen.
Like Totti Candy Factory, Good Grief also crafts giant pastel cotton candy on a stick. They call theirs the Rainbow Mountain and it is priced at 648 yen.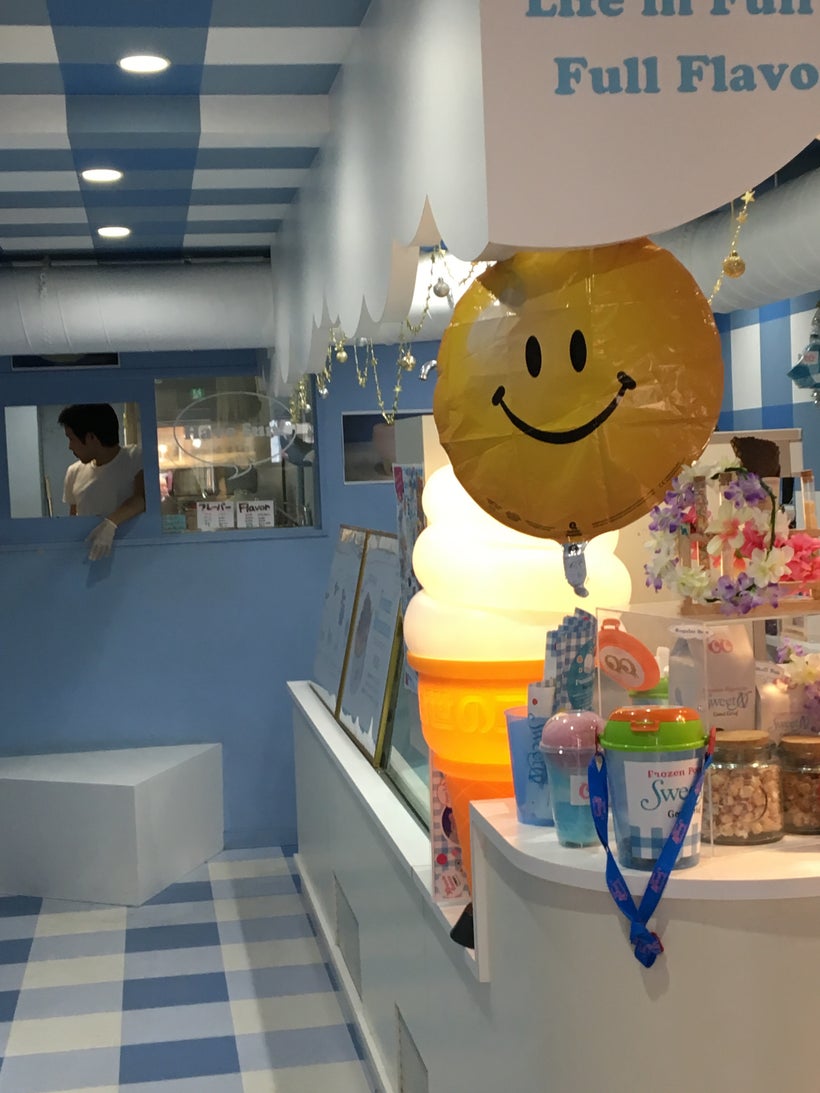 Good Grief started in California before venturing here to the Land of Cute. They might have wanted to do a little more research on their choice of location. The confectioner is right next door to Totti. Good luck Good Grief.
Hours: Daily, 11 a.m. – 8 p.m.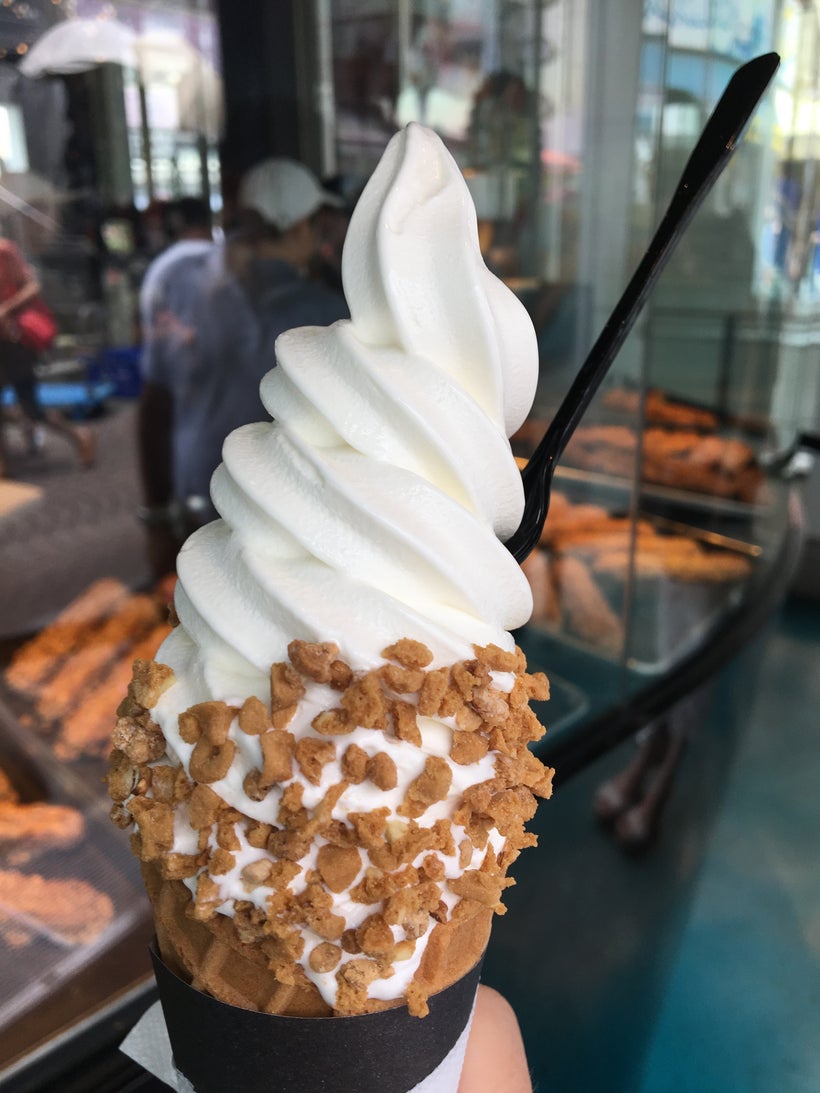 3. Croiquant Zaku Zaku. Zaku Zaku is the sound of crunching in Japanese. The crunch in this case comes from a coating of sugary chopped almonds around a cone filled with soft-serve ice cream. Zaku Zaku arrived in Harajuku via Hokkaido, where the cows are. The northernmost island is full of dairy farms and justly famous for soft serve ice cream and creamy sweets. A standard cone (or cup) is 450 yen.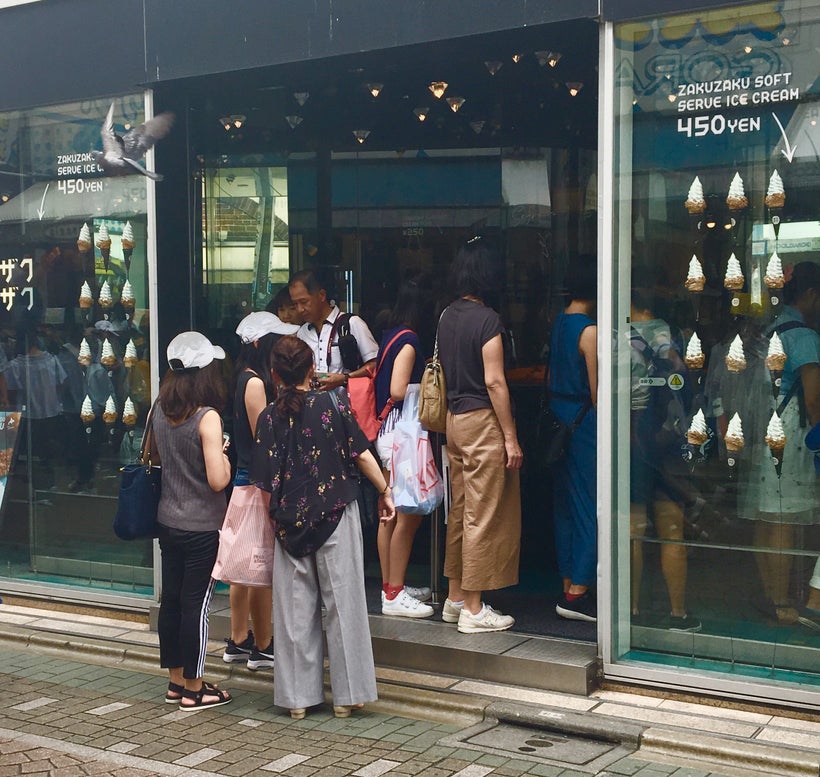 More zaku zaku delicousness is available in skinny, custard cream-filled eclairs covered in the same crunchy coating. 250 yen each. Hours: Daily 10 a.m. – 8 p.m. Japanese Website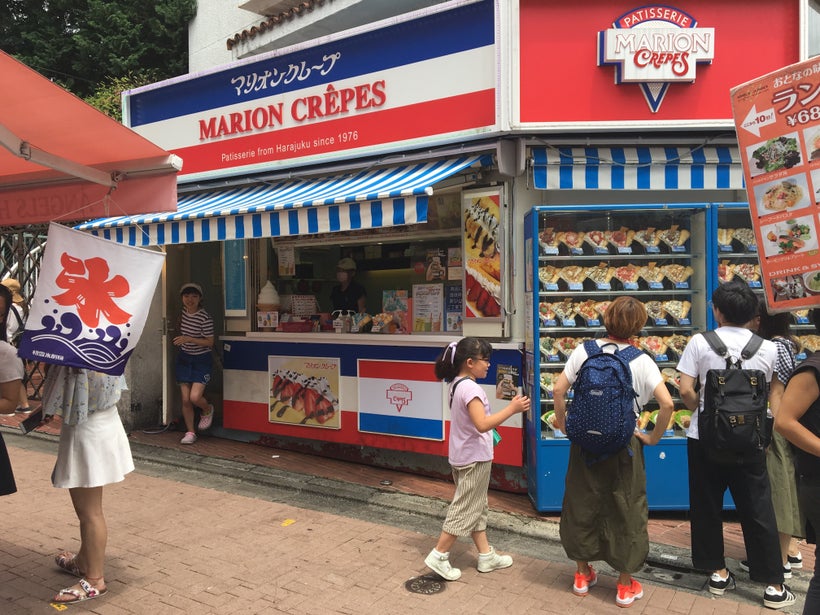 4. Marion Crepe is not just one of several walk-up creperies on Takeshita Dori. It's the original. Marion cooked up the Takeshita crepe craze in 1976. Crepes are bursting with fruit, ice cream, custard cream, whip cream, chocolate, almonds and more in dozens of combinations.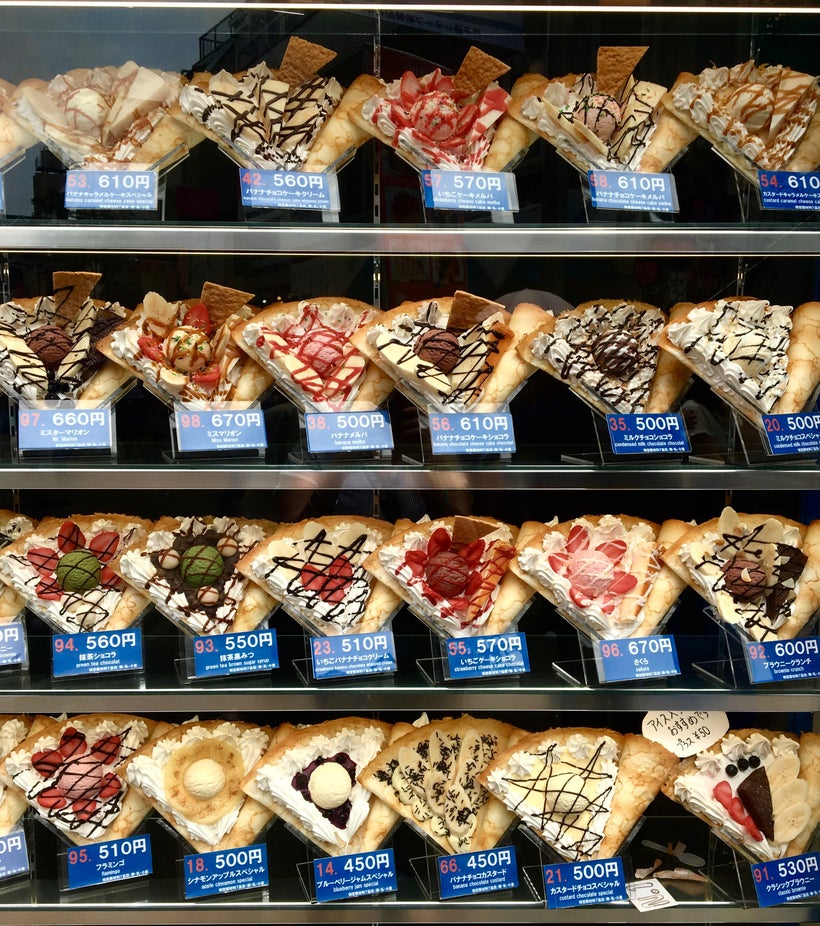 Choose from the display window and order by number. Crepe prices vary depending on the filling, average price is around 500 yen.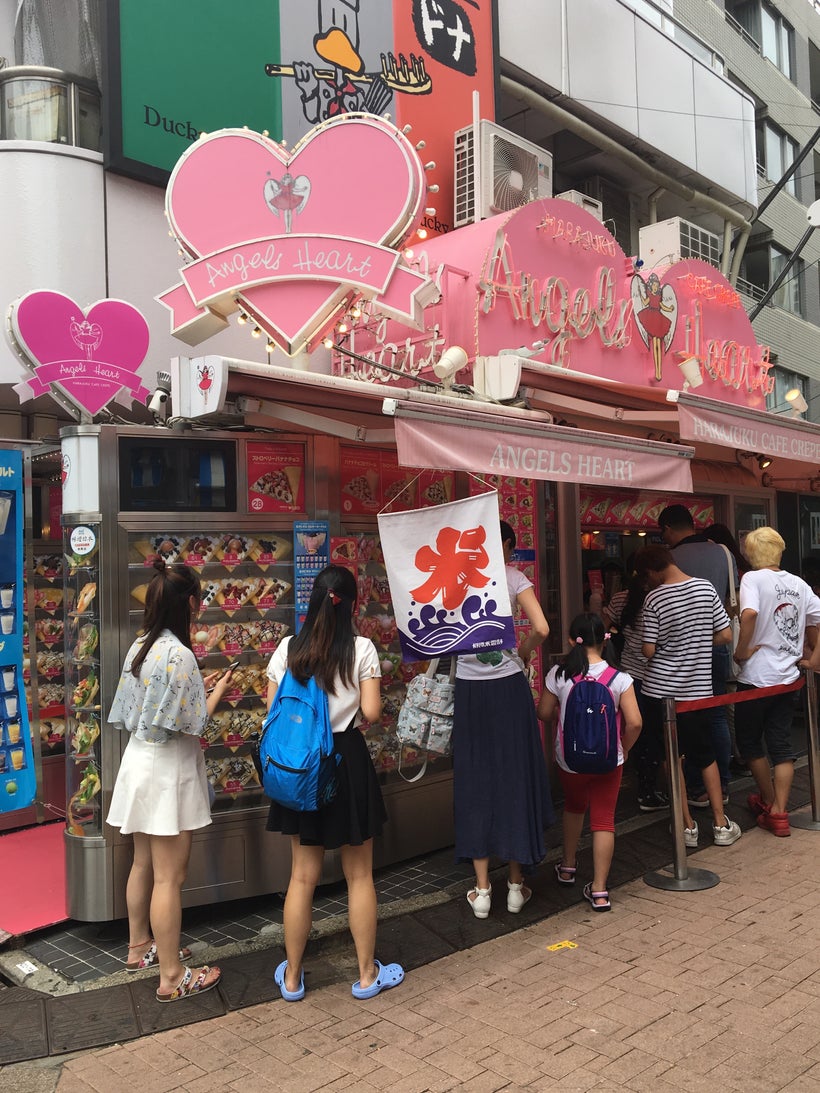 Directly across from Marion is Angel Crepe. This competitor is always crowded with sweet-seekers. As is nearby Santa Monica Crepes. Honestly, they are all making the same things, but Marion was the first. Weekdays, 10:30 a.m. – 8 p.m. (Weekends, from 10 a.m.) No website.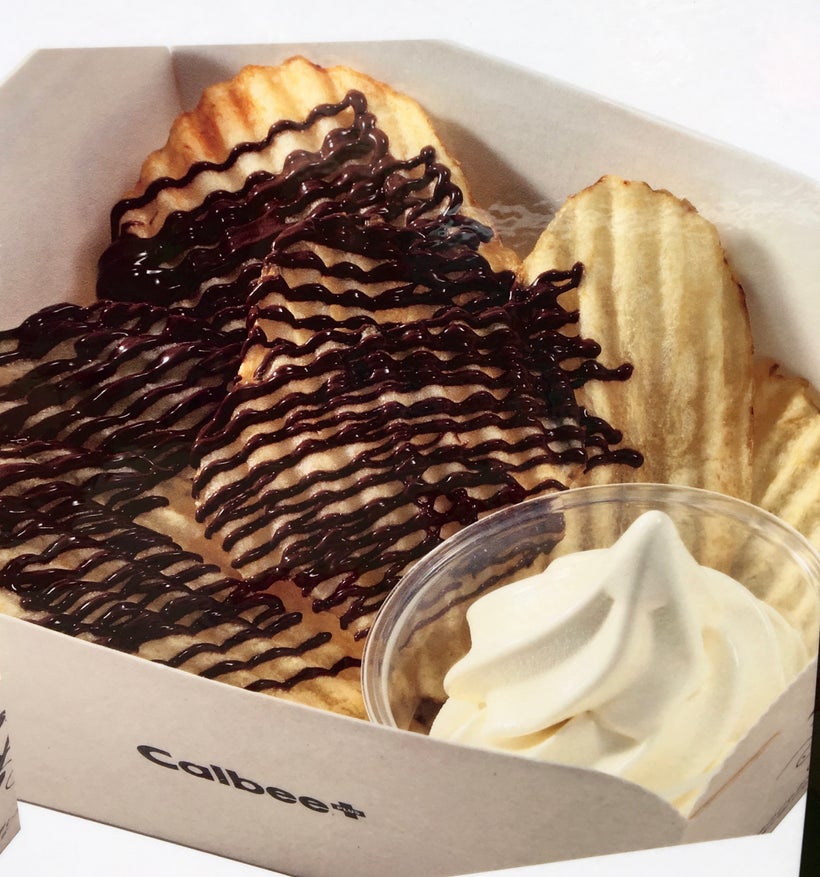 5. Calbee Plus. This giant Japanese snack maker of chips and snacks has branched out into stand-alone shops selling their signature goodies freshly cooked. Their break out hit: Calbee potato chips cooked fresh on site combined with soft-serve ice cream and chocolate. Don't make that face. The combination of sweet and salty is perfect. Honest.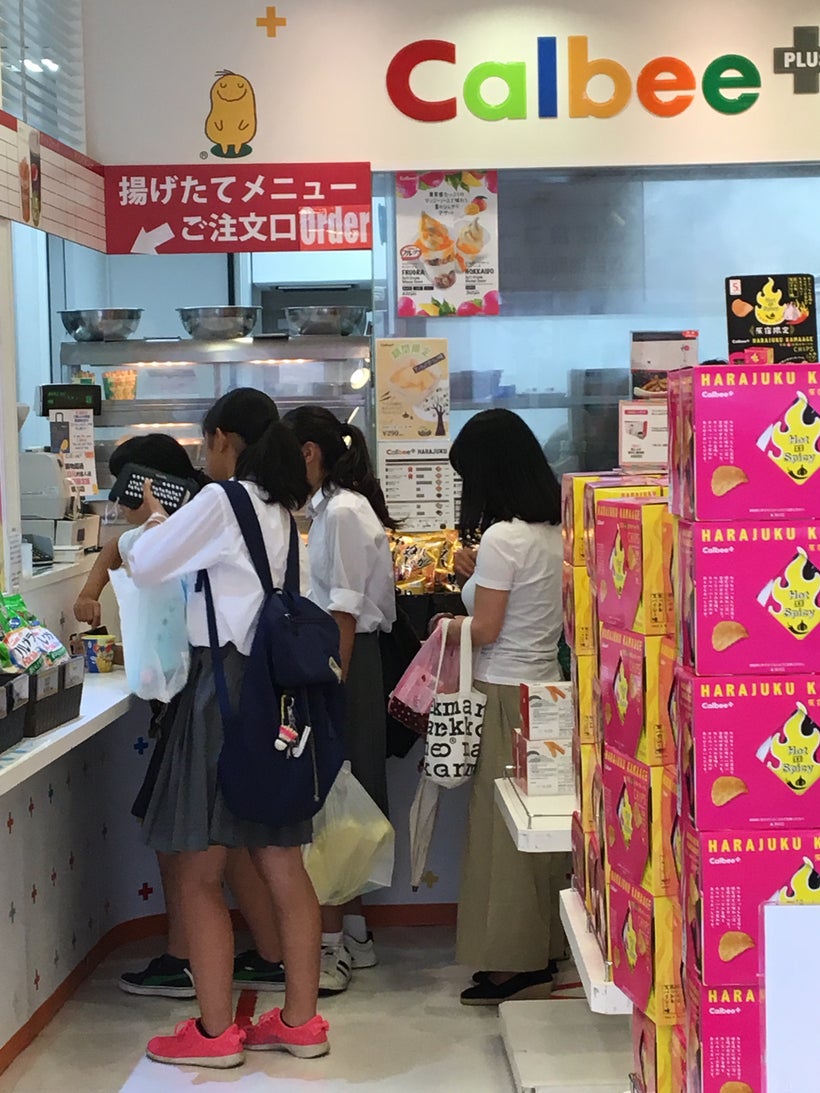 A platter of chips, chocolate, and ice cream is 460 yen. You can also have chips without ice cream and no chocolate; plain old boring potato chips; and spicy chips (310 yen) that would be better with ice cream. Just sayin'. Japanese website.
Hours: Daily, 9:30 a.m. – 8:30 p.m. Last order for hot snacks is 8 p.m.
Whichever sweet treat you pick, choose it triumphantly!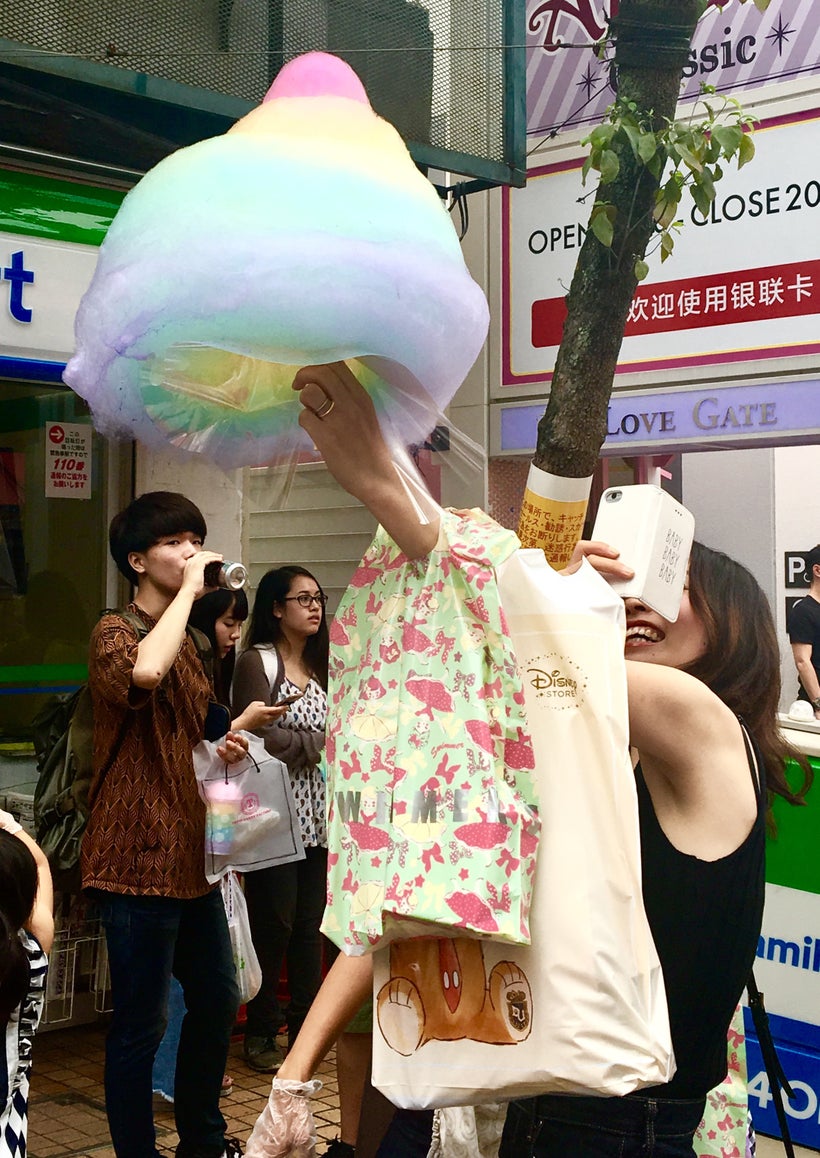 This post was published on the now-closed HuffPost Contributor platform. Contributors control their own work and posted freely to our site. If you need to flag this entry as abusive,
send us an email
.