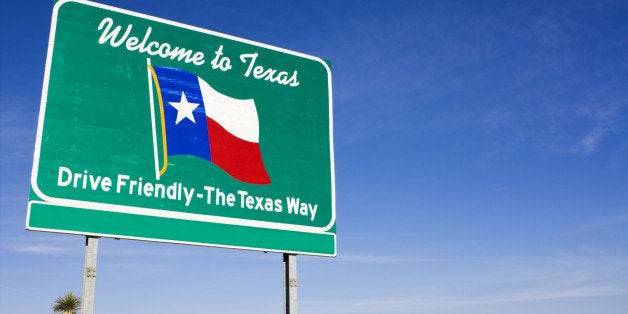 Trammell S. Crow, a Republican developer from Dallas,
corrals 50 companies to save the planet.
Trammell S. Crow is an unreasonable man. The Dallas developer and environmental philanthropist who built the world's largest Earth Day exhibition is setting his sights on an even more audacious goal -- a global venture to mobilize the world's 50 biggest companies to save the world's oceans, forests, and climate.

This April 21-23, Crow is gathering almost 100 personally selected corporate executives and environmental leaders in Dallas, to take a break from their battles against one another, and set priorities together. His objective is to identify two or three high-impact actions that most of the companies and activists can agree on, that will make the biggest difference in protecting the planet.

"It's not a small task. But he is able to bring together adversaries, and get them to collaborate," says Bonnie Nixon, a veteran corporate executive who has headed environmental operations for HP, Mattel, and other top consumer product and electronics companies. "He is a one-man trio of unlikely bedfellows - a commercial real estate developer, Republican donor, and environmental philanthropist at once," says Nixon, who is volunteering as a corporate emissary to recruit executives to Crow's initiative. "That gives him a lot of pull."

After five years of building Earth Day Texas into the largest such exposition in the world, Crow now wants companies and activists to do more than just exhibit together. "We're not all talk in Texas. We're not all protests and complaints," Crow says. "We're about taking action. We're going to work together on the most important solutions."

His private gathering will bring more than 30 global consumer brand executives, 30 environmental leaders, and 30 investors and experts together at the table, to launch "The Earth Day 50 Challenge," a joint initiative to bring together the world's leading consumer brands, with environmental activists, donors, and investors who are often at odds.

Crow says the discussion will be frank and honest, but he won't condone any pressure or threats at the table he sets. "No demonizing, no litmus tests, no demands - those are the rules of engagement," he says. "This is about ideas and initiatives. Not every company can or should do everything they're asked to do. But every company can find a way to step forward, and others can follow. We are asking them to find the most effective commitments they can make, to use their buying power and other forms of influence, to protect climate, forests, and oceans, every year between now and Earth Day 50 in 2020."

Crow points to twelve companies that have already set the bar high as an example for the other 38. Disney, Dunkin, Kellogg's, and Nestle, he says, have adopted purchasing policies that protect land and forests from destruction due to timber harvesting and palm oil production.

Whole Foods and Safeway have received top ratings for using their buying power to help save oceans, fisheries, and threatened species. Interface Carpets, Nike, and Starbucks have been out-front in their public support of climate policy.

Gap Inc., the apparel company, has used its market power to highlight and improve factory labor and environmental standards around the world, even when that meant revealing problems they found in their own supply chain.

Best Buy, Coca-Cola, and Nestle are being recognized for their pioneering recycling programs, which they have implemented even in the face of challenging political and market conditions.

Environmental leaders are hard-pressed to publicly endorse any company for environmental performance overall. "They're afraid companies will take advantage of the praise, and claim they've already done enough," Crow says. "But people inside these companies are working hard, and to do more, they need positive reinforcement."

Nixon agrees. "Publicly, it's hard for companies and activists to collaborate. The media doesn't cover peace, only war. As executives, it's sometimes safer to just take the criticism, and hope for the best - whatever we do will be criticized anyway. No good deed goes unpunished.

"But behind closed doors, it's surprising how much common ground we can find," she says. By working with groups like Greenpeace and Oxfam, she has helped her companies improve factory labor practices, build lower-carbon consumer products, and clean up their supply chains.

Mark Dubois, renowned cofounder of the International River Network, agrees. Thirty years ago, Dubois gained fame in the environmental community when he chained himself to the bedrock at the bottom of California's Stanislaus River canyon, in an effort to stop a pork barrel dam that was in the process of being filled. As the waters rose around him, "I didn't want to die, but I was ready to, to protect a life force much bigger and more inclusive than me," Dubois says. "That river canyon connected me to the larger miracle of life."

After the dam was ultimately filled, Dubois could have grown bitter at the pork barrel politics that destroyed the canyon he loved. "But on my evolutionary adventure since, I have chosen not to blame or demonize others for the destruction. I have found a more productive way to express my activism: the power that Gandhi, Mandela, and King exercised, softly and without violence, and how they made the world better."

That is why he is joining forces with Crow. Like Nixon, his corporate counterpart, Dubois is reaching out to colleagues, to gather them around Crow's table. Pragmatically, he aims to unite environmentalists behind actions the companies can take to protect oceans, forests, and climate. At a higher level, however, he wants the environmental movement itself to move to a new model of activism.

"The Earth Day 50 Challenge isn't us-versus-them. It's a 100% movement," Dubois says. "It transcends the quagmire of denial, victimhood, demonizing, and polarity that keeps us from taking individual and collective responsibility for the economic, social, and ecological tragedies that are our common global experience. In Dallas, we get to step beyond our safe cocoons of fear, distraction, and avoidance, and co-create a thriving vibrant world that works for all - for seven to seventy future generations."

That may sound like wishful thinking, but Dubois says there is plenty of anger and demonization to fall back on, if a positive approach doesn't work. A little collaboration can't hurt, and might help break through.

"There is no other environmental convening like this - anywhere in the country," says Dubois. "There are major exhibitions. There are conferences with powerful speakers to inspire and motivate. There are United Nations conferences where delegates talk and talk and talk. But no other event brings together such a dedicated set of high-level change agents, to make specific plans to solve the problems."

The meeting between environmental and business leaders is private and by invitation only, Crow reminds us. "They're just not comfortable with the media seeing them in agreement with each other - it's such a new experience for them," Crow says. But he encourages members of the public to come experience the steps they are together, which they can learn about at Fair Park, this April 22-24.

To some, Dallas might seem an unlikely venue for the world's biggest Earth Day celebration. "This isn't California, it's not New York, and it's not Portland," Crow says. "This is Texas, and in Texas we know protecting the planet doesn't require that we sacrifice our jobs, our prosperity, or our freedoms. It's time for us to lead."