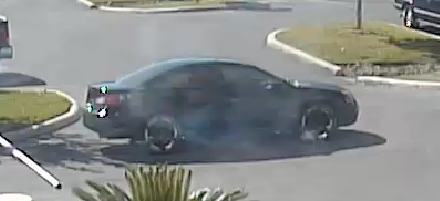 A San Antonio police officer was shot and killed on Sunday while sitting in a squad car during a routine traffic stop outside the Texas city's police headquarters, authorities said.
The shooting unfolded when a second vehicle pulled up behind the patrol car, its driver exited and fired two shots at the officer, San Antonio Police Chief William McManus said.
The suspect sped away from the scene in a black car, driving through the parking lot that serves the San Antonio Public Safety Headquarters on the west edge of downtown.
"A person pulled up behind the patrol car in a black vehicle, got out, walked up to the passenger window, fired one round, shooting the officer in the head," McManus told reporters near the scene of the shooting. "He then reached in and fired a second round, shooting him a second time."
McManus said he did not know if the motorist who was pulled over for the traffic violation was connected in any way with the man who shot the officer.
The chief said police were looking for an African-American male wearing a hoodie and black pants, whose image was captured by security cameras.
McManus, who did not identify the slain officer, said officials were "searching for a motive."
"This type of crime cannot and will not be tolerated," Mayor Ivy Taylor said. "I ask for the community's thoughtfulness and patience as the investigation continues and SAPD searches for the suspect."
President-elect Donald Trump, when asked about the events in San Antonio, said: "Terrible."
Much of the west end of downtown San Antonio was sealed off to traffic as police investigated the shooting.
BEFORE YOU GO
PHOTO GALLERY
Two Police Officers Killed In Ambush In Iowa