"You don't need to clap," insisted the artist.
He wanted a break. He had zipped, zithered, clanged and tooted his music under the relentless Westwood sun; his 78-year-old Eastwood-handsome head glistened wetly. He promised his empathetic audience that he'd be back in a half hour, that he'd sing more songs accompanied by the Rube Goldbergian instrument he calls The Machine, a self-built compilation of bells and whistles and drums and cymbals and horns and strings and a five gallon water container. He had been foot pumping pedals and spanking pipes with brown, black, blue and red drumsticks. "Are you my friends?" he asked the crowd, singing and yodeling and whistling in the heat. "The only god is the burning sun," he announced. He did need a break.
No one minded. It gave the heat struck audience an opportunity to revisit the extraordinary retrospective above the Hammer's garden, where the visual artist had been performing his aural art. Sunday, May 19, was the final day, bittersweet for Llyn Foulkes. "This will be the last time I see all this together," he stated, some 150 pieces inclusive. But he was clearly delighted that most of the show is moving to New York's New Museum (June 12-September 1) and then on to Germany.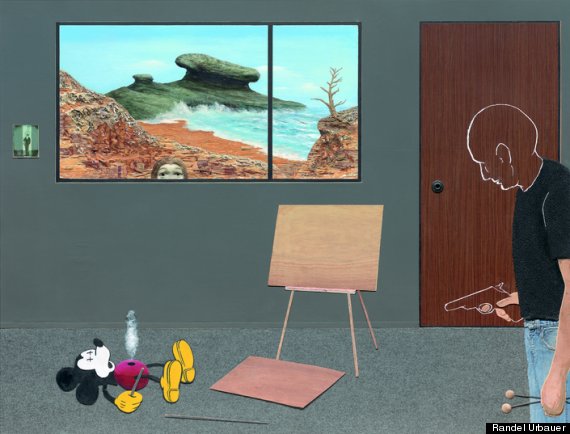 Llyn Foulkes. Deliverance, 2007. Oil, acrylic, luan, carpet, clothing, cotton, water putty, wood, glass eyes, hair, and photograph on wood frame panel. 73 1⁄4 x 96 1⁄16 x 2 3⁄8 in. (186 x 244 x 6 cm). Private collection. Photo by Randel Urbauer.
Llyn Foulkes is a maverick; his body of work, a revelation. The Hammer's gifted curator, Ali Subotnik, told NPR: "He also doesn't really play by art world rules. He doesn't network. He isn't that interested in socializing or kissing up to collectors."
Llyn Foulkes did find success as a young man in Los Angeles. In 1959, he showed at the legendary Ferus Gallery, also the first solo space for Robert Irwin, Larry Bell, three Eds (Klenholz, Moses and Ruscha) and the original venue for Andy Warhol's soup cans. By 30, Foulkes was the subject of a Pasadena Art Museum show. He was painting high-hued rag-dragged rocks, his technique flawless, Dali-inspired. He was fawned over, but grew bored. He didn't want to paint the beauteous landscapes anymore. No. His desire was to paint bloody heads. So he did. But the collectors didn't respond. He kept painting anyway. And building fabulous 3-D assemblages, his iconic takes on California and the American Dream, collaged with photographs and fragments of found material.
And he discovered Mickey. (Well, he had always been drawn to Mickey -- and had drawn Mickey.) He originally studied animation at Chouinard Art Institute, the forerunner of the Walt Disney sponsored CalArts, where his classmates included Ruscha and Laddie John Dill. Foulkes even married the daughter of one of the Nine Old Men of Disney -- the original animators. But he decided that the Disney approach was contaminating the youth of America. He sings, "Once upon a time there was a mouse... he's the rat who lives in your house. Please save the children." His songs reflect his paintings, virtual twins in different media. His DELIVERACE from 2007 employs ten types of media to portray a gun-toting silhouette of Llyn Foulkes post- murder of Mickey Mouse.
It is interesting to regard the museum walls and observe that the pieces are rarely from collectors whose names are omnipresently attached to loans of major contemporary art. A disturbing and sad portrayal of Foulkes and his ex-wife in bed, The AWAKENING (1994-2012), has been purchased by Brad Pitt, but marquee collectors have rarely embraced Foulkes highly personal work.
Back in the garden, one man murmured something about The Disney Company buying up major Foulkes anti-Mickey paintings for $4 million in order to bury them. Could this be true? Or just artspeak? Another man was trying to entice a Santa Monica dealer with a tale of an unknown Rothko in his possession. But most of the audience talked only of Foulkes. A woman insisted his performance reminded her of Robin Williams' Popeye.

The Hammer's director, Ann Philbin, introduced the artist for his second act. He sounds a little Tom Waits-ish and a dollop Mose Allisony, his tunes a mélange of Kurt Weill and Tin Pan Alley. His original musical inspiration had been the zany satiric bandleader, Spike Jones. In 1974, Llyn Foulkes and his musical group, Rubber Band, performed on The Tonight Show with Johnny Carson.
On stage, besides Foulkes and The Machine, artist Norton Wisdom illustrated the music, painting ephemeral images of cowboys, hippopotomi, and shapely female form on a plastic surface, keeping time with Foulkes' jazzy rhythms.
"It's really hard not to fake it," sang Foulkes, noting, "You got to remember, I could still be insecure." He may be insecure, but Llyn Foulkes is not a fake.
After the performance ended at 5 pm, one fortunate person remained in the galleries upstairs. She knows who she is. The museum had been due to close then but the guards had been informed, though apparently not the lagging concert-goers, that closing time would be extended for fifteen minutes. She had wished to take a final glimpse. The rich multi-media portrait of refuse-covered LA hills, THE LOST FRONTIER (1995-2005), a masterpiece, absolutely glowed. What the Foulkes?
"My name is Llyn of Hollywood and I just wanna be understood, " the artist had sung. The audience clapped.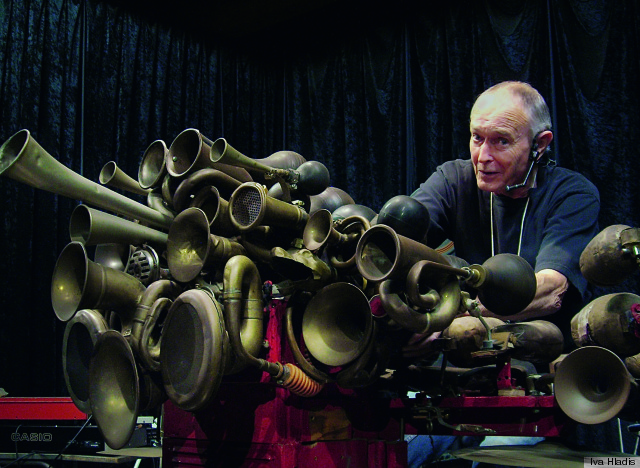 Llyn Foulkes performing on the Machine at the Church of Art, 2008. Photo by Iva Hladis.