Bring back common sense, please.
Somehow we have lost our way when it comes to business. We blame complexity and yet, we are the ones creating complexity with more and process and governance systems to drive what? Why is it so challenging to have conversations and make decisions? How long will it take before we realize that we are trying to force a square peg in a round hole?
A client recently told me that he had an awful day simply because he was caught in the 20th century organizational bureaucracy. He works in the organization's innovation group and wanted to introduce an "unusual partner" to experiment with and push the business to the edge. But the corporate machine wanted him to fit into the way work was done in his organization. It would actually cost the business more to follow protocol but that doesn't matter since it's a different metric measuring efficiency. They couldn't possibly be integrated into the business?
He said it was like speaking a different language. One of his challenges was that as he kept hitting his head against the wall, the only one that was getting a headache was him. Everyone else was simply doing their "job." In the end, without having the right person to help him find a new way to bring this project to life, the company would stagnate and become increasingly irrelevant. But who cares enough to make sure systems are aligned to drive innovation? How can we get out of the mainstream and be creative when we are surrounded by antiquated 20th century practices?
And this is exactly where we need to bring common sense back to business by breaking down what works mean, how we do it and redefining our purpose since obviously, all those mission statements are not necessarily helping us innovate.
Be purposeful and create on the edge
What is beautiful about the world we live in is our ability to easily connect with others in the spirit of abundance. Imagine if you created your next strategic roadmap based on abundance? Ask yourself: "what is abundant in my universe?" Is it technology, data, people, communities, and/or relationships, for example? And instead of focusing on what is scarce and taking market share away from the competition, what if you created new markets, services or products?
Millions of dollars are wasted every year bringing people and "teams" together to retreats where they are talked at. We have lost the common sense power of conversations. Imagine what could happen if we brought together the right people at the right time and had meaningful conversations to co-create solutions and new directions?
And what what would happen if people in organizations focused on solving problems and creating opportunities with shared purpose? The 21st century leader understands that the words on the page don't matter as much as their actions. They know that they can't keep sending out the same rhetoric crafted by their executive communication specialist and expect people to believe in what they are saying. There is still a lot of fear in today's workplace but if you talked honestly with people they will tell you that they simply want to work for a company that means something in the world beyond slogans and symbolic gestures. 
The 21st century leader understands that they need a foundation and an engine to drive their business. They are not layering more and more useless strategies and programs. They don't discuss social fluency and other jargon-laden concepts; instead, they create shared purpose. It no longer matters what you say you do as much as who you are and what you are creating in the world.
Imagine for one minute that everyone in your organization not only shared in its purpose but also understood their role in making it happen. What would your strategic roadmap look like then and what kind of organization would you need to support it? Most definitely not a hierarchical one that requires a re-org every 18 months. Every organization, no matter its size, need a reason for being. 
What's you shared purpose?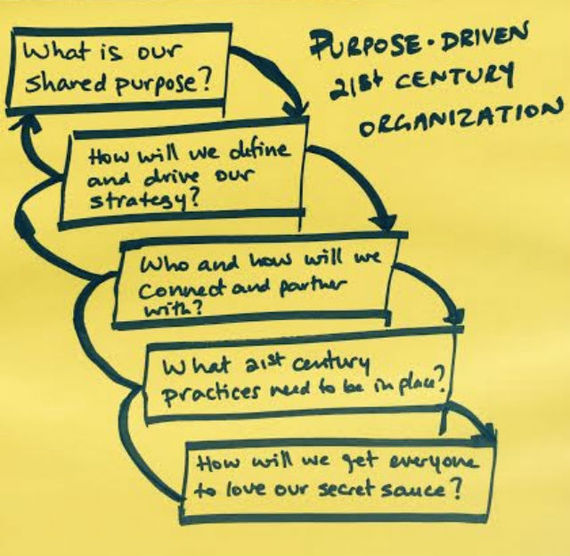 Drive a beta culture: Learning to inhale
Work as we know it has changed. There is no future of work but an evolution of work. We are witnessing new ways of working that have yet to be captured in business school text books and it's confusing the hell out of the people at "the top." While they want to keep up with all the shiny new toys, they are also hanging on to dear life at the same time. I wonder when they'll wake up and realize that all those change management programs are hurting their organization and that all they need is a clear shared purpose that people can internalize. Instead of communicating more and more change and making people more and more overwhelmed, why not share that we will always have change and we will find ways to integrate it rather than manage it?
For the 21st century organization, communication becomes increasingly important. And no, it's not about delegating to a function that creates stakeholder maps and tactics with messages. That is the old world. In our current world, we need to have conversations with the right people at the right time and bring them together. The new world communicators will help leaders communicate with new tools by helping them become amazing storytellers. And imagine what happens when everyone in the organization can then tell those stories and spread ideas. 
We need to realize that organization change management is an antiquated practice as we no longer need to delegate basic leadership to a function. We need authentic leaders who take people on a journey that includes the good times and the challenging ones because they know who they can bring in at the right time to help solve problems and drive direction.
Leaders who understand that the world is a fresh new canvass of opportunity are learning to inhale and manage a beta culture that continually evolves and creates.