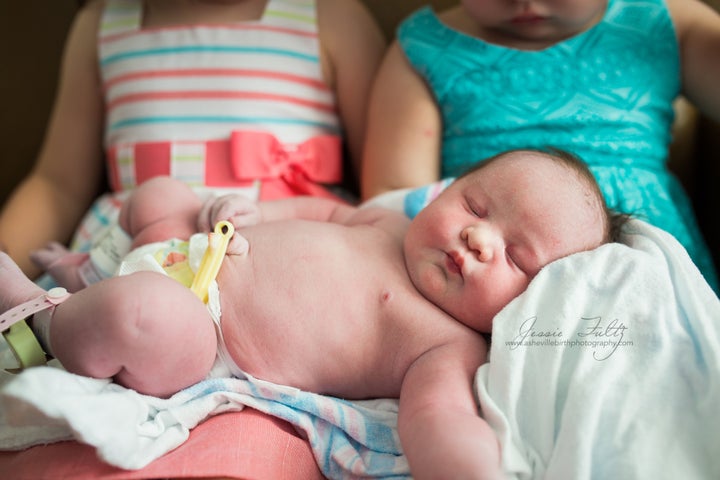 Krystal and Justin Fones, both 34, have 6- and 3-year-old biological daughters, and hoped to adopt a third child at some point years down the road.
But in the spring of 2015, that plan accelerated. Krystal learned that one of her family members was pregnant and was planning to pursue adoption. The birth mother's baby ― a girl ― had been diagnosed with Down Syndrome in utero, and she knew she was not prepared to raise her.
Krystal and Justin didn't hesitate.
"There was no thinking about this," Krystal told The Huffington Post. "My heart was immediately there."
She and Justin threw themselves into the adoption process ― something about which they knew almost nothing, they said. In June 2015, after a whirlwind process, the couple flew from California to North Carolina to attend the birth of their third baby girl.
Jessie Fultz, a North Carolina-based birth and family photographer, was on hand to capture the occasion. Although the hospital ultimately did not allow her in the operating room during the birth mother's C-section, she was present immediately after. The emotional photos she captured provide an intimate peek at that incredible moment when a family grows in size and love.
These captions have been edited and condensed. 
BEFORE YOU GO
PHOTO GALLERY
Quotes About Motherhood