The Chris Gethard Show is a relatively new comedy variety show that's been on the air for one full season on the cable channel, Fusion. Before that it aired for three seasons on a smaller platform, the public access channel, Manhattan Neighborhood Network (MNN). And before that, they did the show at UCB Theatre! Currently TCGS is in its second season and it has expanded to an hour long show airing Wednesdays at 10 P.M. Several of the cast members stopped by AOL BUILD on 4/15/16 to discuss season 2.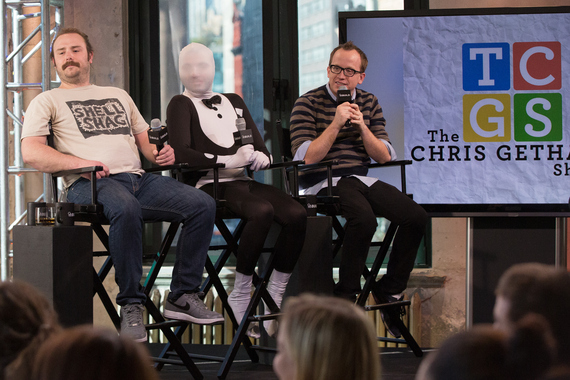 Chris Gethard is the show's host, creator, and producer. His show has so many colorful characters with various personalities. Some of them joined him at AOL BUILD. First, the guy next to him (as seen in the photo above) who was wearing a black and white leotard covering his whole body a.k.a. "The Human Fish". While he didn't look like his usual self [due to a prior taping accident with blood that ruined his normal outfit], he definitely made quite the impression on the audience as noted by the uproar of laughs. Then we got "Murf" on the far left, whom is the announcer of the show. His presence was rather tame and laid back out of all the characters, perhaps due to the Scotch he got from the green room. Lastly, we got the memorable "Vacation Jason" who didn't appear in the earlier part of the interview. He definitely stole the attention and on numerous occasions during the interview he chimed in to say something hilarious and totally random!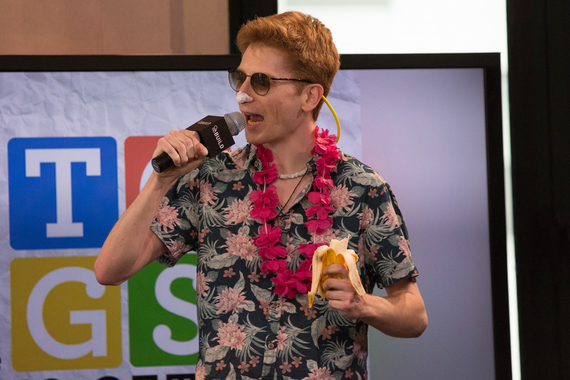 "Vacation Jason", better known as Chris Gethard's nemesis on the show, was originally semi-incognito in the audience when all of a sudden he interrupted the interview. He walked on stage looking like he was on the beach. Clad in Hawaiian garb and sunglasses, he went on a friendly rant about vacations and how he's always on them and other random points such as:
"It's time to rise up Internet! The power is yours! You don't have to be connected at all times to digital devices! You can meditate on good energy forces and make sure you're aware of your own consciousness and you can take your consciousness and make positive good energy out of it!"
"I just want to take this moment to say that I've been eating this whole apple core. You can do it too! Stop making waste! Stop throwing apple cores! They're good for you! By the way AOL stands for "Apples Oranges Lemons" now."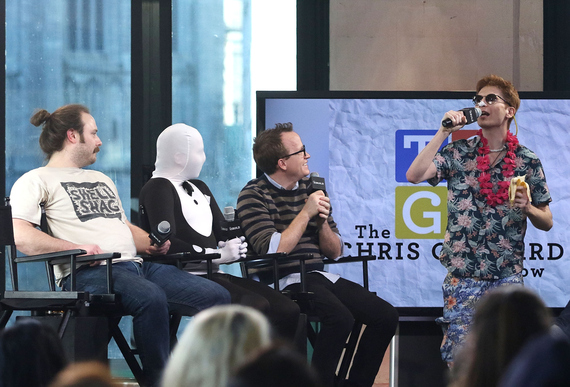 When it seemed like the interview was going to go like any ordinary interview, that feeling was squashed with several more moments of on-camera antics on the BUILD stage such as the impromptu improvisation moment...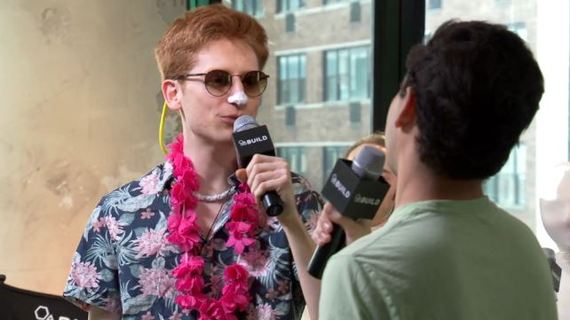 ...to the rapping and dancing moment as seen in the photo below.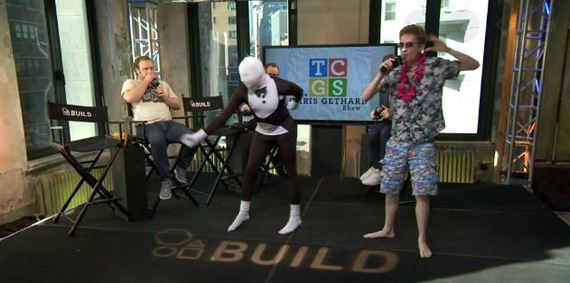 It's safe to say that The Chris Gethard Show is a show that's not like any other and that's great. I love a show that's innovative and fresh. In my opinion, this show is wilder than the games seen on The Tonight Show Starring Jimmy Fallon. There's so many ways the show can turn out by episode's end. Viewers at home can even participate online via their chat room feature.
Before I end this post, please see these memorable season two moments from the show. Moment #1 (A caller named "Zach" wanting to save the show) and Moment #2 (Colin Quinn starts a chain reaction that involved live audience participation). You're sure to laugh at these and I hope you will be convinced to watch more episodes after reading this post.
Let me know what you guys think about the show. Do you love the unpredictability of the show? Do you think this show should win an Emmy award? What celebrities would you like to see on the show? Isn't Vacation Jason a laugh riot? For those who missed the BUILD interview OR if you just want to see the interview again, you can click here. You can also check out the podcast version too on iTunes!