"Youth is the most beautiful thing in this world—and what a pity that it has to be wasted on the young!"
The quote is so good, it's attributed to Shaw, with countless others also claiming to be the originator. In the era of chronic cross-partisan citizen upset in America―over elections, Congress, the presidency―it is "we of a certain age" who are thrown the most in trying to figure out the right way to put the country back on track. Tradition dictates working within the regular order, sprinkling disruption lightly here and there, but never causing the gondola to sway too much while traveling up the mountain.
By its nature, Political Entrepreneurship is disruptive. We work beyond norms―attacking policy from the outside and making those inside react. These days it appears that reshaping American policy through entrepreneurship is a young person's game. Those older are careful. The young stars are fearless, and not bogged down by niceties. Take Helena for example.
Helena is an unorthodox new think-tank launched barely a year ago by then-20-year-old entrepreneurs Henry Elkus and Sam Feinburg. Elkus, Helena's CEO, began developing the group as a Yale University sophomore. Obsessed with the systems that underlie global power, he dreamed up an unorthodox structure for a new type of think-tank. His vision is to build a society of world leaders across generations and fields of expertise that could lead to the creation and implementation of breakthrough ideas.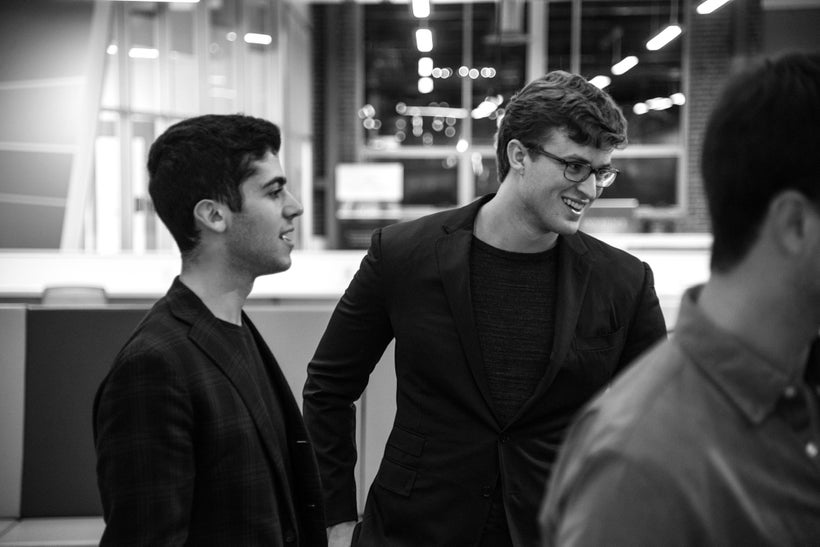 Feinburg, the former world debate champion, doesn't mince words. When he first heard Elkus' pitch he thought it sounded nuts. With a laugh, he said, "But we were a little crazy too - enough to persevere with it, regardless of who believed in us at the time."
These young entrepreneurs' journey was fulfilled when they both left Yale early to focus full-time on building Helena.
In the months since its founding, Helena has quickly snowballed in size and clout. The organization's first class of "members" now counts billionaire geopolitical thinker Nicholas Berggruen, GE's Beth Comstock, Nobel Laureate Myron Scholes, four-star retired army general Stanley McChrystal, and Turing Award winner Martin Hellman among its ranks. And in late 2016, The Boston Consulting Group inked a partnership with Helena, naming Elkus and Feinburg as BCG's "Social Entrepreneurs in Residence."
Intergenerational meetings between Helena members have quickly risen to become the calling-card of the organization, attracting high praise from its members. "Helena fosters a sort of mutual respect between young and old unlike any environment I've been in: MIT, Silicon Valley, SpaceX, national laboratories, and the sort," said Will Jack, a 22-year old plasma physicist and Helena member. Tim Doner, a 21-year old Harvard hyper-polyglot fluent in nearly 23 languages, was quick to praise Helena's ambitious culture: "Helena is not interested in armchair philosophy. They look for innovative and executable solutions to specific and urgent problems."
The next step for Helena is to successfully implement the most powerful ideas flowing from the community. A year in, there is early promise. A conversation series of Helena members on climate change technology inspired Elkus and Feinburg to launch "The Helena Prize". They are audaciously attempting to identify a for-profit venture that has a "plausible and definable net-negative impact on radiative forcing". In other words, a business plan to fight climate change.
In a matter of months, Helena recruited a competitive cohort of experts to the Helena Prize Advisory Board, including Oxford's Gordon L. Clark and Arizona State University's Klaus Lackner, while drawing in management consulting support from BCG and rapid prototyping labs from Sierra Energy. The Prize's winner has been chosen and will be announced in May 2017, at an award ceremony held at Helena's Los Angeles headquarters.
Climate is only one innovation track, with others bubbling. One is a national urban revitalization project. Another, a mission to the Antarctic with world-famous explorer and Helena member Robert Swan.
The latest promising initiative Elkus and Feinburg are staying tight-lipped about is a new partnership with renowned think-tank RAND.
Talking to Elkus days after the partnership quietly materialized, he only offered an official description: "RAND and Helena are developing new ways to approach global security in the 21st century, with a particular focus on the identification of the leaders, policies, and technologies that will shape the field."
Our national problem-set is so deep it requires us all to grab a shovel and dig. While most use traditional strokes, Helena is focused on the "stretch." If successful, their efforts will fill gaps where government is failing to meet its promise to citizens. Elkus and Feinburg are attacking our biggest quandaries by combining abundant knowledge from a growing national community with the fearlessness of youth.
This post was published on the now-closed HuffPost Contributor platform. Contributors control their own work and posted freely to our site. If you need to flag this entry as abusive,
send us an email
.