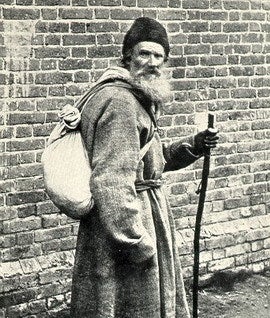 I am proud to team up with the hit Broadway musical, Natasha, Pierre, and & The Great Comet of 1812, which does for War and Peace on stage what I try to do in my book, Give 'War and Peace' a Chance: Tolstoyan Wisdom for Troubled Times, and in my keynotes: bring Tolstoy alive for a wide contemporary audience. In this blog series, I share my experience of the show and the ways it captures Tolstoy's vital relevance for today. The Great Comet, like Tolstoy's epic, offers not only a rousing, unforgettable story, but also an urgent moral compass and a celebration of the deep joy of living. The musical is wise and funny and profound, but it's also jaw-droppingly fun entertainment, proving yet again the wisdom of Tolstoy's words: "Great works of art are only great because they are accessible and comprehensible to everyone."
This is the third blog in the series. If you missed last week's blog, you can read it here.
At the end of The Great Comet's festive prologue all of the characters have been introduced by the chorus except for one:
Dear, bewildered and awkward Pierre?
Rich, unhappily married Pierre?
Yes, what about Pierre? It's easy to forget about or feel superior to this bewildered count, who after inheriting an enormous fortune quickly winds up in a disastrous marriage to the fortune-hunting Helene (sister of Anatole), and then fails as an estate manager, a social reformer, a religious zealot, and at pretty much everything else he tries. When we first meet him in The Great Comet, he is going through yet another existential crisis, and nobody seems to care or take any particular notice. Except for Tolstoy, that is—and show creator Dave Malloy, who knows what Tolstoy knows: if Natasha occupies the dramatic center of the novel, Pierre stands at its moral center.
Despite his oddness, or precisely because of it, few of Tolstoy's contemporaries who read the novel in installments guessed that Pierre would turn out to be one of the main heroes. That fat, awkward "young man who did not know how to live," as one character describes him in the novel, is, in fact, one of the very few guests at the opening soiree who actually does know how to live. For in contrast to the self-assured folks in the room who believe that they have the world figured out, Pierre, precisely because he is clueless about how things are supposed to be, is less handicapped, less predisposed to error, than most.
Pierre, you see, is asking questions that most other characters have forgotten, or never knew existed in the first place. In his show-stopping aria "Dust and Ashes," just after his duel with Anatole, Pierre wonders:
"Was I kind enough and good enough?
Who in early nineteenth-century Russian high society is asking such questions? Who is asking them in twenty-first century America? Not enough of us, Tolstoy and The Great Comet would seem to suggest.
Pierre sees what others cannot or will not: "There's a ringing in my head / There's a sickness in the world," he sings early in the show. A glance at today's headlines will confirm that that ringing and sickness are alive and well in our own times. And like many of us, who escape from our troubled world through addiction, the pursuit of pleasure, playing the game well, or just plain looking away, Pierre also has learned to numb himself through wine and mindless chatter at the English Club. Yet somewhere deep within he has retained his capacity and his willingness to see—to really see—what's going on, and to feel deeply life's pain as well as its possibilities.
Like all of us, Pierre makes mistakes, suffers, and hits dead ends. Every once in a while, though, under even the worst circumstances, he experiences moments of transcendent bliss or sudden illumination. One such moment is powerfully captured near the end of the musical when he looks up and sees the soaring comet, and in so doing, lifts the gaze of all twelve hundred theater-goers upwards with him, toward that dazzling sight. That moment is not only aesthetically beautiful, thanks to the visual genius of director Rachel Chavkin, scenic designer Mimi Lien, and lighting designer Bradley King. It is also morally beautiful. And it communicates in an instant the essence of Tolstoy's moral and artistic vision, captured in these words the author loved to quote from the German philosopher Immanuel Kant: "Two things awe me most, the starry sky above me and the moral law within me."
Pierre is the one character looking in both directions—upward and inward—and, as such, he is the real vessel of one of Tolstoy's deepest messages in War and Peace. Were mere personal survival, social success, or the pursuit of pleasure one's only concern, then any number of life choices would seem perfectly adequate, including, say, that of a Petersburg beauty who lures a rich heir into a financially lucrative marriage, or her brother who lures an innocent young countess into his troika. And, in such a world, who really cares anyway about the sky, the moon, and the stars, to say nothing of abstract concerns like goodness and truth?
But human beings live on this earth, presumably, for a purpose; unlike animals, we have the ability to wrestle with big questions, make moral decisions, and perhaps become a little bit better tomorrow than we find ourselves today. Making full use of that capacity, Tolstoy and The Great Comet remind us, is the key to leading a fulfilling and meaningful life. Pierre does it in spades, which is why, despite the bad rap he sometimes gets from other characters, and not a few readers, he is such an attractive and instructional character. His is the journey we all must take on our path to becoming fully human.
This post was published on the now-closed HuffPost Contributor platform. Contributors control their own work and posted freely to our site. If you need to flag this entry as abusive,
send us an email
.