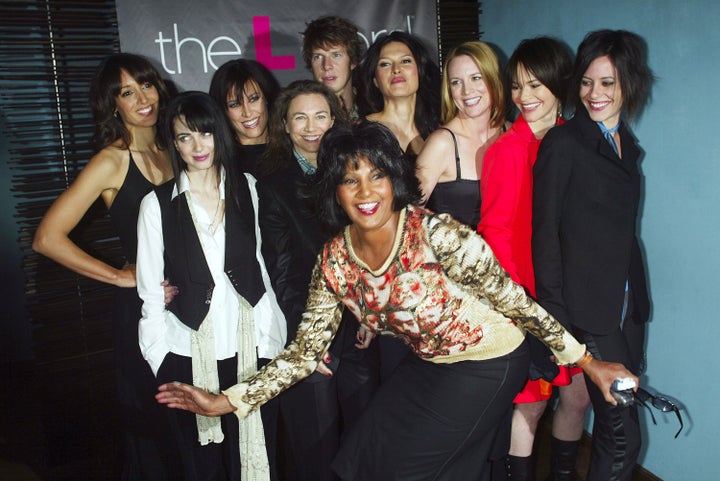 Get ready: One of the most iconic LGBTQ shows to grace television is reportedly returning to Showtime.
While the network has yet to officially confirm the announcement, sources told Variety that Showtime is in the process of developing a reboot of "The L Word" that would act as a continuation of the classic queer television show. 
A source with knowledge about the show also confirmed to HuffPost that the reboot is in the works.
Running from 2004-2009, "The L Word" was a pioneering force in representation of queer women and their love lives in the media and entertainment worlds. While the reboot of "The L Word" will reportedly focus on a new storyline and set of characters, Buzzfeed reports that many of the original cast members are attached to the new project in some capacity, including Jennifer Beals, Kate Moennig, and Leisha Hailey who will do double duty as executive producers and reprise their beloved roles of Bette, Shane, and Alice, respectively. Other cast members may also return. Ilene Chaiken, who created "The L Word," is reportedly slated to be the show's executive producer. 
Variety also noted that their sources claim Showtime is in the process of bringing on a new writer with connections to the lesbian community, "to bring a fresh perspective to the show by documenting how relationships and experiences have evolved today, and what has changed and hasn't changed, since the show first aired."
The move could not come at a better time as LGBT Fans Deserve Better, a group committed to championing positive queer representation in the media, recently reported that 42 lesbian or queer female characters were killed off of U.S. television shows during the 2015/2016 season.
"The past few years have seen lesbian and queer women characters in television killed off in shockingly high numbers," Sarah Kate Ellis, GLAAD President and CEO, said in a statement to HuffPost. "It is refreshing and exciting to see GLAAD Media Award-winning 'The L Word' returning to television where it can tell nuanced, entertaining, and beautiful stories of an largely underrepresented community."
"Ilene and I were talking and we feel completely the same way that we were all really spoiled by 'The L Word' in that it changed what we wanted to be attached to," Beals told Entertainment Weekly on Tuesday. "Any kind of storytelling that doesn't aim to change the world is not as energizing. We got really really lucky to be part of something that was both entertaining and meaningful and we want to continue more of that."