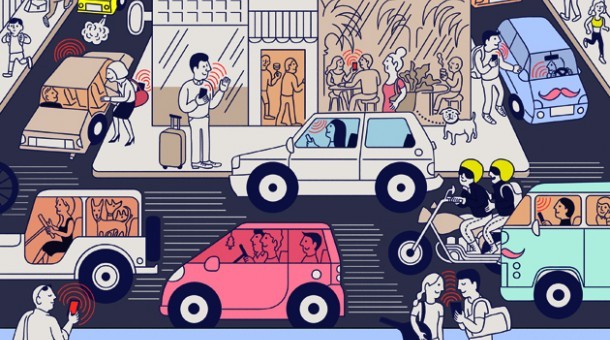 Having weathered a major regulatory attack, Lyft, SideCar, and Uber are on the verge of becoming the default mode of urban transport.
It was June of last year, and Shawn Nguyen and his girlfriend were running late to an event. Not wanting to roll the dice on one of San Francisco's taxi dispatch companies (he lives in the Inner Richmond, a patch of the city that's often a cab Siberia), he decided instead to try SideCar, an app-enabled ridesharing service that had just launched. Within five minutes, a friendly amateur chauffeur rolled up in an old Mercedes and delivered the couple to their destination, on time and for about $4 less than the price of a cab -- an experience that Nguyen describes as nothing short of amazing. Within weeks, he was a devoted customer.
Ask pioneering rideshare users around San Francisco, and you'll hear similar raves about Lyft, SideCar's pink-mustachioed competitor, and about Uber, the original smartphone powered ride service, which started in 2010 and is currently rolling out its own ridesharing component. "You get into a Lyft, and the person is welcoming," says Kristen Berman, a behavioral researcher who lives in Hayes Valley. "They have a smile for you, and there's comfort in having a real conversation." The service has even improved her social life. "I'm much more inclined to accept invitations because it's easier to get around. Lyft has made me more of a yes person."
Of course, whether or not a driver smiles at you is but one small variable in the typical transportation equation. Much more important are the three big questions: Is it safe? Is it convenient? Is it affordable? (Whether or not it's preferable to Muni is fairly obvious.) Increasingly, customers of the city's insurgent ridesharing companies are answering yes, yes, and yes. Simply put, San Franciscans need better ways of getting around. "It's just a pain in the ass to get a cab in this town," says mobile app developer and Uber fan Kayvon Beykpour, who uses the service every day.
And it's not just regular citizens who are converts. "Uber is keeping cars off the road, and we ought to support it," says City Hall adviser Tony Winnicker...