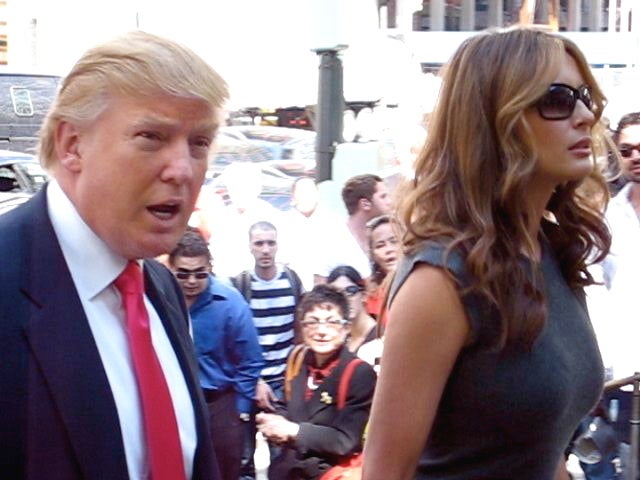 People are asking all kinds of questions about me and Vladimir Putin. Questions like: "How well do you guys know each other?"… "How serious is this bromance?"… and, "Are you actually saying you wouldn't defend our allies in the Baltic States if Putin sends the tanks in?"
Well, let me just say this: Putin is a leader. And I think we've all seen that topless picture of him riding a horse. I'll stop there.
I know some people were upset this week when I suggested that the Russians should launch a malicious cyber attack on Hillary Clinton in an effort to help me become President. But I was just being sarcastic! I'm definitely not on Putin's payroll. OK, maybe the Russians did get my attention when Russian oligarch Dmitry Rybolovlev bought a Palm Beach estate from me in 2008. Some haters are asking if this was some kind of secret payoff from Moscow. But really I just made a terrific deal. I paid $41 million for the property at the height of the market and flipped it for $100 million in the midst of the biggest real estate collapse in Florida history. I'm such a great dealmaker! I definitely don't owe Russia anything in return for that much-needed cash infusion in the middle of the crash! And I most certainly did not strike a secret deal with Putin when I was in Moscow for the Miss Universe contest in 2013.
It is, of course, a pure coincidence that my campaign is being run by Paul Manafort, a man whose former clients were referred to by The Guardian as a "who's who of authoritarian leaders and scandal-plagued businessmen in Ukraine, Russia, the Philippines and more." Total coincidence, too, that Manafort helped elect the pro-Putin Ukrainian leader Viktor Yanukovych in 2010 with a campaign that featured the chant of "lock her up" directed at former prime minister Yulia Tymochenko. (Fun fact: After she lost the election, Tymochenko was, indeed, locked up.)
I would like to reassure the American people as clearly and unsarcastically as I can that I am not working for Vladimir Putin and the Russian government. There are absolutely no secret payments from the Russian government hidden in my tax returns. I just won't let you see the returns. Stop asking! They're none of your business!
To all those wondering if I can be trusted with the highly classified intelligence information I am now receiving as the Republican Party leader (I know. Pinch me. LOL!), I want to reassure you that my allegiance is solely to myself, my Slovenian-born wife, my half-Czechoslovakian kids, the foreign-born workers I am currently hiring in Florida, and of course, the United States of America, whose Constitution I very much look forward to reading.
In case you need more proof, here is a complete list of facts to prove I am not a putting "Russia First" instead of "America First": 
1. My second wife was American.
2. My family is from Germany―a country that fought against Russia during World War II!
If I can think of anything else, I'll let you know.
So please America, trust me. I'm not in cahoots with the Russians. You can totally believe in me with the same level of confidence I have always placed in Melania!
UPDATE: OK, Melania lied about writing her own convention speech. I thought she was going to perform original material, but she went with a Michelle Obama cover.
UPDATE 2: OK, Melania also had to take down her entire website. Turns out she's being lying all this time about having a degree from the University of Ljubljana. I would have checked it out sooner but all my investigators were tied up looking for a birth certificate in Hawaii.
Donald J. Drumpf is a 100% classy Donald Trump parody account. Tweeting under the actual family name since 2013. Trying to save the world from the real Donald Trump with my new novella: http://www.kimkardashiansavestheworld.com/